At the Agile Business Consortium we are continuing to establish ourselves as the 'go to' people for any business, government organisation or charity interested in Agile Business Change.
Why join us?
Today's constantly changing business environment requires public-sector bodies, private organisations, and individuals to be more agile if they want to succeed. Our role is to support our members and the wider business community to gain the skills and capabilities of agility to allow them to compete in this age of disruption.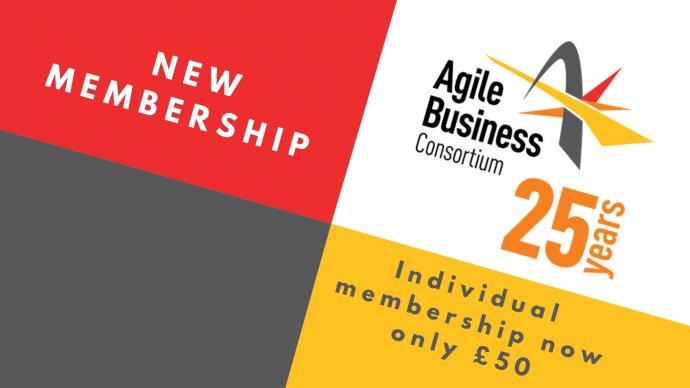 Our membership is open to all and is deliberately affordable so that everyone can take advantage of our tools and resources. Individuals pay just £50 a year, and full-time students only £10 a year.
Wherever you are on your journey to agility, we are there to help. Resources for members include:
Tools and templates – like a prioritisation matrix (using MoSCoW), and AgilePM® and AgilePgM® project templates.
Books – Digital access to the full AgilePM handbook, and all of our agile pocketbooks, including Scrum, Estimating in Agile, Agile UX Design, Managing Risk, and Remote Working.
Member-only events and webinars – Social and networking events, member training days, and expert webinars.
Discounts – including 20% off tickets for the Agile Business Conference, 20% for any publication in our web shop, and 20% off agile qualifications (excluding APMG certified exams such as AgilePM®, AgileBA®, AgilePgM® and AgileDS™).
Agile Business Conference videos – Every recorded session from the Agile Business Conference 2018, including presentations from BT, Moonpig, CIPD, and PwC.
More about membership at agilebusiness.org/membership.
Latest from the Agile Business Consortium:
Agile Business Conference – 25 & 26 September, London:

Two days of real agility case studies, deep-dive discussions, workshops and tools sessions. Join representatives from public and private sector organisations.
Early bird tickets on sale until 30th June 2019

Case studies:
About the Agile Business Consortium
The Agile Business Consortium is the not-for-profit professional body promoting and enabling business agility worldwide. We work with partners and alliances to promote agile practices, and to develop, curate and share agile resources with the wider world. We encourage an agnostic and client-centred approach to the use of agile methods and frameworks.
We are the brains behind AgilePM®, AgileBA® and AgilePgM® and organise the longest running annual Agile Business Conference in the world. Through our partnership with APMG International we have accredited over 300 training organisations worldwide, and over 100,000 Agile Project Managers, Business Analysts and Programme Managers.
Learn more at: agilebusiness.org