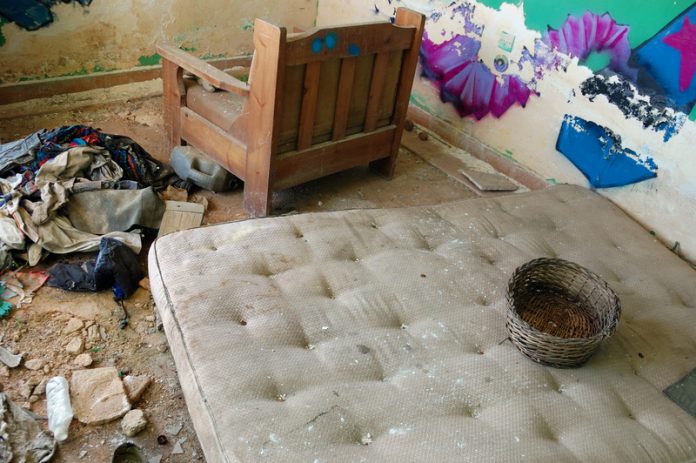 Charities have said that asylum seekers in the UK are forced to put up with 'squalid' and 'unsafe' living conditions due to neglect
Living conditions for refugees and asylum seekers have been described in damning bleakness with reports of vermin infestation, ceilings collapsing, front doors that won't lock, damp, and bed bugs.
Victims of trauma such as sexual assault and torture are being 'abandoned' and left in unsafe conditions, charities claim.
In 2012 the responsibility to house refugees was taken from local authorities and given to companies Serco, G4S and Clearsprings through 'Compass' contracts.
Serco holds contracts for Scotland, Northern Ireland, and the North East, and Clearsprings hold contracts for London, Wales, and the South.
Migrants are not allowed to work while waiting for a decision on their status, but are able to apply for help from the Home Office if they cannot support themselves.
Maurice Wren, Chief Executive of the Refugee Council, said:
"Though the general public is largely unaware of the appalling conditions into which traumatised people are routinely dumped, ministers and officials are not, yet this scandal continues unchecked."
"The time has come to end this shameful practice and allow people seeking asylum to live in dignity."
Government action
In January of this year, a group of MPs called on the government to improve housing conditions for refugees.
The House of Commons Home Affairs Select Committee called for a total overhaul of the system and pointed to delays in applications processes as a cause for poor conditions.
Committee Chair Yvette Cooper said that the contract system discouraged local authorities from getting involved.
The number of asylum seekers in the UK doubled from 2012 to 2016, and contractors say they are housing more than funding allows as applications move slowly through the Home Office process.
Housing is not the only problem asylum seekers face, with accusations of mistreatment including LGBT refugees being deported to homophobic countries and instructed to 'act straight'.
The Prime Minister responded to accusations of mistreatment by defending the 'sensitive' handling of such cases by the Home Office and said such issues were being taken very seriously.
Editor's Recommended Articles