At BioBloom, our natural organic hemp products, we strive to help people enjoy better well-being while handling nature's resources with care
BioBloom believe in more inner balance, vitality and quality of life through the full natural power of  hemp products.
With our decades of knowledge in organic agriculture and our belief in the multifaceted power of hemp as one of the world's oldest cultivated plants, we produce 100 percent natural organic hemp products. Throughout our entire production process, from the cultivation to the finished hemp products, our main focus is on quality and preserving all the valuable ingredients of the hemp plant.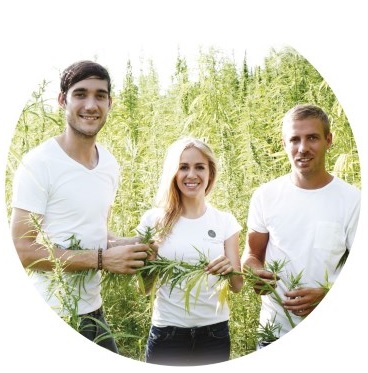 We work closely with leading laboratories and medical and pharmaceutical experts to create unique natural products with absolutely no additives. All of our products are 100 percent natural, BIO AUSTRIA certified and bear the AC seal of quality from the independent patient association ARGE CANNA.
"We are convinced that the many valuable ingredients of the hemp plant only develop their full potential in synergy with each other. Our goal is to help people stay healthy and active and find inner balance with our pure natural products."
From cultivation to the finished product from a single source
CULTIVATION
Certified organic fields with crop rows (Bio Austria, Bio Swiss und Bio Hungaria certified)
Sustainable cultivation
HARVEST
Leaf analysis for determination of best harvest time
Gentle air drying
PROCESSING
Processing of the pure hemp flowers by hand
Careful handling of the plant
CO2 EXTRACTION
In a certified laboratory
Strict quality standards
Note: "CO2 extraction is a particularly gentle method for extracting plant material. Through this process, all the valuable and healthy substances of the hemp plant are preserved for the final product."
MIXTURE & FILLING
Mixture of the extract with organic hemp seed oil according to the specifications of the customer
Filling of the individual product in the specified container size
ANALYSIS
Regular sampling analysis
Absolute quality assurance
In all of our production stages, from planting to the filling of the individual product, we place great importance on working under the strictest production criteria in order to fully guarantee 100% quality for our customers.