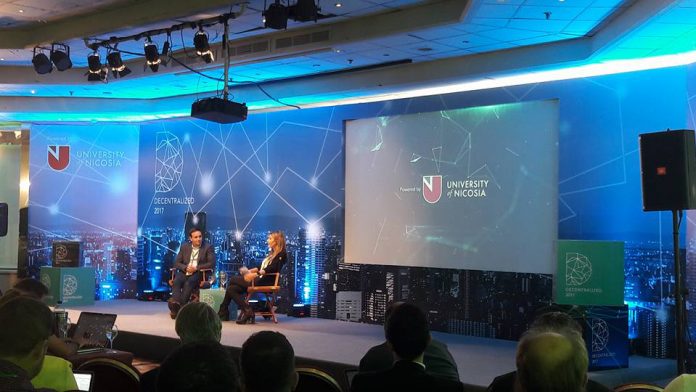 Prof. Spyros Makridakis and Prof. George Giaglis, Directors of IFF at University of Nicosia lift the lid on the institution's blockchain and artificial intelligence (AI) research, including the launch of The Institute For the Future (IFF)
2018 may prove to be a historic year: as a number of technological innovations are reaching maturity and are converging with each other, it is now possible to imagine a singularity that will irreversibly transform the world as we know it.
Blockchains and digital tokens traded on them are at the epicentre of this transformation. If one looks beyond short-term discussions around the recent valuation spikes (and inevitable subsequent fall) of some of these tokens, we can't miss the promise of the newfound ability to create trust among people, who do not even need to know each other, without intermediaries, with only the help of distributed networks and the clever combination of public key cryptography and game theory economics. Such innovation promises to create a wholly new type of Internet; one on which value exchange will be as democratised as information exchange is on the Internet we know today.
Such innovation will surely be transformational in its own right, changing forever the role, structure and functions of today's prevailing markets, economies and perhaps even nation states. Just imagine then the possibilities opened up in a world in which such trustless networks will be connecting, not only humans, but also intelligent machines and even autonomous organisations. Ongoing developments in the field of artificial intelligence (AI) have enabled scientists to design algorithms that learn on their own, without the need for supervised human training. And they can learn so fast that, after a few 24 hours of self-training, are able to surpass human performance in fields like playing chess, beating poker champions, recognising faces in images, synthesising speech, even negotiating with humans (and with each other).
As such algorithms become powerful, cheap and widespread enough to replace humans across various jobs and functions, they will usher an era in which machines will engage in human-to-machine (H2M) and machine-to-machine (M2M) commerce. The impact to competitiveness, productivity and growth will be so immense that people will soon find themselves unable or unwilling to compete with their algorithmic partners, delegating more and more economic activity to machines and being freed up to engage in other, mostly unthought-of and unsearched activities.
Drawing on such convictions, the University of Nicosia (UNIC), has been among the first universities in the world to embrace the technologies of the future and bring them together into a new interdisciplinary research centre devoted to advancing their technological, business, social, regulatory and ethical implications.
The Institute For the Future (IFF) aims at expanding our understanding of blockchain and AI as well as their effective integration, contributing to their effective application in industry, government, education and society in general. IFF's vision is to become a leading academic institution and a top global player spearheading interdisciplinary research and innovation inside the university, in Cyprus, in the EU and the world.
IFF is headed by Professor Spyros Makridakis and Professor George M. Giaglis and its blockchain activities by Professor Soula Louca. IFF is staffed by a growing number of professors, post-doc researchers, doctoral candidates, graduate students and admin staff, also offering visiting positions to prominent scholars from industry and academia.
IFF also sponsors, either from UNIC funds or from industry backers, Ph.D. students and IFF post-doctoral researchers to work in the above areas with it's in residence scholars, senior associates and visitors. Finally, IFF is also working toward establishing an incubator/accelerator for promoting promising technology entrepreneurs and dynamic start-ups in its areas of expertise.
IFF has already made significant progress in the field of blockchain and AI. UNIC is today considered the leading university globally in the digital currency and blockchain field. As the first university to offer a course on cryptocurrency, a free online course Introduction to Digital Currencies, taught by Andreas Antonopoulos and Antonis Polemitis, the MOOC has enrolled over 15,000 students from 80 countries since 2014.
Furthermore, UNIC's MSc in Digital Currency was the first academic degree programme in the world in this field, graduates of which have been involved in leading blockchain organisations worldwide. Over 350 students from around the world have enrolled in the programme, representing a wide range of backgrounds, including financial executives, blockchain entrepreneurs and software developers. Graduating students have gone on to work at key firms in the industry, created startups in the blockchain space or work in government and academia. Similarly, its AI publications have appeared in both academic and practitioners' journals.
Adding to its leading position, UNIC is the first university in the world to offer instant, electronic authentication of its certificates (Bachelor, Master and Doctoral Degrees), via an online verification tool on its website. Specifically, all certificates issued as of Spring 2017 have been digitised using blockchain technology and are available to students online. Each certificate's fingerprint has been added to Bitcoin's blockchain, offering users (e.g. potential employers) immediate, secure and digital authentication.
UNIC's prominent role in academia has been recognised by blockchain industry publications in their evaluation of UNIC's position among universities in the field as it is confirmed by their rankings – CoinDesk (#1, 2016), the Merkle (#1, 2017). UNIC's blockchain initiatives have drawn immense interest from global media over the years, with over 300 articles written about UNIC's activities by global media organisations such as the Wall Street Journal, Associated Press, Euronews, Forbes, Time, Fast Company and many others (for more information about UNIC's digital currency and blockchain initiatives, see https://digitalcurrency.unic.ac.cy).
Today, UNIC, through its School of Business, School of Sciences, The Institute For the Future (IFF), has probably the largest team in the academic world working on cryptocurrency and blockchain issues, with over 35 faculty, industry lecturers, administrative staff and guest lecturers involved with the initiative, across teaching, research and software development. In addition, it is developing its AI activities and, as mentioned, their integration with blockchain.
Recently UNIC organised DECENTRALIZED 2017, a major conference in Europe focusing on the business and political implications of blockchain technologies, across several key industries, including shipping/supply chain, financial services, government, accounting/auditing and legal and governance, along with predictions on the long-term implications of blockchain and artificial intelligence on our society and firms.
The event hosted over 500 participants from all over the world for a three-day summit, showcasing 50+ speakers from various sectors of the industry and academia. This year's conference, DECENTRALIZED 2018, to be held in November, will bring together more than 1,500 attendees and more than 70 speakers in a two-day world-class event (see more details and register at https://www.decentralized.com).
Please note: this is a commercial profile
Prof. Spyros Makridakis
Director of IFF
University of Nicosia
Tel: +357 2284 1948
https://twitter.com/MScDigital