Brainomix specialise in the creation of AI-powered imaging biomarkers that enable precision medicine for better treatment decisions in stroke imaging
Brainomix specialise in AI-powered imaging biomarkers to enable precision medicine for treatments. Since launching as a spin-out from the University of Oxford in 2010, we have developed award-winning, AI-powered imaging biomarkers and software solutions, assisting physicians across the world to make better life-saving decisions.
The Most Comprehensive Stroke Imaging Solution
e-Stroke is a CE marked collection of tools that use our state-of-the-art AI algorithms to support doctors by providing real-time interpretation of brain scans to help guide treatment and transfer decisions for stroke patients, allowing more patients to get the right treatment, in the right place, at the right time.
Advancing the Value of Simple Imaging
Our proprietary software can uniquely generate critical information from simple brain scans that can help expand patient access to life-saving stroke treatments.
Our AI-powered advanced technology has been studied in a number of publications, providing technical validation and demonstrating health economic benefit, and has also been shown to improve stroke treatment rates, both thrombectomy and thrombolysis.
Expanding Access to Life-Saving Treatments
Meet Margaret, a patient from Milton Keynes who recently suffered a stroke, but who was quickly diagnosed, transferred and treated – all with the help of e-Stroke, our AI-powered software that is transforming stroke care across networks and expanding access to life-saving treatments.
Transforming Your Stroke Network
e-Stroke supports clinicians across the full stroke pathway.
e-ASPECTS can detect and measure both Large Vessel Occlusion (LVO) and hyperdense volumes (which may indicate bleeding), automatically assess ASPECTS score and infarct volume in non-contrast CT images, with overlaid heatmaps for visual aid.
e-CTA standardizes the assessment of collaterals, with automatic LVO detection in CTA scans, and allows graphical visualization of CTA acquisition timing.
e-CTP automatically computes core, penumbra and mismatch ratio in CT Perfusion images.
Click here to view the e-Stroke brochure.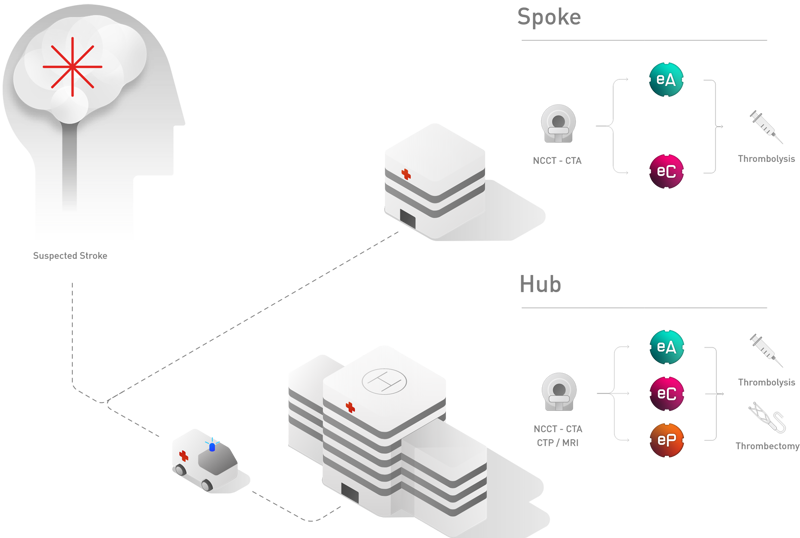 e-Stroke Mobile App
Enabling Fast, Remote Access to Key Results
The e-Stroke Mobile app, supported by the e-Stroke Cloud, is a tool enabling physicians across a network to have quick, easy access to critical results – including pseudonymized scan results – strengthening the connection between clinicians, and facilitating faster treatment decisions.
e-Stroke Mobile is available through the App Store for iOS and Google Play for Android. e-Stroke Cloud can also be accessed through all popular desktop and mobile web browsers.