Cannabis (hemp) contains up to 150 different terpenes. They not only determine the smell, but they also have valuable properties for the body as studies show. Katharina Zedlacher, from BioBloom GmbH, discusses the effect of terpenes in CBD full extracts
Vegetable terpenes can be found in over 2,000 aromatic plant species and determine the typical smell of the plant. The aroma is not only determined by a single terpene, but mostly by 100, and in cannabis even by 150 terpenes. This natural distribution of the terpenes is called the terpene profile. Interestingly, Cannabis Indica strains differ from Cannabis Sativa strains in their terpene profiles. The profiles of Sativa varieties are usually more complex, mostly dominated by terpinolene or pinene. By identifying the individual terpenes, a kind of chemical fingerprint of the terpenes (chemotype) can also be created. "This allows different varieties to be better classified and their lineage to be better understood," explains cell biologist Dr Christian Löfke, who is responsible for research and product development at BioBloom. Löfke further explains that this method is already being used in medical cannabis cultivation to develop more effective cannabis products tailored to specific indications.
How do terpenes work in the body?
Some terpenes are relatively well known for their potential in biomedicine and have been used in traditional medicine for centuries, while others are yet to be studied in detail. Terpenes' medicinal properties are supported by numerous in vitro, animal and clinical trials and show anti-inflammatory, antioxidant, analgesic, anticonvulsive, antidepressant, anxiolytic, anti-cancer, anti-tumour, neuroprotective, anti-mutagenic, anti-allergic, antibiotic and anti-diabetic attributes, among others. Because of the very low toxicity, these terpenes are already widely used as food additives and in cosmetic products. Thus, they have been proven safe and well-tolerated. (T. Nuutinen, Medicinal properties of terpenes found in Cannabis sativa and Humulus lupulus, European Journal of Medicinal Chemistry (2018), doi: 10.1016/j.ejmech.2018.07.076.)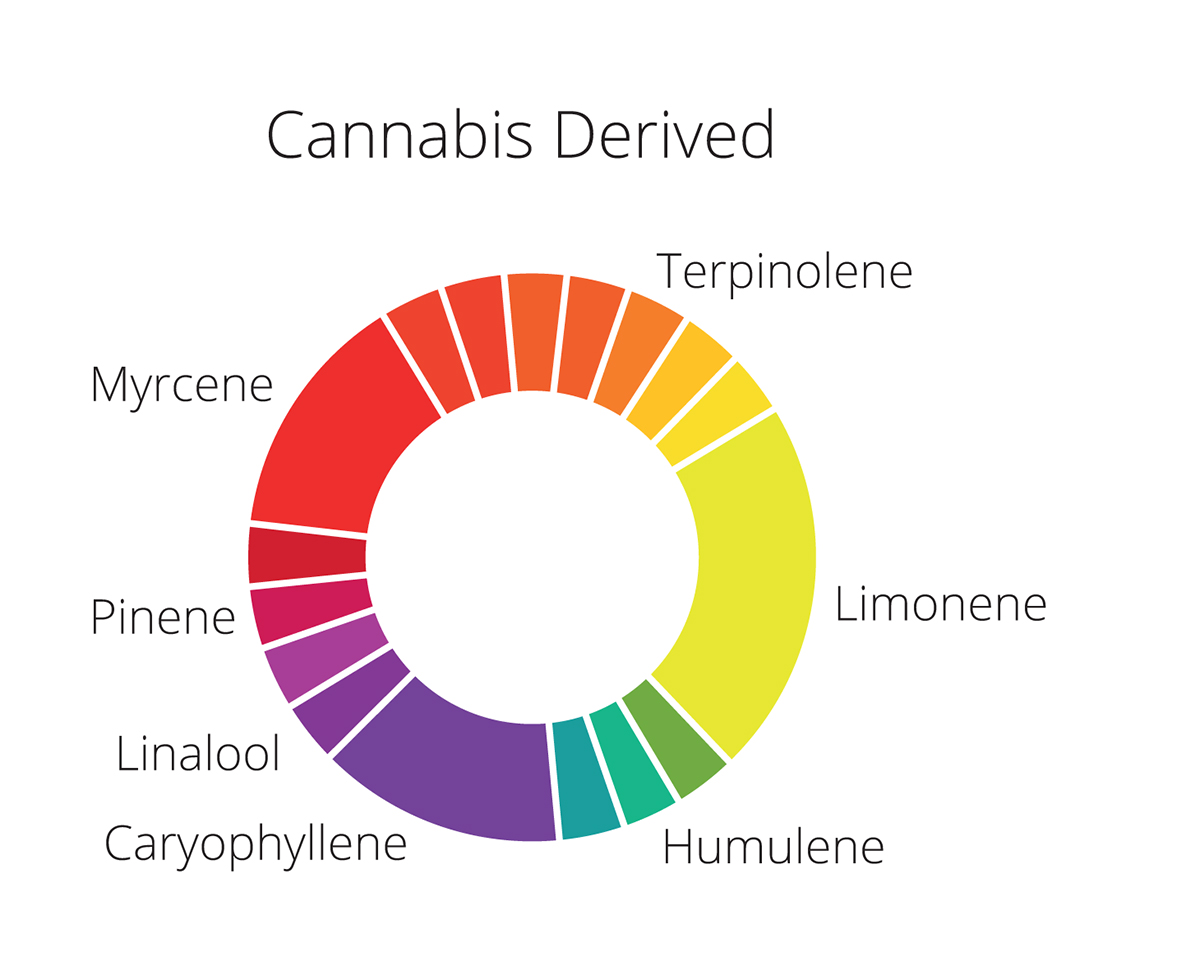 Already in 2010, Ethan Russo, the "discoverer" of the entourage effect, reported in the British Journal of Pharmacology on his research on terpenes and the synergy effects with cannabinoids and the other ingredients of the hemp plant. "They display unique therapeutic effects that may contribute meaningfully to the entourage effects of cannabis-based medicinal extracts. Particular focus will be placed on phytocannabinoid-terpenoid interactions that could produce synergy with respect to the treatment of pain, inflammation, depression, anxiety, addiction, epilepsy, cancer, fungal and bacterial infections (including methicillin-resistant Staphylococcus aureus). Scientific evidence is presented for non-cannabinoid plant components as putative antidotes to intoxicating effects of THC that could increase its therapeutic index".
BioBloom has been convinced of the importance of the entourage effect for the positive effects of its organic CBD extracts since it was founded in 2016. The focus during the entire production process is, therefore, on the preservation of all the valuable ingredients of the hemp plants. A specially developed cultivation technique guarantees that the hemp plants in the certified organic BioBloom fields develop high concentrations of CBD and other valuable cannabinoids, terpenes and ingredients 100% naturally. Careful harvesting, manual processing of the plants and particularly gentle certified CO2 extraction ensure that the ingredients are preserved all the way to the finished extracts. BioBloom absolutely refuses to use any additives and enrichment with CBD isolates.
Certified and quality-tested CBD full extracts
The 100% organic and natural CBD oils from BioBloom are available in natural CBD/CBDA concentrations of 4%, 6%, 8% and 10%.
Many physicians and pharmacists in Austria and Europe already rely on the pure natural hemp oils from BioBloom and use them in the treatment of their patients. The BioBloom certified organic hemp oils are also available in pharmacies and selected shops in many European countries. In a comparison test of 46 European CBD products by the independent patient association ARGE CANNA, the BioBloom products were among the test winners and in recognition of their quality the patient association also awarded them the AC seal of quality.

Innovative product development
The product range at BioBloom also includes the unique hemp flower tea with hemp flowers from the BioBloom fields picked and processed exclusively by hand. The main component of the organic hemp flower tea is as mentioned CBDa, which makes the tea especially helpful for people who have trouble sleeping. In addition, the BioBloom brand also includes hemp food products, such as organic hemp oil from peeled hemp seeds and hemp seeds, peeled & ready to eat and the certified organic hemp cosmetic series "Into the Wild." The cosmetic series includes a body lotion, face cream, hand cream and an SOS balm. The cosmetic products are certified organic, vegan, cruelty and palm oil-free, allergen-free and GMP certified.
Four BioBloom nutrition products (sleeping capsules, magnesium- and Vitamin B complex and Vitamin D drops) are the latest additions to the firm's product range. These nutrition products are 100% plant-based, vegan, lactose-, gluten- and fructose- and GMP-free. The products were developed following the company philosophy focusing on improving people's health and well-being, as well as the careful handling of nature's valuable resources.
"We are convinced that the many valuable ingredients of the hemp plant only develop their full potential in synergy with each other. Our goal is to help people stay healthy and active and find inner balance with our pure natural products," the three CEOs Elisabeth Denk, Christoph Werdenich and Thomas Denk say with conviction.
Please note: This is a commercial profile
Editor's Recommended Articles