Center for Cardiology, Mainz University Medical Center, enjoys an internationally recognized leading position in the field of cardiovascular medicine
Cardiology I covers the fields of general and interventional cardiology, angiology  and intensive care medicine . It enjoys nationwide and international recognition in the field of cardiovascular medicine. We treat the entire spectrum of cardiology: from coronary heart disease, heart valve defects, heart muscle disease to peripheral vascular disease. Furthermore, we offer special consultation hours for patients, among others for the areas of heart failure, lipid metabolism and coagulation disorders or pulmonary hypertension.
About the Center for Cardiology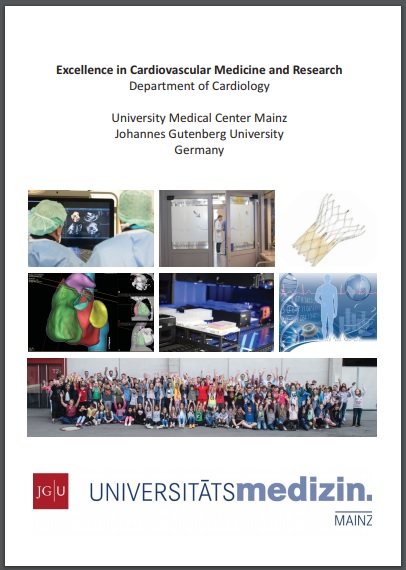 In 2017, we implanted around 600 heart valves, making us one of the largest university centers for minimally invasive heart valve therapy , and we opened the world's first Heart Valve Unit in spring 2018 .
The center currently has 365 employees who, as physicians, healthcare professionals and administrators, ensure that patients receive the highest quality of care according to the latest treatment standards.
We have 135 beds, including one intensive care and coronary ward, one Chest Pain Unit, one atrial fibrillation unit, the aforementioned Heart Valve Unit and four cardiac catheterization labs. Around 11,000 inpatients and 20,000 outpatients visit us each year.
Our clinic performs more than 650 heart valve surgeries, 4,200 heart catheters, and nearly 2,000 percutaneous coronary and peripheral procedures per year.
Together with the Department of Cardiothoracic Surgery and Pediatric Cardiology we were certified in 2017 as a center of expertise for adults with congenital heart disease (EMAH).
More than 6000 patients come to our Chest Pain Unit (CPU) every year; almost half will be hospitalized for further treatment. The CPU was one of the first in Germany and now has nationwide model character.
Department of Angiology
In our Department of Angiology, we offer all the necessary diagnostic procedures with a special focus on peripheral arterial disease and carry out around 500 peripheral operations each year.
Preventive Medicine
In preventive medicine, we offer you a comprehensive examination of the cardiovascular system. An individualized 2 to 3 day research program is followed by a detailed report and personal treatment recommendations.
Research on cardiology I
Our research activities include major projects such as the Gutenberg Health Study (GHS) and the German Center for Cardiovascular Research (DZHK). The DZHK-based MyoVasc study on heart failure patients is now one of the largest in the world. The Center for Cardiology was also a catalyst for the Center for Thrombosis and Hemostasis (CTH).
In order to recognize the causes of diseases and to be able to develop new therapies, preclinical and clinical research is of great importance; Among other things, we investigate the factors for increased cardiovascular risk and the effects of aircraft noise on the vessels and the cardiovascular system.
Our Clinical Study Center works as a partner to major international pharmaceutical companies and supports phase II to IV clinical trials for these sponsors.