Forensic pathology in Maryland: Hic locus est ubi mors gaudet succurrere vitae – This is the place where death delights to help the living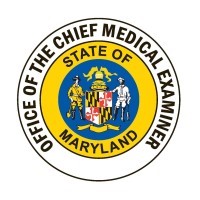 In 1939, the Maryland Office of the Chief Medical Examiner (OCME) was established as the first true state medical examiner system in the United States.  Forensic pathologists, employed as medical examiners, conduct medicolegal death investigation and perform autopsies to determine the cause and manner of death in the cases falling under its jurisdiction, including deaths that are sudden and unexpected, when a person is not attended by a physician, result from injury,  or occur under suspicious circumstances.  Approximately one-third of deaths will fall under the jurisdiction of the OCME.  In CY2020, the OCME investigated >18,000 deaths and performed >6,500 autopsies.  Although unheralded, the OCME serves a critical role to protect the public safety and health of Marylanders through recognition of preventable deaths and their root causes.
Dr. Victor Weedn is the current and fifth Chief Medical Examiner for the Maryland OCME.  He is a forensic pathologist and attorney and has previously worked as a medical examiner, crime laboratory director, research scientist and academic, including as a forensic science and law school professor.  He founded the military's DNA identification program, where he pioneered new DNA methods and technologies.  The Armed Forces Identification Laboratory (AFDIL) identified the remains of Czar Nicholas II of Russia, the Branch Davidian conflagration victims in Waco, and later the Michael Blassie, the Vietnam unknown of the Tomb of the Unknowns.  He holds a patent on latent fingerprint technology.  He led the establishment of the current Inspection and Accreditation program of the National Association of Medical Examiners (NAME).  He was the President of the American Academy of Forensic Sciences (AAFS) in 2015-2016.  He was detailed to the DOJ as the Senior Forensic Advisor to the U.S. Deputy Attorney General, Sally Yates in 2016-2017.   He participated on the Scientific Advisory Board of the International Criminal Court (ICC) Office of the Prosecutor in 2017 and 2018.  He testified to the U.S. Congress in 2018 on forensic science reform. He is currently on the NAME Board of Directors.