This is not your standard nursing program
URI's College of Nursing goes well beyond what you might expect. First of all, you'll find the individual attention you'd get at a smaller university and the unique clinical experiences of a much larger institution. You'll have plenty of opportunities for cross-discipline work with engineering, psychology, business, nutrition and more. And our faculty are as renowned for their research and inventions as they are for excellence in primary care, community service, and workforce development.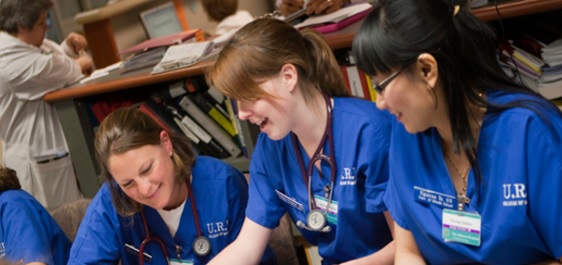 Mission Statement
The mission of the University of Rhode Island College of Nursing is to prepare nurses to be competent clinicians and effective scholars and leaders who will work to improve health and health care locally and globally and contribute to the nursing profession.
The baccalaureate program prepares individuals to assume the role of professional nurses who can practice in a variety of health care settings. Graduates of the master's program are prepared to assume leadership roles as advanced practice nurses, educators, and administrators. Graduates of the DNP program are prepared to assume advanced clinical practice and leadership roles to improve health care. The PhD program prepares nursing scholars and researchers who can contribute to the advancement of nursing knowledge and improvement of clinical practice.
The faculty promotes students' ethical development, critical thinking, and responsible practice, with an attitude of inquiry and commitment to life-long learning in an increasingly global environment. Students are sought from diverse cultural, economic, and ethnic backgrounds and partner with faculty in the educative process.
Faculty shape and respond to evolving health care challenges and expanding nursing roles within society through interdisciplinary partnerships, research and service within and outside the University. The College strives for excellence in accomplishing its mission through shared governance and continuous improvement.
Learn about our Philosophy of Human Life, Nursing, and Education.
Vision Statement
The College is a progressive center for nursing education, knowledge development, and professional practice and service.  Our graduates will be clinicians, leaders, researchers, and scholars who are highly competent, grounded in a sense of inquiry, and committed to human caring.  Students and faculty will collaborate in the discovery, integration, application, and dissemination of knowledge in nursing. Clinical excellence will be enhanced through collaboration and partnerships within and outside the university. This vision will be accomplished in an intellectually stimulating, supportive environment that fosters individual and collective pursuits and respects diversity.