Child and Youth Studies (CHYS) is one of the most popular programs at Brock.  The program teaches a broad-based approach that considers the individual child or youth within the context of the family, school, peer group and community. With interdisciplinary roots in psychology, education, sociology, cultural studies and criminology, the degree gives you the academic background to pursue a wide variety of careers or to pursue further studies in a Master's program.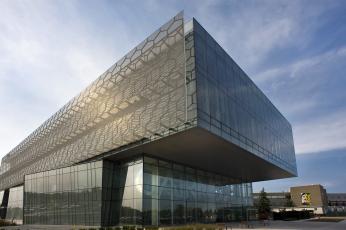 Welcome to Child and Youth Studies!
Our innovative, interdisciplinary department houses nineteen faculty members from a wide range of disciplines, from neurology and various branches of psychology to anthropology, education, sociology, criminology and cultural studies – all with a keen interest in research and teaching about the complexities of children, childhood and youth. We also have a number of cross-appointed and adjunct faculty members with exciting research interests. Be sure to look at some of the faculty profiles to learn about the wide range of scholarly work that we are engaged in.
Students in Child and Youth Studies have the opportunity to learn about young people from many perspectives, through differing research approaches, and across diverse topics. Students are provided with training in three main lenses or perspectives (developmental, exceptionalities, and sociocultural) through which children and youth and their many contexts can be understood and analyzed. Child and Youth Studies students receive a grounding in disciplinary perspectives, interdisciplinary perspectives, multidisciplinary approaches, and transdisciplinary approaches. Our courses cover such areas as peer cultures, bullying, learning disabilities, exceptionalities, development, autism, children's rights, gender and sexuality, globalization, and cross-cultural understandings of childhood and youth.
Our students also have the value of working with faculty who are very strong teachers and researchers. In addition to high teaching evaluations across our department, we have a number of award-winning teachers. Many of our faculty members also hold grants from several of the top granting agencies and offer exciting research opportunities for students. We are all committed to providing our students with high quality lecturing, development of university skills, and interactive learning experiences, to ensure our students reach their fullest potential. Our department also has exceptional administrative staff members who guide students smoothly through our program.
CHYS Program Information
What is Child and Youth Studies?
The Department of Child and Youth Studies subscribes to the goals set out in the Brock University mission statement. The mandate of the department is to provide a broad interdisciplinary approach that considers children, childhood and youth within individual and social contexts including the lifespan, biology, culture, economy, law, family, school, peers, and community.  With its roots in psychology, sociology, anthropology, criminology, education, and cultural studies, our academic focus provides an integration of approaches through which a critical and comprehensive understanding of children, childhood and youth can evolve.
Teaching, Research and Community
Admission Requirements
Scholarships and Awards
What Are My Study Options?
Undergraduate Programs
• Three year Bachelor of Arts (BA)
• Four year BA with Major
• Four year BA (Honours)
• Five-year Collaborative program – CHYS BA Honours (Brock) and CYW diploma (Durham College) (see Alison Lahn for details)
• Six-year concurrent Child and Youth Studies BA (Honours)/Bachelor of Education (BEd) (click here for more details)
Combined Programs
There are many ways to combine Child and Youth Studies with other departments here at Brock. Please contact Alison Lahn, Department Coordinator/Academic Advisor in CHYS for more information at alahn@brocku.ca.
Minor
• Students who are majoring in CHYS can apply to minor in another discipline, typically after first year.
• Students from another discipline who wish to minor in CHYS can apply to minor after completing a first year. We recommend that students who wish to minor in CHYS have taken at least CHYS 1F90.
We recommend students considering either of these options to meet with Alison Lahn, Department Coordinator/Academic Advisor, CHYS. To make a CHYS advising appointment, please go to your my.brocku.ca and make an appointment through the advising booking system.

Please feel free to review the CHYS section of the current undergraduate calendar at https://brocku.ca/webcal/ for further clarification.
Career Options
Child and Youth Studies is the first step towards a variety of careers including Child Protection Worker, Speech-Language Pathology, Special Needs Worker, Child Advocate, Youth Worker, Occupational Therapy, Child Life Specialist, Community College Instructor, Elementary School Teacher, Autism Specialist.
Note:  For a number of the careers listed above may require additional professional education or post-graduate studies.
CHYS MA Graduate Program
We do offer a Master's degree opportunity – CHYS MA (Brock). To apply to a Master's degree, you would typically need to have completed the requirements for a 4 year Honours degree. If accepted to the CHYS MA program, it requires two years to complete and is a very unique program. The details of the program can be found at https://brocku.ca/social-sciences/graduate-programs/child-youth-studies.
You can also find us on Facebook and Twitter to keep up with news and events from across the Faculty.