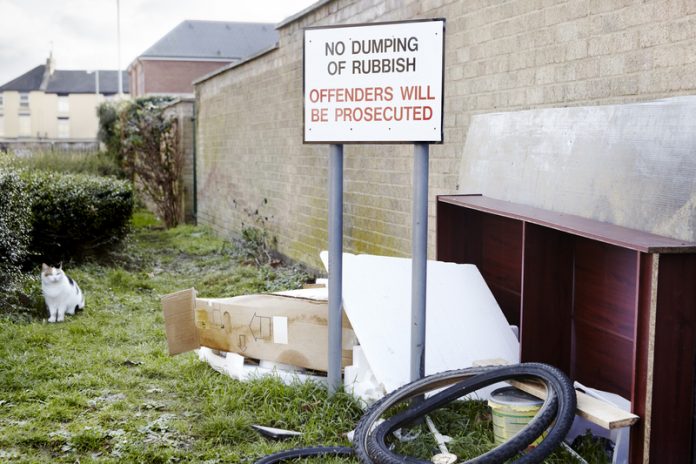 Councils have revealed they have issued hundreds of fines for fly tipping after receiving new powers to hand out on the spot penalties
More than £430,000 worth of fines have been handed out for fly tipping since changes in May were brought in by the government.
The government amended how fines were issued earlier this year as part of a major crackdown on waste crime. It meant local authorities were able to issue fines of between £150 and £400 without taking offenders to court.
However, despite the changes to the fining system, more than half of local councils across England who responded to the freedom of information request have not used the fixed penalty notice powers. At total of 118 out of the 302 councils who partook in the request reported they had handed out penalties.
Fly tipping costs £50m to clean up
Fly tipping remains a significant issue, with some 900,000 incidents reported in 2014/15. Cleaning up the mess left behind is costing councils some £50m and £17m in enforcement action. Since May, town halls have handed out 1,353 fixed penalty notices, but 184 councils said they had not yet implemented the new rules or were in the process of doing so. Other councils said they had used alternative measures such as prosecution or making offenders clean up their rubbish.
Penalties
Newham, London saw the worst fly tipping in 2014/15, with more than 70,000 reported incidents. The local authority also handed out the most fixed penalties, totalling 135 with a value of £54,000.
Other London boroughs also came in the top five for using powers. However, Southwark, which saw more than 25,000 cases of fly tipping in 2014/15—among the worst rate—reportedly issued none.
Birmingham said it is considering the fixed penalty system, while Manchester and Liverpool handed out 19 and one fine, respectively.
The Local Government Association's environment spokesman Martin Tett said: "At a time when councils face difficult choices about services in the light of reducing budgets, they are having to spend a vast amount each year on tackling litter and fly-tipping.
"This is money that would be better spent on vital services such as filling potholes and caring for the elderly."
The Country Land and Business Association said councils needed to do more to reduce the cost of fly tipping on rural businesses, as this costs some £800 per incident to clean up.