At H3 Partners, we provide Business Change Programmes using Organisational Change Management frameworks to help transform a business from within
Change programmes are used as an approach to transitioning individuals, teams, and organisations from their existing state to a desired future state. The processes are aimed at helping stakeholders to accept and embrace changes in their business environment, leading to improved streamlining and profitability.
Ultimately, people drive the value of a business.
Therefore we focus on the 'people' side of change programmes by using Organisational Change Management (OCM) as a framework for managing the effects of new business processes, and the required changes in the organisational structure within a company.
We undertake consulting interventions based on either a purely advisory role e.g. to programme and company boards, as well as proving on-site provision of a full change team. Using our extensive expertise across a wide range of business sectors, we employ industry best practice alongside a number of key tools to deliver effective change programmes with sustainable results.
Our approach
For 35 years we have been successful in achieving this in businesses as varied as public and private sector and family owned. We have a wide range of experience introducing information and business management systems into sectors including automobiles, energy and leisure. In all these cases, the key to the successful introduction has been as a result of our assistance in careful planning and effective change management.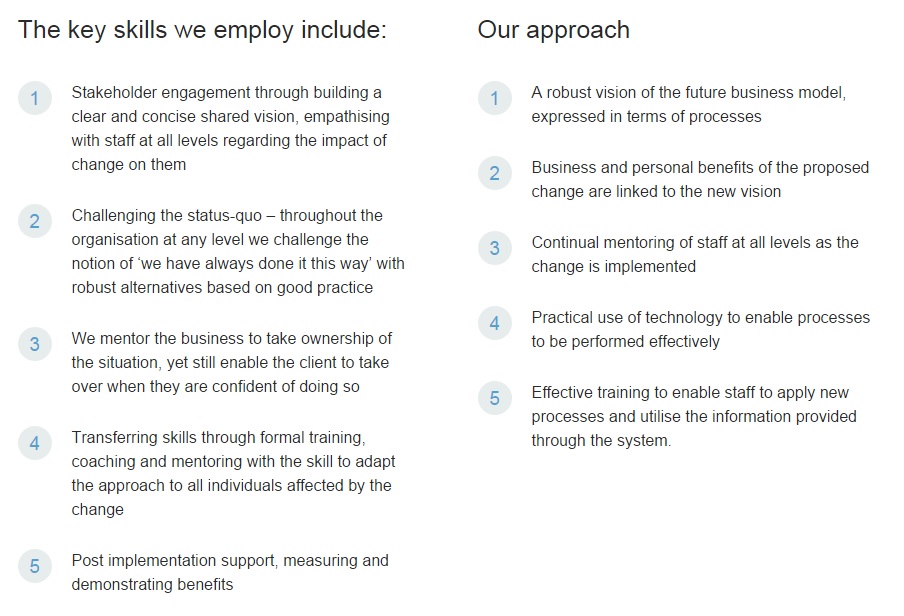 To make transformation programmes work we focus on the people and process aspects using the technology to enable the implementation of 'best practice'. Our approach to designing change programmes is technology neutral, facilitates a challenge to existing custom and practice, and engages our clients in the design and implementation process.
We use our extensive experience and public domain 'best practice' to develop a future vision for the business. We describe how we envisage business processes will be enacted in the future and then define the gap between this vision and present practice. Where a technology change has prompted the need to review the business then we also align the process model with the chosen technology.