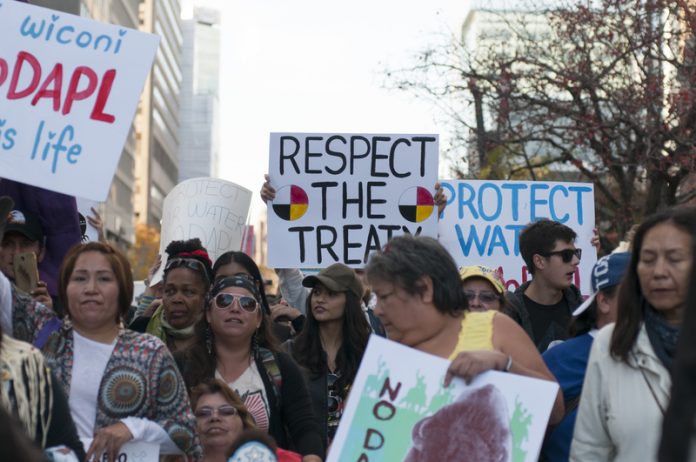 For the first time, indigenous climate activists across the world have received special recognition for their work at the Bonn climate conference
The work of indigenous climate activists in protecting their homelands has been officially recognised at the annual climate conference in Bonn.
They also received special recognition for their struggle for rights and participation in climate negotiations.
The 370 million indigenous people or 'first people' globally are often subjected to extreme prejudice and can face persecution when protecting their environment.
The high-profile protests against the Dakota Access Pipeline in Standing Rock, USA, saw activists given federal charges and met with water cannons, tear gas, and rubber bullets.
Dakota Natives are currently cleaning up a spill of 210,000 gallons of crude oil after a major leak in the Keystone pipeline in South Dakota.
Research has shown that respecting territorial land rights is one of the most efficient ways of reducing carbon.
The document approved in Bonn states that governments should 'respect, promote and consider their respective obligations on the rights of indigenous peoples and local communities' when tackling climate change and advocates placing indigenous people in leadership roles.
It also suggested funding indigenous climate activists with the Green Climate Fund.
Reaction from indigenous climate activists
Clare Shakya from the International Institute for Environment and Development was pleased with the recognition, but expressed fears that first peoples could still be shut out:
"This decision is an opportunity to make sure that they drive the solutions to tackle climate change.
"Throughout this climate meeting, numerous representatives from developing countries have said how top-down responses to addressing climate change actually marginalises them. "
For years, native activists have been a powerful voice of protest at major climate conferences.
Native American Water Protectors confronted California Senator Jerry Brown over his support of fossil fuels as he spoke at the conference.
Growing concern for the climate has made opposition stronger, joined with a fight to protect the territories of first people that has continued for centuries.
Editor's Recommended Articles