Created in collaboration with world-renowned experts, Koa Health's highly ranked, mobile-first mental health solutions help public and private sector employers and insurance companies extend their reach (while controlling costs) with technology
By enabling people to change their behaviours with effective, scalable support that adapts to their unique circumstances, we believe we can make mental health accessible to more people in more places—despite rapidly increasing demands for care amidst a worrying shortage of mental health professionals.
In the UK alone, the Centre for Mental Health[1] predicts up to 10 million people (20% of the population) will need new or additional mental health support as a result of the Covid-19 crisis. This number, while worrying, doesn't include the large number of people unable to access care because they are not considered sick enough to qualify for services. It also doesn't encompass the many individuals who may rule out treatment because of expense, wait time, or the pervasive stigma attached to seeking out counselling and mental health support. Finally, we must also start to seriously consider the underserved middle, aka the many people who may not need clinical treatment, but could certainly benefit from coping strategies based on clinically validated techniques.
The most accessible, discreet way to deliver a wide range of effective support to people across the full spectrum of mental health is via technology
When it comes to technology, we're faced with a new set of challenges. Yes, technology can help bridge gaps in care, extending provider's reach and offering people a convenient way to access mental health support, but we need to ensure that this technology is evidence-based, effective and inclusive. This is no small challenge when for the most part, digital health is unregulated.
From self-guided wellbeing to CBT-based symptom support tools that significantly improve access to clinical care—Koa Health's range of mobile-first solutions were created to help employers and insurers deliver end-to-end care and support mental health for all
And because people's health and safety are at the centre of everything we do, we conduct comprehensive research on all our products—from testing concepts to evaluating usability with diverse users. We've invested over 1 million euros and 10,000 hours in a comprehensive ethics strategy and our industry-leading commitment to privacy and data protection has resulted in strong data privacy and security systems approved in 2 external audits to date. Our Inclusive AI, designed to prevent bias and adapt to people's unique experiences and backgrounds is supported by a content creation process that carefully considers bias at every stage.
We know that successful mental health and wellbeing support, whether in-person, or delivered via app, hinges on people's trust, and we're committed to earning that trust so that we can help as many people as possible
All of Koa Health's treatment programs are validated through studies, randomised controlled trials (RCTs) and rigorous testing, including pivotal clinical trials towards FDA / MHRA clearance and independent evaluations.
Breakthrough technology for flexible, effective mental-health support
Created in collaboration with world-renowned experts, Koa Health's highly-ranked, digital-first solutions offer accessible support that adapts to people's unique circumstances and needs across a range of mental health issues.
Koa Foundations: Self-guided, science-based wellbeing
Created to support mental wellbeing in the workplace, Foundations includes a library of content grounded in science to help people deal with stress, poor sleep, worry, anxious thoughts, low self-esteem and more. Ranked #1 in the category of Stress & Anxiety by ORCHA, (a leading reviewer of health apps used by NHSX), Foundations received a clinical assurance score of 100% and an 88% score overall. In our first randomised controlled trial (RCT), the app was shown to improve measures of anxiety, resilience, sleep, and mental wellbeing.
Want to find out more about how Koa Foundations' science-based wellbeing helped the team at O2? Download our case study, here.
Koa Mindset: Evidence-backed depression support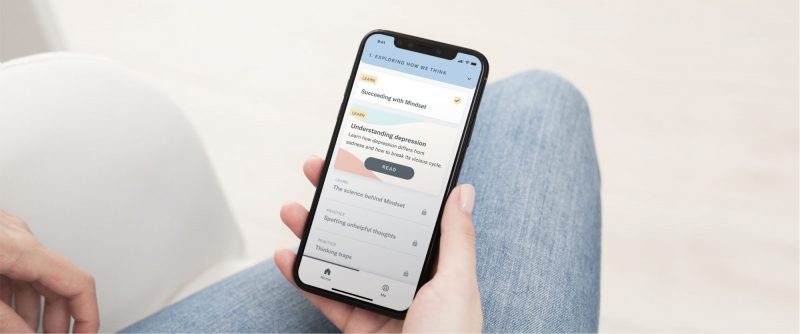 Based on the principles of Cognitive Behavioural Therapy, Mindset offers a cost-effective tool to support patients living with depression outside of scheduled sessions. Designed by Koa and our partners at Mass General-Brigham (#1 ranked US centre for behavioural health), Mindset complements in-person treatment and helps individuals develop skills to better understand and live well with depression.
Learn more about Koa Mindset, here.
Solutions for health, grounded in science
Available to over 3 million users worldwide, Koa Health's solutions are trusted by leading employers and health insurers such as Mapfre, O2, jack.org and Education First. Our in-house scientists and clinicians collaborate with acclaimed institutions such as Birmingham and Solihull Mental Health NHS Foundation Trust, the London School of Economics and Political Science, Center for Brain and Cognition, Massachusetts General Hospital and University College London to continuously iterate and improve our products. Designed by experts and grounded in science, Koa's evidence-based mental health solutions are human, ethical, approachable and backed by years of research, prototyping, and controlled trials.
If you'd like to learn more about how Koa Health can help your organisation, please don't hesitate to email us at support@koahealth.com.
[1] https://www.centreformentalhealth.org.uk/publications/covid-19-and-nations-mental-health-october-2020