Patients in Gwent have benefited from a multi-million pound Wales-wide investment in new ambulances, complete with MIPV solar panels
More than £13.5m was spent on 111 new vehicles to be deployed across Wales. 71 of these will be emergency ambulances, and there will be 33 non-emergency patient transport vehicles and seven specialist emergency vehicles that will attend major incidents. They will replace some of the existing fleet of Welsh Ambulance Services NHS Trust ambulances as part of a 10-year programme.
The new ambulances have been fitted with the most up-to-date communications systems and equipment, are more reliable, and deliver better performance and lower running costs.
They are also cleaner and greener, performing to the latest Europe-compliant emission specifications.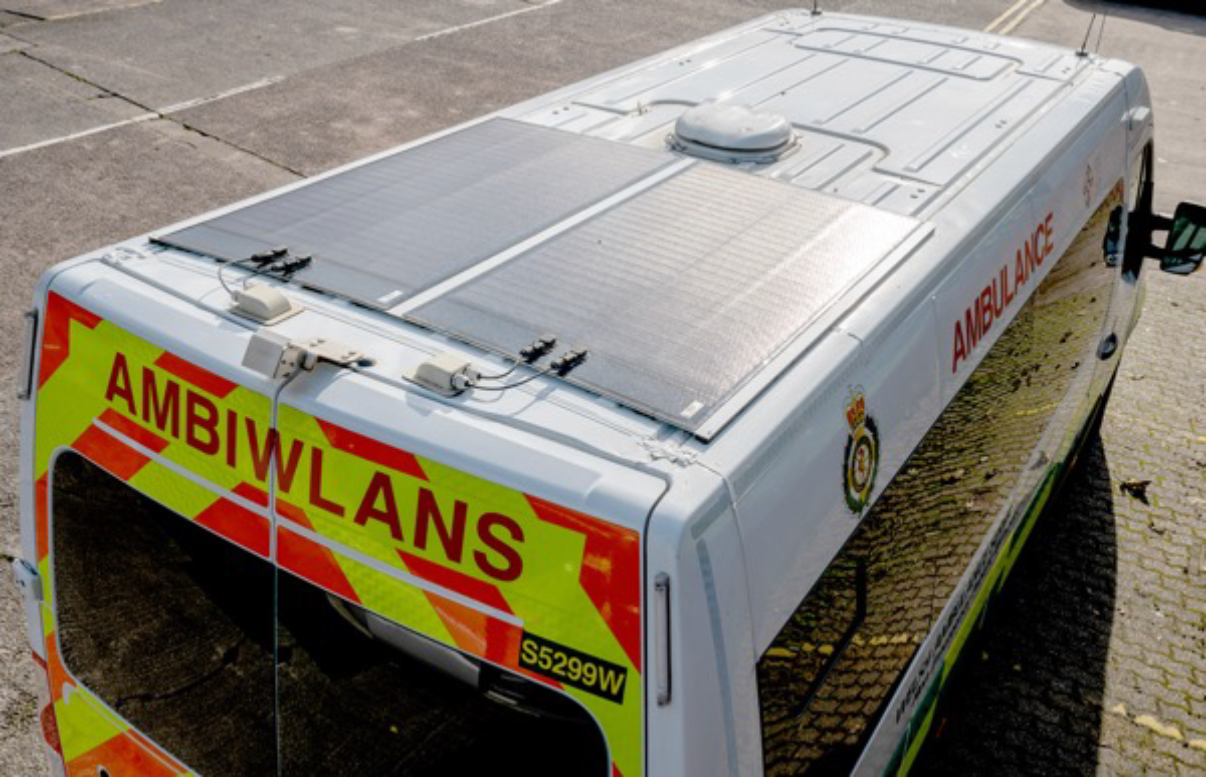 33 of the ambulances fitted with MIPV solar panels
"I'm particularly pleased that all 33 of the new non-emergency patient transport vehicles were fitted with MIPV solar panels to convert available sunlight into electricity," said health minister Vaughan Gething.
He added: "Using solar panels instead of mains chargers negated the need to install multiple charging points, which will reduce our energy consumption, as well as the health and safety risks posed by trailing leads."
Louise Platt, the ambulance trust's interim director of operations, commented: "Our fleet is some of the most modern and well equipped in the UK and will allow us to continue to replace our vehicles as they reach the end of their working life.
"Modern vehicles are essential in order that we can continue to provide the best treatment and patient care possible. It is also key for our staff who spend the majority of their working day out and about in the community. We are very grateful to the Welsh Government for their continued support."
The Need: Working in partnership to create a greener, more reliable fleet
The Welsh Ambulance Services NHS Trust (WAST) vehicles required electric power via a shoreline from the grid when parked overnight to support live on-board equipment. Failure to do so depleted the battery overnight and the vehicle could fail to start thus impacting on service delivery to patients.
The WAST Fleet Department have pro-actively explored alternate technologies, striving to combat climate change. One avenue that WAST explored was to look at how the shorelines could be removed, this would make the vehicles more self-sufficient and also improve our carbon footprint.
The Trial: Testing solar PV
Solar modules were chosen as the means of remotely trickle charging the battery. The trial verified whether solar PV could supply the required energy over the critical winter period when sunshine levels were low and power demand of vehicles high. WAST's Fleet Environmental lead Gavin Lane, a Regional Fleet Manager for the Trust, contacted MIPV as part of his review of available technologies.
MIPV's CIGS technology based flexible modules were chosen for an initial trial on three ambulances because they were flexible and unlike glass framed silicon cell modules, did not crack and fail prematurely, as evidenced elsewhere within NHS. The superior low light performance and aerodynamic integration onto the vehicle made it an ideal choice.
In September 2018, three ambulances were fitted with 2 X 110 Watt MIPV modules and connected to the battery via charge controllers.
The Results: MIPV modules satisfied requirements
The batteries of the three ambulances were kept charged throughout the entire winter period. MIPV modules satisfied the primary requirement of keeping the battery charged.
The modules have the potential to generate 181 KWH per annum, based on vehicle usage and the potential to save 181 litres of fuel per annum by reducing the load on the alternator.
The other benefits include reduction in idling times as well as reduction in CO2 and NOX pollution by reducing load to engine via the alternator while also extending battery life.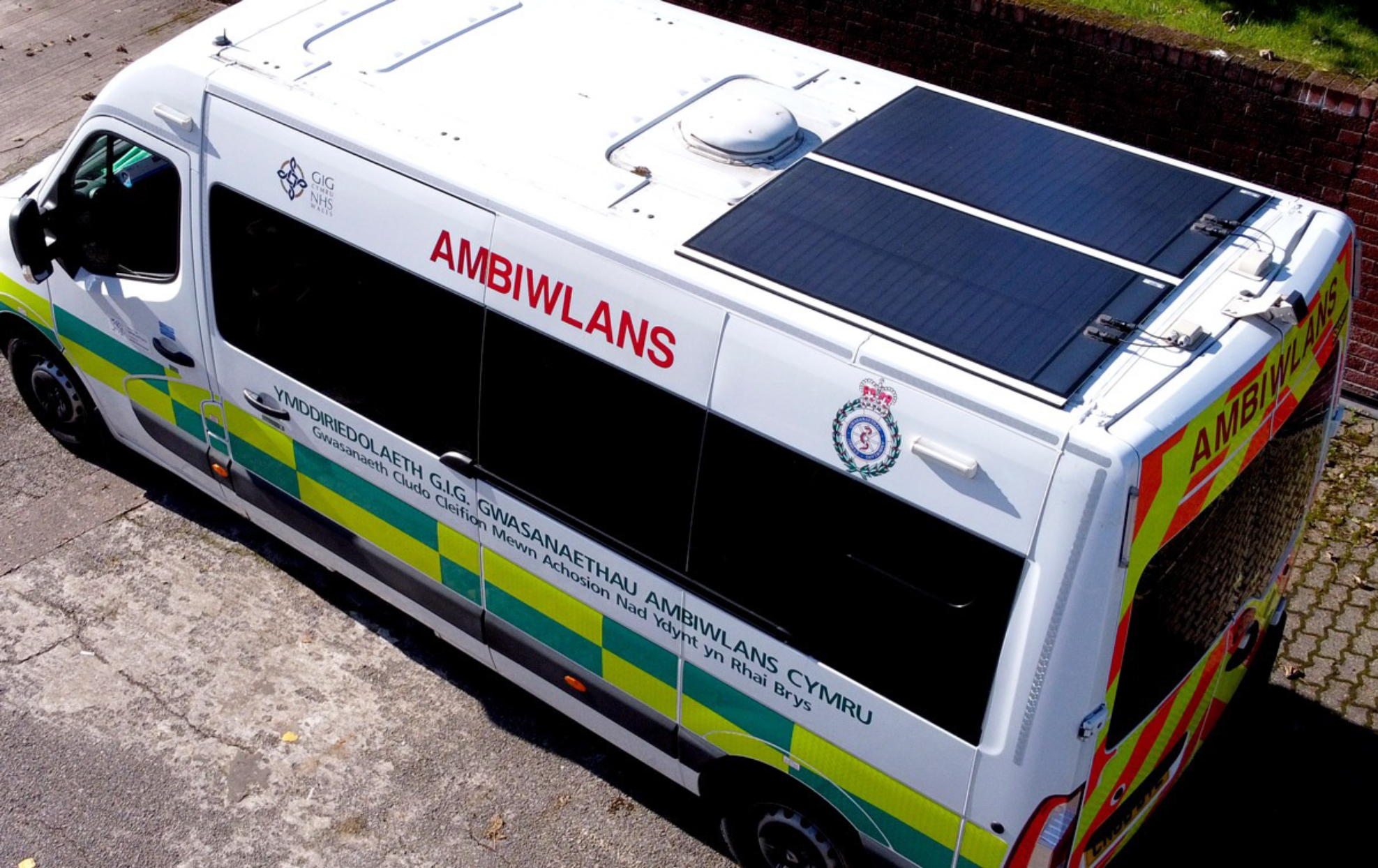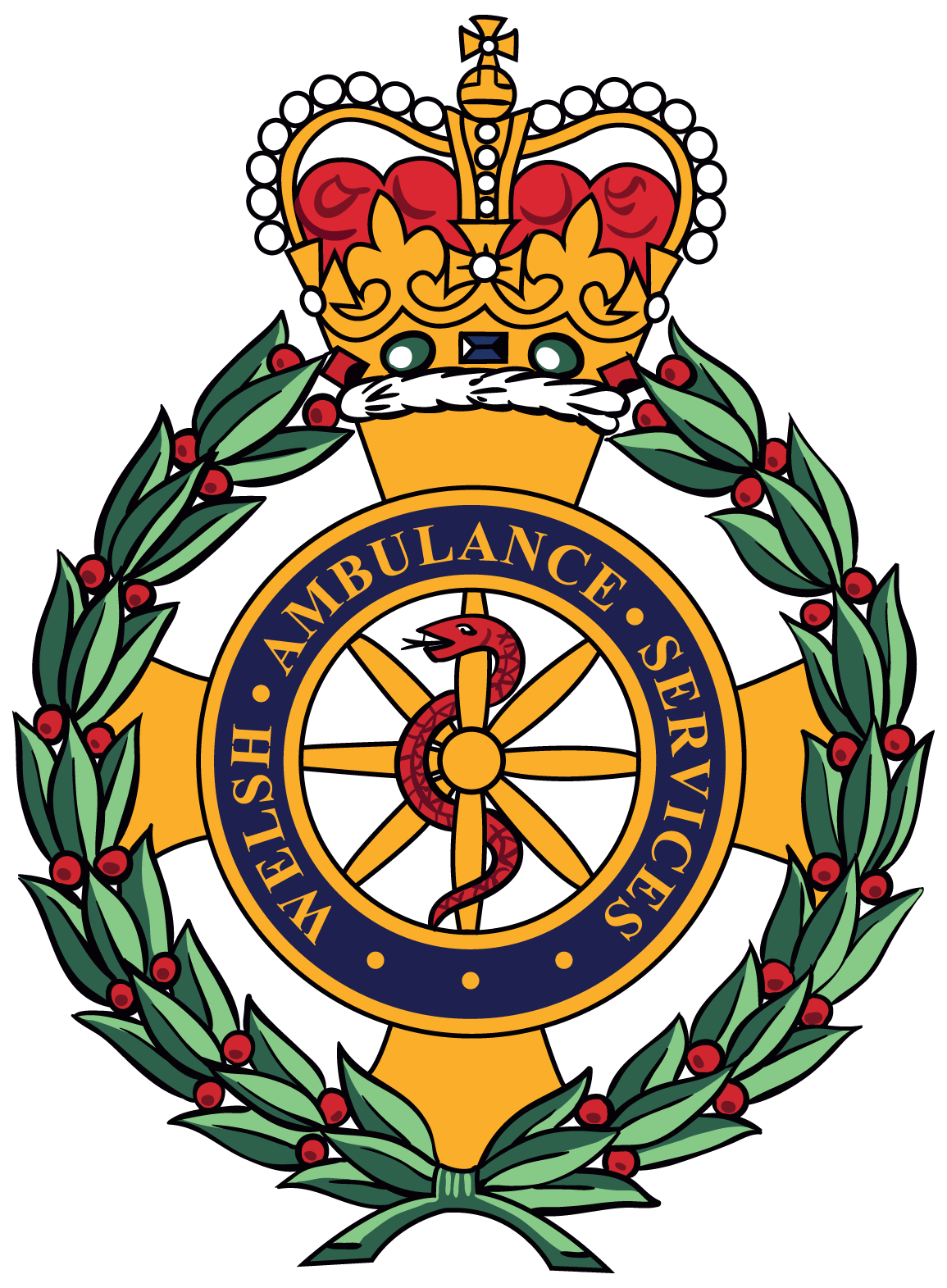 Testimonial
The Welsh Ambulance Service is delighted with the performance of major investment into Welsh ambulances. They were easy to fit, elegant and unobtrusive. The modules met the demands of the three trial ambulances during the critical winter period from November 2018 to end of March 2019. We have since fitted 33 further ambulances and to date have had faultless performance from the MIPV modules. The low light efficiency, robustness and the architecture of these modules make them ideal for vehicle integration.
Since the initial trial and roll out WAST has adopted MIPV technologies to all the new ambulances rolled out during the pandemic and we at MIPV are delighted to have helped reduce emissions and improved reliability of service with zero premature battery failure to date.
Gavin Lane – Regional Fleet Manager, Welsh Ambulance Services.
Please Note: This is a Commercial Profile

This work is licensed under a
Creative Commons Attribution-NonCommercial-NoDerivatives 4.0 International License
.
Editor's Recommended Articles