Mobile Rocket Healthcare assists in the NHS digital transformation strategy in the creation of an interactive digital app to promote a healthier population
Mobile Rocket Healthcare are extremely proud to have partnered with multiple NHS trusts to assist with their digital transformation strategy. We have successfully developed an interactive digital application that has proved to be a first-class communication and service delivery tool.
Creating digital solutions for physical problems
Our number one goal has been to provide NHS 0-19 services with the best digital solution possible for people in the community and the health workers and school nurses who support them. We aim to increase knowledge about health and well-being through our apps, whilst also assisting health services in saving valuable time and money to ensure a healthier population.
Digital transformation in the NHS and the wider public sector is now more important than ever, over the next few years we will witness what is termed by Klaus Schwab, Chairman of the World Economic Forum, as the 4th industrial revolution, digital technology that changes the way modern people both live and work in their every day lives, yet it is noted that over a third of NHS trusts have yet to materially start their digital transition strategy.
The Covid 19 Pandemic proved to greatly accelerate the need for effective NHS services that can really connect health workers to their patients in the community digitally. Pre-pandemic, during and post-pandemic, we have worked side by side with our partners in the NHS to make this a reality.
Mobile Rocket Healthcare App: promoting the self-management of care
The app is free for service users to download from the app store. It promotes the self-management of care, with relevant and important healthcare information that can be accessed with one tap. It is a system full of up-to-date technologies that will improve user experience and outcomes, help people in the community with their everyday healthcare needs and reduce low end healthcare visits to practitioners.
Each app we create is bespoke to each 0-19 service and is designed to fit in with existing tools that may already be in place.
The app includes many interactive features, such as diet and nutrition, activity tracking, immunisation tracking and emotional health features, all boosting your users' knowledge about their health and wellbeing, as well as giving tips on how to lead a healthy life.
The app is a fantastic communication tool, it allows health workers to send push notifications at the click of a button which greatly reduces paperwork and minimises costs. The system has the functionality to send important messages out to bespoke groups such as speech therapy and flu clinics as examples or even individuals, alerting them about your 0-19 service, any changes to the service and important up to date healthcare information.
Confidential health chats
Our app also provides an extremely easy to use health Chat feature that offers secure and confidential help and advice to users. This allows you to save time and free up phone lines for more urgent calls, while getting service users the advice they need quickly.
Each 0-19 service has up-to-date statistics on how your service's app is performing with the number of downloads, most used features and number of users adding entries. Access to real time data allows each service to convert those metrics into valuable insights. All results are displayed visually and professionally and are a great way to present successes to the Trust's Directors and commissioners.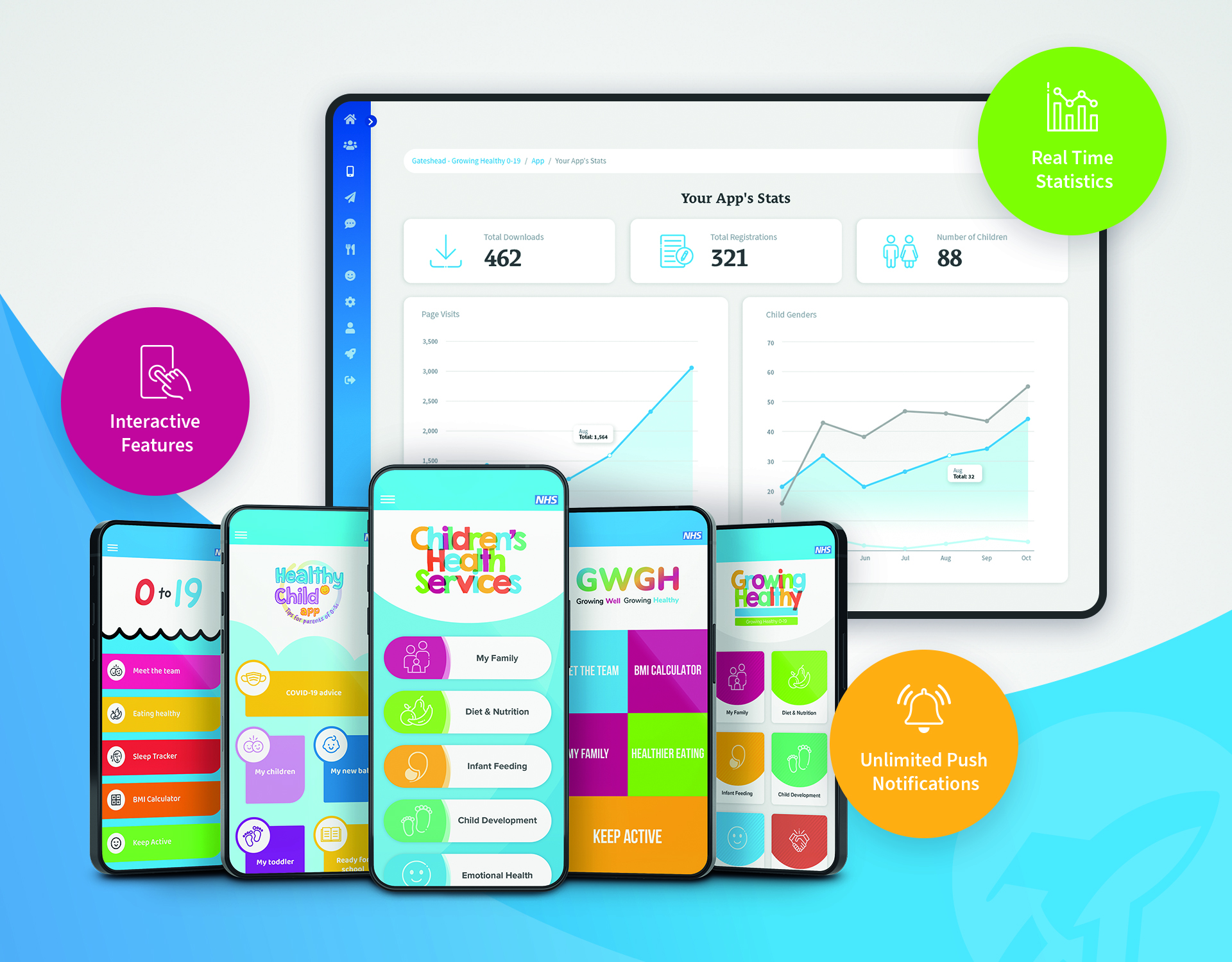 Digital transformation is something that is continuously developing as such we are working in partnership with NHS Trusts to build new features that will be coming soon:
• The Essential Services Tracker – Directing users to the nearest GP, Pharmacy, A&E Centres and more
• Enhanced Activity Tracker – Measuring Calories burned, steps taken and miles walked
• Immunisation Notifications – Sending parents automatic reminders prior to important immunisation appointments
4 goals for the NHS digital transformation
Mobile Rocket Healthcare are passionate in aligning our support to the 4 key goals that the Department of Health and Social Care and NHS England have for digital transformation:
 Prevent peoples health and social care needs from escalating
Personalise health and social care and reduce health disparities
Improve the experience and the impact of the Health workers providing the service
Transforming performance
Mobile Rocket Healthcare have an amazing team of in-house UK developers, Customer service and account management teams. Our number 1 goal is to provide the best digital application platform that connects health workers and people in the community which aids a healthier population. If your service needs an innovative partner to assist you're your digital strategy, we would be delighted to engage with you.
Please Note: This is a Commercial Profile

This work is licensed under a
Creative Commons Attribution-NonCommercial-NoDerivatives 4.0 International License
.
Editor's Recommended Articles