FIMM is a translational research institute in Helsinki focusing on human genomics and personalized medicine
With an integration of innovative molecular medicine research, state-of-the-art Technology Centre, and Biobanking Infrastructure under one roof, Institute for Molecular Medicine Finland (FIMM) is in an ideal position to promote translational research and adoption of personalised medicine in health care.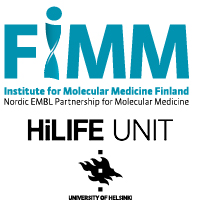 FIMM was founded in 2006, began research activities in 2008, and has grown to an international institute with over 250 employees representing almost 30 nationalities, 22 group leaders, and a budget of more than 20 M€ with about 80% of the funding coming from external grants. Within its primary host, the University of Helsinki, FIMM has functioned as an independent institute. Following reorganisations in the area of life sciences at the University as of January 1, 2017, FIMM joined the newly established Helsinki Institute of Life Science (HiLIFE) as an operative unit.
FIMM is characterised by our partnership with the flagship of European biosciences research, the European Molecular Biology Laboratory (EMBL). FIMM is the Finnish node of the Nordic EMBL Partnership for Molecular Medicine, one of the remote Partnerships that EMBL has established in molecular medicine. We follow many of the EMBL operational model and principles aiming at internationality and scientific excellence. Another important international network for FIMM is EU-LIFE, comprising thirteen top biomedical research institutes from Europe.
FIMM has a driving mission to perform innovative research on patients and populations—utilising molecular, genomic, and health data—targeted towards understanding drivers of health and disease and delivering improvements to the safety, efficacy, and efficiency of healthcare in Finland and beyond. Our research is primarily organised around three Grand Challenge programs: (1) the development of individualised cancer medicine; (2) novel diagnostics via imaging of tissue and cells; and (3) the use of genomics and epidemiology to better understand and predict disease. In these projects, researchers, technology experts, and clinical collaborators from FIMM and other organisations are drawn together to achieve a common goal through collaboration. The FIMM Technology Centre and Biobanking Infrastructures also provide services for local, national, and international researchers and companies. The infrastructures operated by FIMM are networked with European ESFRI infrastructures BBMRI, EATRIS, ELIXIR and EU-Openscreen.
The human genomics activities at FIMM builds on a long Finnish tradition of high-impact genetic and epidemiologic research. The overarching goals are two-fold: first, building a platform that integrates genomic, epidemiologic, and health outcome data from the Finnish national population registries and biobanks into a globally unique and valuable 'big data' repository; and then second, utilising that platform to identify drivers of health and disease in order to deliver public health recommendations, clinically useful diagnostics and prediction tools, and new genetically-validated targets for therapeutic development. The most notable initiatives within this research area are the FinnGen study, a public-private partnership led by FIMM to study the genomes and medical history of 500,000 Finns and the SUPER study to better understand psychosis through the collection and examination of 10,000 patients. FIMM also coordinates the Academy of Finland Centre of Excellence in Complex Disease Genetics and is engaged in the iCAN cancer flagship project.