Jane Kinghorn, Director at UCL Translational Research Office and Anne Lane, CEO at UCL Business Ltd describe the contributing factors to the success of accelerating biomedical therapeutic translation at UCL and their partner hospitals
UCL has an impressive track record of biomedical translational discovery founded upon academic excellence combined with a close relationship with patients and clinicians. This pipeline of innovation is supported through our professional infrastructure linking UCL to our partner hospitals, exemplified by our three NIHR Biomedical Research Centres (UCL Hospital, Moorfields Eye Hospital and Great Ormond Street Hospital for Children BRCs).
The portfolio is typified by, IP generation, licensing and commercialisation and multiple types of partnerships with not-for-profit companies, creation of social ventures and collaborative research with industrial partners, all aimed to address the most pressing patient, hospital and societal needs.
Evolution of the translational research ecosystem – The past ten years
The research translational ecosystem has changed significantly over the past 10 years. Pharma and biotech industries have reorganised this, cutting back on internal research to free-up resource to fund more open innovation and collaborative science. This has led to fragmentation of the delivery of innovation with an increase in the number of SMEs and growth of CROs to fill the gap.
The government's translational strategy and subsequent evolution of the Industrial Strategy has seen the addition of significant investment to incentivise academics and clinicians to participate in biomedical translation which has transformed the sector.
Below we describe some of the important aspects we consider vital for successful biomedical translation that have evolved within the UCL innovation ecosystem over the past 10 years.
Access to coordinated professional know-how
UCL and its partners have put in place flexible, professional and responsive structures that are highly networked and aligned to deliver a step-fold change in delivering biomedical translational impact (Figure 1).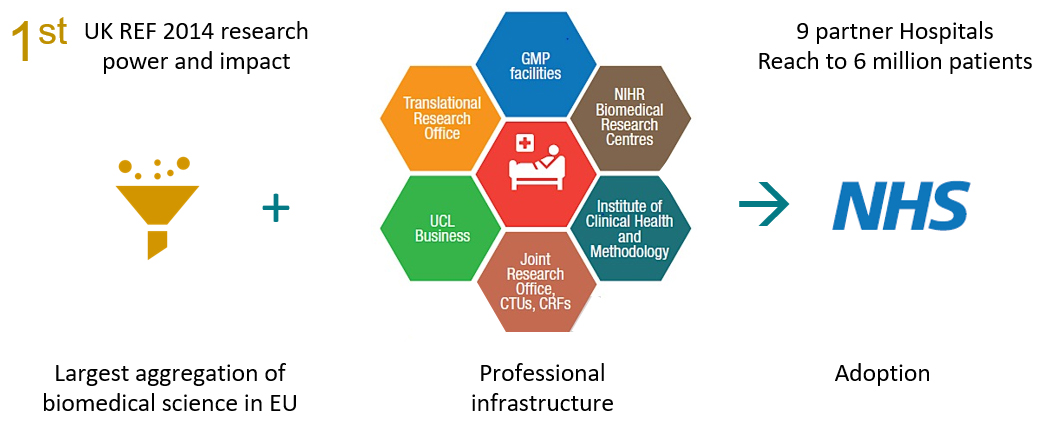 In 2010, taking advantage of downsizing activities in large pharmaceutical companies, UCL established the Translational Research Office (TRO) with senior experienced scientists from industry. Embedded within the university's School of Life and Medical Sciences, the team provide their complimentary therapeutic development know-how to the academics expertise in their fields of research.
The TRO adopt a life-cycle management approach and establish with the academic the appropriate team to deliver the project for societal impact (e.g. clinical, regulatory, manufacturing, toxicology, PK/PD, commercial etc.).
UCLB business managers are key to realising the commercial possibilities of the academics' research and ideas, and are essential to delivering the potential to make a real and positive impact on people's lives. This coordinated approach, uniting the right mix of knowledge and expertise in support of a shared biomedical translational portfolio has allowed the acceleration of research and the ignition of innovation (Figure 2).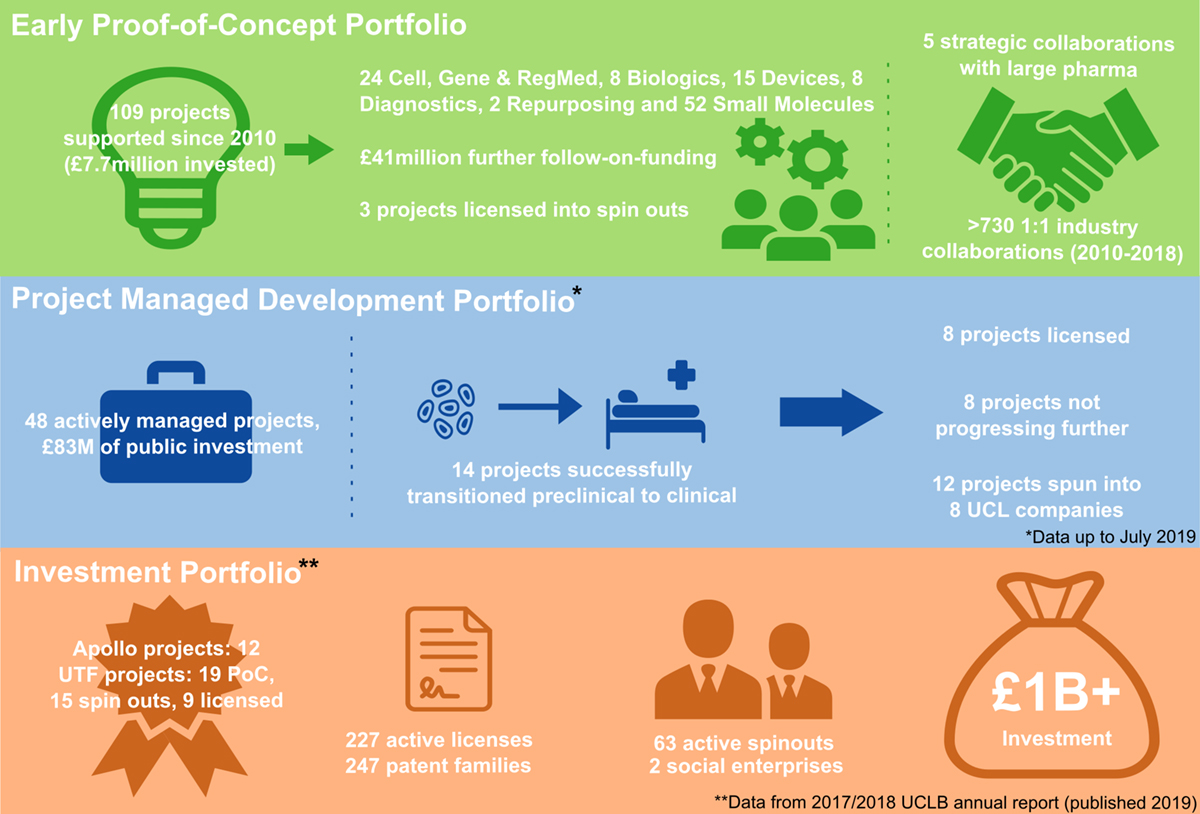 Access to flexible agile funding
Access to funding is critical to accelerating the translation of projects. Within UCL there are several funds available to researchers that can help them advance their projects:
Early proof of concept funds – Building the pipeline (horizon scanning)
Therapeutic Acceleration Support Fund – this fund of ~£1m/yr (consisting of money from MRC Confidence in Concept; WT Institutional Strategic Support Fund; BRCs) allows for the generation of early proof of concept data (typically TRLs 2-4, £75,000/project) for any therapeutic modality.
Research England, Higher Education Innovation Fund (HEIF) – this fund (£15,000/project) has been used to support development of commercialisation business plans, to provide access to regulatory insight or development of adoption plans.
UCLB Social ventures PoC Fund – aims to support the development and growth of emerging social ventures arising from UCL research. It will provide an opportunity for UCL academics to benefit from up to £20,000 in funding, together with access to business planning support, and intellectual property (IP) advice.
Development and investment funds – Accelerating the pipeline (pathways to adoption)
The UCL Technology Fund – this is a £53.3 million pound investment fund that is co-managed by UCLB and Albion Capital that invests in licensing projects and spinout companies arising from the UCL knowledge base. Launched in January 2016, it is dedicated to investing in intellectual property commercialisation opportunities arising from UCL's world-class research base, focusing in particular on the physical and life sciences.
Apollo Therapeutics – this is a £40 million-pound investment fund established in January 2016 by AstraZeneca, GlaxoSmithKline, Johnson & Johnson Innovation and the technology transfer offices of Imperial College London, UCL and the University of Cambridge. It supports the translation of ground-breaking academic science from within these universities into innovative new drug discovery programmes and potential new medicines for a broad range of diseases.
Specialist knowledge (through TRO) in external available translational grant funding (50% success rate: MRC DPFS, WT, NIHR, LifeArc).
Therapeutic innovation networks – Sharing best practice (Demand Signalling)
UCL have taken steps to build upon and accelerate the strong academic drive to translate their novel biomedical science. This is being maximised by coordinating professional support with the interested research community around a particular therapeutic modality and sharing knowledge through the Therapeutic Innovation Networks (TINs).
These multidisciplinary networks have been established in small molecules, cell, gene and regenerative medicine, biologics, repurposing, devices and diagnostics. Supported through a Wellcome Trust Translational Partnership Award, TINs aim to increase knowledge and understanding of translation and patenting, and equip researchers with the skills they need to collaborate with commercial partners.
Accelerating translation through strong partnerships
Translation is a team sport that requires multiple players to be aligned and pulling in the same direction. UCL and its partner hospitals' strategy over the past 10 years has enabled the acceleration of biomedical therapies delivering patient impact. The significant commercialisation of its world-leading, world-changing technologies and innovations into spinout companies has collectively raised in excess of £1 billion investment (Figure 2) making UCL the 'go-to' place for organisations looking to partner with academia and hospitals in research, education, innovation and industrial engagement along the entire value chain of therapeutic development.
UCL and its partner hospitals have a well-established innovation ecosystem helping to develop entrepreneurial researchers and drive a pipeline of marketable therapeutic innovations. As we look forward to the next ten years, we will continue to evolve our structures to provide the necessary support to our researchers to advance their amazing science for patient benefit.
Please note: This is a commercial profile
Editor's Recommended Articles