RECOVER is a high impact project for the improvement of the bio-economy in Europe.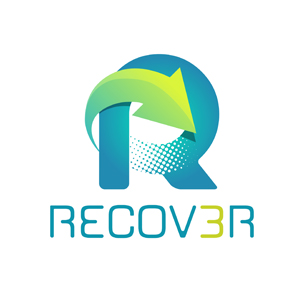 At RECOVER, our Research and Innovation Actions is focused on delivering biotechnological tools applying microorganisms, enzymes, earthworms and insects to degrade conventional non-recyclable plastic packaging and agricultural films waste streams but also result in new feedstocks, chitin/chitosan based plastics and coatings and new fertilizers, for the primary sector and bio-based food industries.
Background
One of the main innovations of RECOVER is the combination of microorganisms, enzymes and insects. This will allow achieving higher levels of biodegradation and direct conversion (at the same time) of agri-food plastic wastes in insect by-products such as chitin, that can be converted in chitosan (high value as bioplastics raw materials and other interesting industrial applications due to anti-microbial activity) that will be used in active packaging, enhanced mulching films and biofertilizers applications.
The process is optimized and performed either ex-situ in composting reactors and insects rearing chambers, or in-situ in the case of bioremediating soil pollution, by e.g. mulching films, further contributing to the long-term removal of non-biodegradable polymers from the environment.
Finally, RECOVER can solve the microplastics pollution at the level of both industrial composting and soil.
Objectives
To quantify and characterize AWP (Agri-food waste plastics) and define feasible logistic for collection, sorting and pre-treatment
To select microbial communities, novel synthetic enzymes, earthworms and insects for AWP biodegradation
To upscale the production of the suitable biotechnological solutions and combine them
To upscale and monitor biodegradation capacities of the fortified microbial consortia
To develop added value downstream products
To assess risks, safety, environmental impact, costs, logistic and cascade strategy for the RECOVER process
To disseminate the project results and foster their efficient exploitation
Impacts
RECOVER consortium is focused on establishing one new cross-sector interconnections, bonding the biotechnology providers of enzymes and insects, with users and converters of conventional fossil-based plastics, to result in bio-fertilizers, new active mulching films and agriculture products (pots, sticks, yarns) for the primary sector as well as in active packaging for food industries.
RECOVER intensifies two emerging cross-sectorial interconnections in bio-based economy cluster:
1) Bioplastics sector with the packaging sector (expected to grow at a CAGR of 17% to 2024);
2) Bioplastics sector with the agriculture sector (expected to grow at a CAGR of 5.8% to 2024).