Rothamsted Research is a non-profit research centre that focuses on strategic agricultural science to the benefit of farmers and society worldwide
Rothamsted Research is a world-leading, non-profit research centre striving to develop strategic agricultural science for global benefit.
The Defra funded UK Wheat Genetic Improvement Network, in its 16th year of funding and still going strong.
The UK government is committed to more sustainable agriculture, but this vision is facing an ever expanding range of environmental, energy and climate change challenges. Wheat is grown on a larger area (1.86 m hectares) and is more valuable than any other arable crop in the UK. The Wheat Genetic Improvement Network (WGIN) started in 2003, is funded by the Department for Environment, Food & Rural Affairs (DEFRA). The overall aim of WGIN is to generate pre-breeding material carrying novel traits for the UK breeding companies and to deliver accessible technologies and new knowledge, thereby ensuring the means are available to produce new, improved varieties. To achieve WGIN's goals, an integrated scientific core was established which combines underpinning work on molecular markers, genetic and genomic research, together with novel trait identification. The programme is managed by a team including representatives of the key UK research groups and breeders. They ensure the programme and its outputs are communicated to the wider scientific and end user communities, via a web site (www.wgin.org.uk), an annual stakeholders' meeting and peer reviewed publications.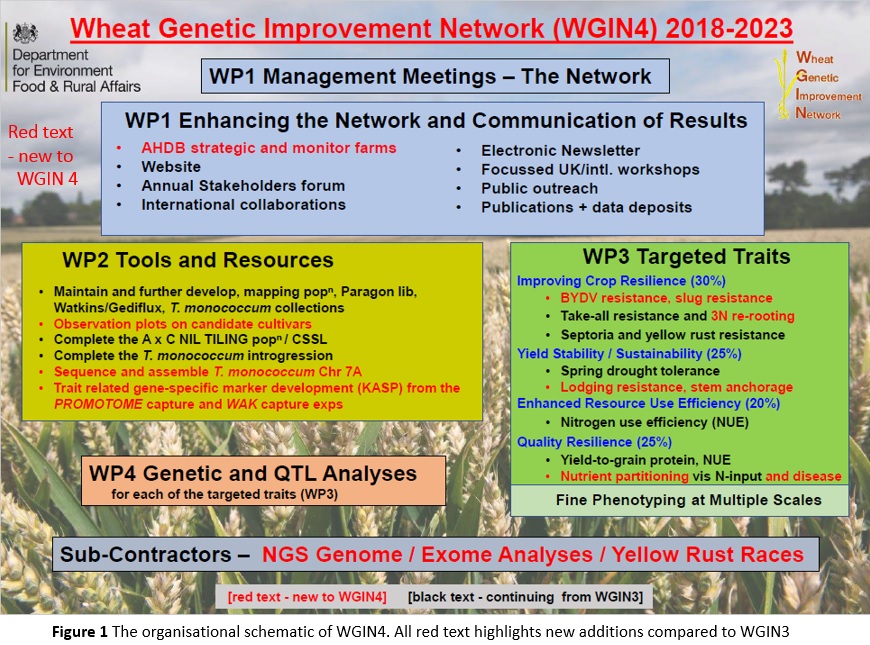 WGIN first started in 2003.  The 4th phase of WGIN (WGIN4), which is funded for 5 years, started in February 2018 and is entitled 'Improving the resilience of the wheat crop through genetics and targeted traits analysis'. This project consisted of four work packages (WPs) (Figure 1). WP1 focusses on further enhancing the networking and communication activities.  The three inter-connected research work packages (WP2, WP3 and WP4) focus on exploring a range of previous  and newly  nominated  high  priority traits for  the UK wheat crop, followed by detailed genetic and quantitative trait loci (QTL) analyses (WP3 and WP4), maintaining and developing new genetic resources for the UK research community (WP2), and testing new tools based on next generation sequencing technologies for their applicability to wheat research (WP4). In WGIN4, 70% of the research effort is focussed on traits analyses. The split of this research effort between the four overarching traits is resilience (30%), yield stability / sustainability (25%), quality resilience (25%) and resource efficiency (20%). These traits do not receive as much attention as the commercial breeding targets of high yield and improved grain quality.
Two important new activities are included in WGIN 4.  Firstly, via the newly formed project management group (PMG) and the research advisory group (RAG), we are in process of aligning WGIN to the other three defra funded GINs, namely PCGIN for pulse crops, OREGIN for oilseed rape and VeGIN for field and leafy vegetables (http://www.wgin.org.uk/about/GINs.php). The latest news about the four GINs and their forthcoming events is available from the newly launched joint website (https://defracropgenetics.org).  Secondly, AHDB has become involved to a far greater extent in disseminating the GINs activities and our key research findings to UK based farmers, growers and crop advisors. This is being done through the AHDB's strategic farm and monitor farm events programme. AHDB is also helping to promote the annual GINs stakeholder events more widely.
WGIN also acts as a catalyst giving rise to multiple and diverse areas of research which are taken up by breeders, academic researchers and other funding agencies.  WGIN is also actively training the next generation of wheat scientists.
The funded partners in WGIN4 are Rothamsted Research (RRes), the John Innes Centre (JIC) and five sub-contractors.
This year's virtual WGIN Stakeholders' Meeting will take place on Wednesday and Thursday November 11th and 12th 2020.
This event is open for registration from September onwards via Eventbrite by visiting the WGIN website (www.wgin.org.uk/) where a copy of the full programme can also be downloaded. This is an opportunity to 'meet' and discuss current and emerging topics in wheat research, genetic improvement through breeding and the latest production methods with wheat scientists based in academia and industry, commercial plant breeders, crop consultant, farmers and farm managers.
A topic particularly relevant to recent crop seasons will be selected for discussion.  An invited panel of experts will discuss why are we in this challenging situation, what are the consequences and what are the alternative options for breeders, farm advisers and farmers now and in the future.   Questions can be submitted in advance to kim.hammond-kosack@rothamsted.ac.uk.
A recording of the 2019 panel discussion on the challenges arising from the removal of specific insecticides which increase the risk of the wheat crop becoming infected this autumn with aphid that transmit a highly debilitating plant virus, called barley yellow dwarf virus (BYDV) is available from the WGIN website.
Rothamsted Research is located 30 mins north of London in Hertfordshire and can be easily reached either by train from St Pancras or by car from the M1 (junction 9). Parking is free. 
About Rothamsted Research
Our scientific contribution
Our scientists publish around 300 papers in international science journals each year, of which more than 70% are open access. We also make numerous data, software tools and other information widely available to the global scientific community and other stakeholders or beneficiaries of our work. Rothamsted Research has partnerships with numerous research institutions and universities in over 50 countries.
Our values
We take pride in our people and their achievements. Our people are experts in their field and come from all areas of the globe. We provide a modern dynamic working environment and support systems to enable collaboration and development opportunities.
Diversity and equality
Here at Rothamsted we actively encourage and support diversity and equality.
We understand that an organisation's success depends on its ability to draw on the skills, understanding and experience of its people.
Athena Swan
Rothamsted Research is proud to hold a Bronze Award from Athena SWAN.
The Equality Challenge Unit's Athena SWAN Charter was established in 2005 to encourage and recognise commitment to advancing the careers of women in science, technology, engineering, maths and medicine (STEMM) employment in higher education and research.
National capabilities
Rothamsted Research is home to three unique National Capabilities that are open to researchers from all over the world; The Long Term Experiments, Rothamsted Insect Survey, North Wyke Farm Platform for grazing-livestock systems research.
Collaboration and innovation
Rothamsted Research has a strong history of innovation through collaboration and now holds partnerships with numerous research institutions and universities in over 50 countries. Rothamsted Enterprises hosts a unique hub promoting collaboration and innovation by partnering with commercial agricultural technology businesses. Rothamsted Research is also a founding member of three UK agri-tech innovation centres that bring together a wide range of public and industry partners, namely Agrimetrics, the Centre of Innovation Excellence in Livestock, and the Centre for Applied Crop Science.
Corporate information and funding
Our annual expenditures amount to about £35 million. Funding and other support for our research is provided by the Biotechnology and Biological Sciences Research Council (BBSRC) of the UK, the Lawes Agricultural Trust (LAT), a wide range of other national and international funding bodies and industry.
History and heritage
Rothamsted Research is the oldest continually operating agricultural research station in the world. Its foundation dates from 1843 when John Bennet Lawes the owner of the Rothamsted estate appointed Joseph Henry Gilbert, a chemist as his scientific collaborator. We are proud of our heritage and invite you to find out about this fascinating journey
Environmental management system
We are committed to creating a better environment, which is a key underpinning objective of our science. This commitment extends to the running of the institute, which is compliant with international environmental standard ISO 14001.