Amanda Miller, Course Leader, outlines the PgCert Simulation in Health and Social Care course available at the University of Salford
This unique course is aimed at innovative, creative health and social care practitioners and education workers who have the ambition to advance practice. This course is applicable for (but not limited to) nurses, midwives, doctors, physiotherapists, radiographers, occupational therapists, social workers and technicians who want to develop their knowledge and skills in simulation-based education.
The PgCert Simulation in Health and Social Care will equip you with the contemporary knowledge and skills required to develop and advance simulation practice or education in your specific area of work.
Facilities
The University of Salford was the first higher education institution to be accredited by North West Simulation Education Network (NWSEN) for the simulation suite which consists of replica hospital wards and community care facilities.
Mark Hellaby from NHS Health Education England endorsed the simulation suite as a centre of excellence and stated that: "The use of the simulation facilities at the University of Salford will in no doubt catalyse a caring, efficient and safe workforce." To learn more about healthcare simulation suites, please visit: https://vimeo.com/205076379.
Course details
This course is designed to give you the confidence to develop and advance simulation in your area of practice or education and is tailored specifically to your needs.
This course runs part-time over nine months and encompasses two Level 7 modules:
Theoretical perspectives of simulation-based education
Practical application of simulation-based education
By undertaking this postgraduate course, you will be able to:
Demonstrate a systematic understanding of the knowledge and skills related to simulation-based education (SBE)
Develop the knowledge and skills required to design, develop and facilitate SBE
Master a comprehensive understanding of how SBE can be applied to own individual practice discipline
Show originality in the application of how simulation is essential to advancing practice and
Share and explore the diverse perspectives of discipline-specific SBE that is encountered globally, that could inform professional practice in own local practice setting
For more information on this, please visit: http://www.salford.ac.uk/pgt-courses/simulation-in-health-and-social-care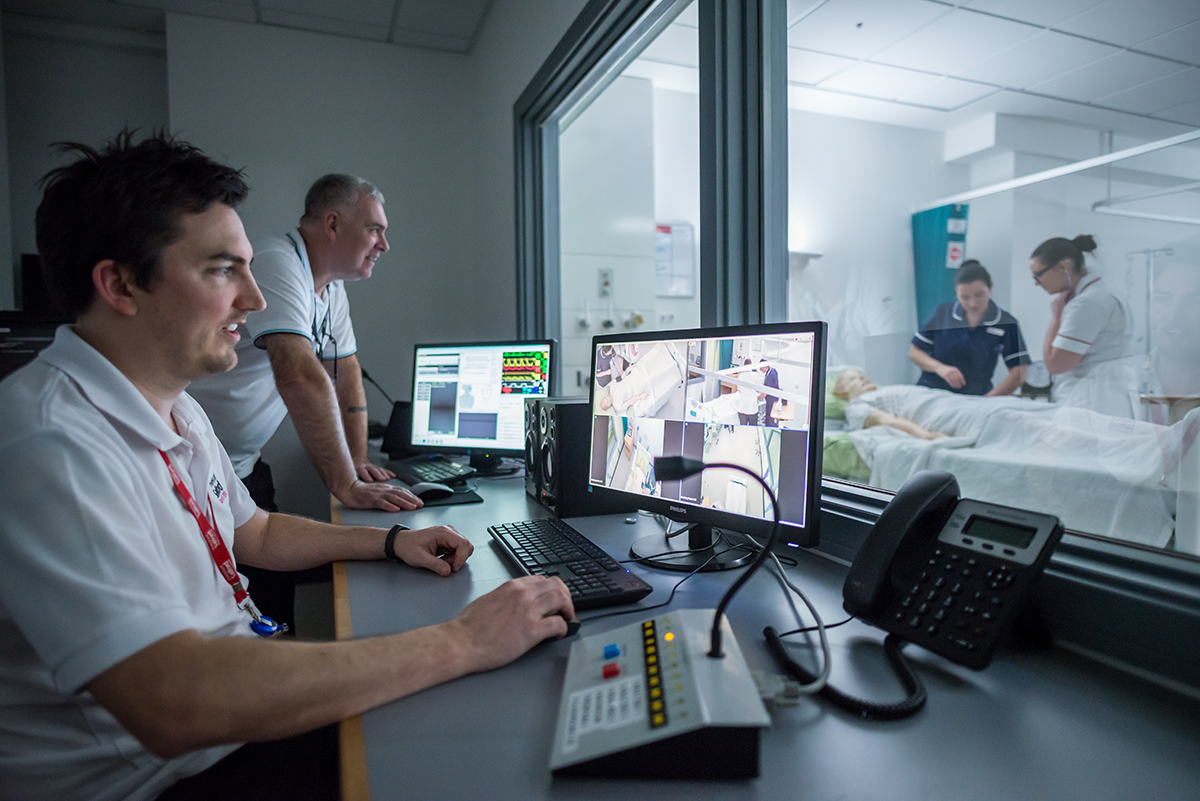 What do people say about the simulation facilities at the University of Salford?
"I was extremely impressed with the talking manikin and the ability to perform a clinical assessment with all the information available – pulses, heart sounds, breath sounds etc." – Christopher Jones, MSc Advanced Clinical Practice.
"Simulation has made me feel better prepared for practice and has contributed massively to my confidence as a soon to be a qualified midwife." – Savannah Dallas-Cross, third-year midwifery student – Course leader, Amanda Miller.
Amanda Miller is the Simulation Lead in the  School of Health and Society. Amanda is research active and her areas of interest include service user involvement in simulation, enhancing outcomes for children and young people through simulation and the emergency care of children.
Amanda is a registered children's nurse and a member of the North West Simulation Education Network (NWSEN) and the Association of Simulated Practice in Healthcare (ASPiH). For further information, you can contact her at A.Miller@salford.ac.uk or you can follow her on Twitter at www.twitter.com/susimulation
Please note: this is a commercial profile
Amanda Miller
Course Leader
University of Salford
http://www.salford.ac.uk/pgt-courses/simulation-in-health-and-social-care
Editor's Recommended Articles