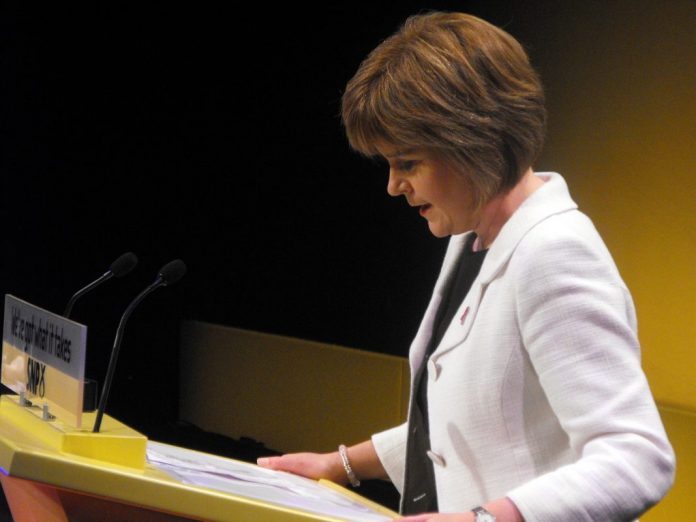 The SNP will be a constructive force at Westminster after the General Election, according to First Minister Nicola Sturgeon…
During a speech today the First Minister of Scotland Nicola Sturgeon is expected to say she has "clear and constructive views" on a number of policies that will impact the UK as a whole.
Recent polls have led to significant discussions around the fact the Scottish National Party (SNP) could hold the balance of power following the General Election. However, Labour Shadow Chancellor Ed Balls said it was "nonsense" to talk of a coalition with the SNP, and that it had no plans to enter such an agreement if there is no outright winner in the upcoming election.
Scotland voted last year on the nation's independence. However, despite a "No" vote, research from the University of Edinburgh found 69 per cent of people in Scotland believe the country would split from the UK. In fact, a total of 59 per cent of those surveyed in England and Northern Ireland, and 54 per cent in Wales believe Scotland will eventually leave the UK. The survey involved 7,000 voters across Britain.
Sturgeon is expected to set out her plans for taxation, the North Sea oil and gas industry, and the work allowance during her lecture today at the London School of Economics. She is expected to state that her plans will serve the entirety of the UK, not just Scotland.
Sturgeon will say: "We will argue for a moderate approach to deficit reduction – one which doesn't penalise the vulnerable and harm economic growth.
"And we will argue for a different way of doing things. Budgets should take equality impacts seriously and use consultation more effectively.
"If we can be a constructive voice in the months and years ahead, we won't just serve Scotland's interests; we'll help where we can to bring positive change across the UK as well."
She added: "We have clear and constructive views on many aspects of UK policy which affect Scotland deeply – views which we know are often shared by many people elsewhere in the UK."