Sri Lanka protests have ousted President Rajapaksa over disputes of the worst economic crisis the country has faced since gaining independence
Protestors have erupted across Colombo, where the prime minister's office lies, to eject the seemingly despotic Presidency of Rajapaksa and his administration. These Sri Lanka protests come from the shocking economic collapse of the country, which was once a developing middle-income nation, with a strong agricultural sector and burgeoning tourist industry.
Considered to be Sri Lanka's worse economic crisis since gaining independence in 1948, the United Nations has estimated that around 70% of people are missing a meal every day and one in five are hungry. 'Most Sri Lankans are existing but they're not living' reports Sky News.
'Most Sri Lankans are existing but they're not living'
Sri Lankans have been spending days queuing for any petrol, food, or gas available – but without any money for farmers to drive or work, or even afford seed or fertiliser, food isn't being produced and the economy has been quickly declining, leaving families to starve.
Food shortages in Sri Lanka are so acute, that up to a quarter of the population do not know when their next meal will be, or where it will come from, according to the World Food Programme.
The country is on track to run out of rice by September, officials report, as Sri Lanka's rice production fell over 13.9% between 2021 to 2022.
Protesters have ripped the gates open and pushed through a wall of soldiers
With a win from the protesters, who have managed to rip the gates open and push through a wall of soldiers – all while enduring floods of tear gas from police and security – President Rajapaksa agreed to leave his role.
The president promised to quit in July, and attempted to leave the country first – which meant he would be outside its borders and loses presidential immunity – but this plan was foiled when immigration officers blocked him at the airport, where the military has shown little interest in defending him.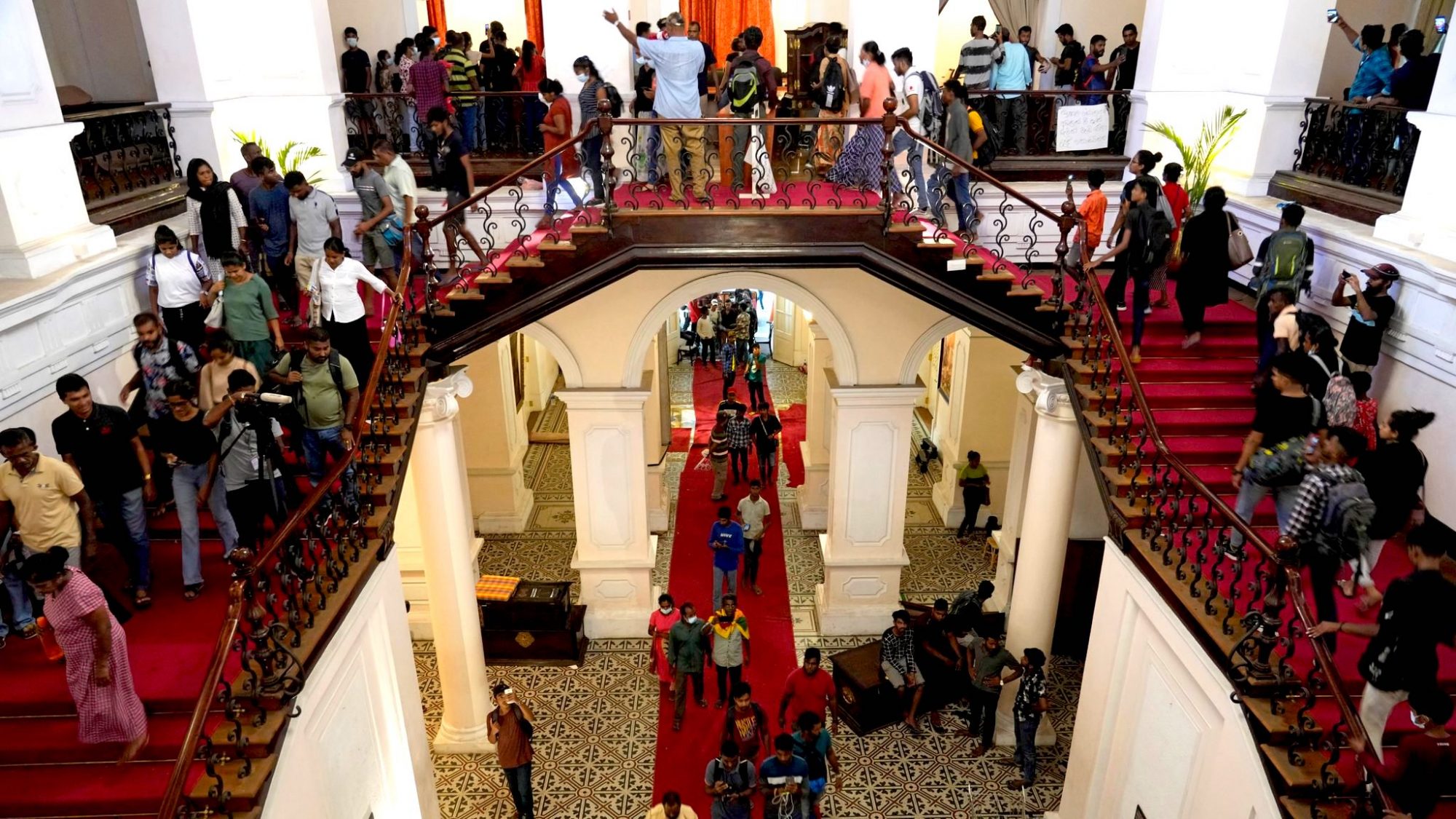 As of July 13th, he has fled to the Maldives on a military jet and hasn't been heard from since. He had pledged to stand down amidst these mass protests over the island's worst economic crisis in decades, where he declared a national state of emergency and a regional curfew as protests picked up in the capital Colombo and in other parts of the country.
The prime minister, Ranil Wickremesinghe, has now been appointed Acting President, however, many protesters also don't want Wickremesinghe in office – having called for both leaders to resign.
NOW – Anti-government protesters besiege and storm the prime minister's office in Sri Lanka's capital.pic.twitter.com/CePWVWUrPh

— Disclose.tv (@disclosetv) July 13, 2022
Gotabaya Rajapaksa 'inspired fear' with a reputation for ruthlessness
So who is Gotabaya Rajapaska, and why has his family retained a tyrannical reputation amongst Sri Lankans?
Essentially, the Rajapaksa family has also ruled for too long. As their political power grew as a family, reports noted that the country was heading towards autocracy under their rule. They have been accused of authoritarianism, corruption, nepotism and bad governance.
Basil Rajapaksa, one of his brothers, just recently resigned as finance minister in April, but his family has been involved in Sri Lanka's political scene since the mid-1930's – and many family members have been elected to positions across the government without contest. The Rajapaksas have been represented in the country's legislatures continuously from 1936 till 1977.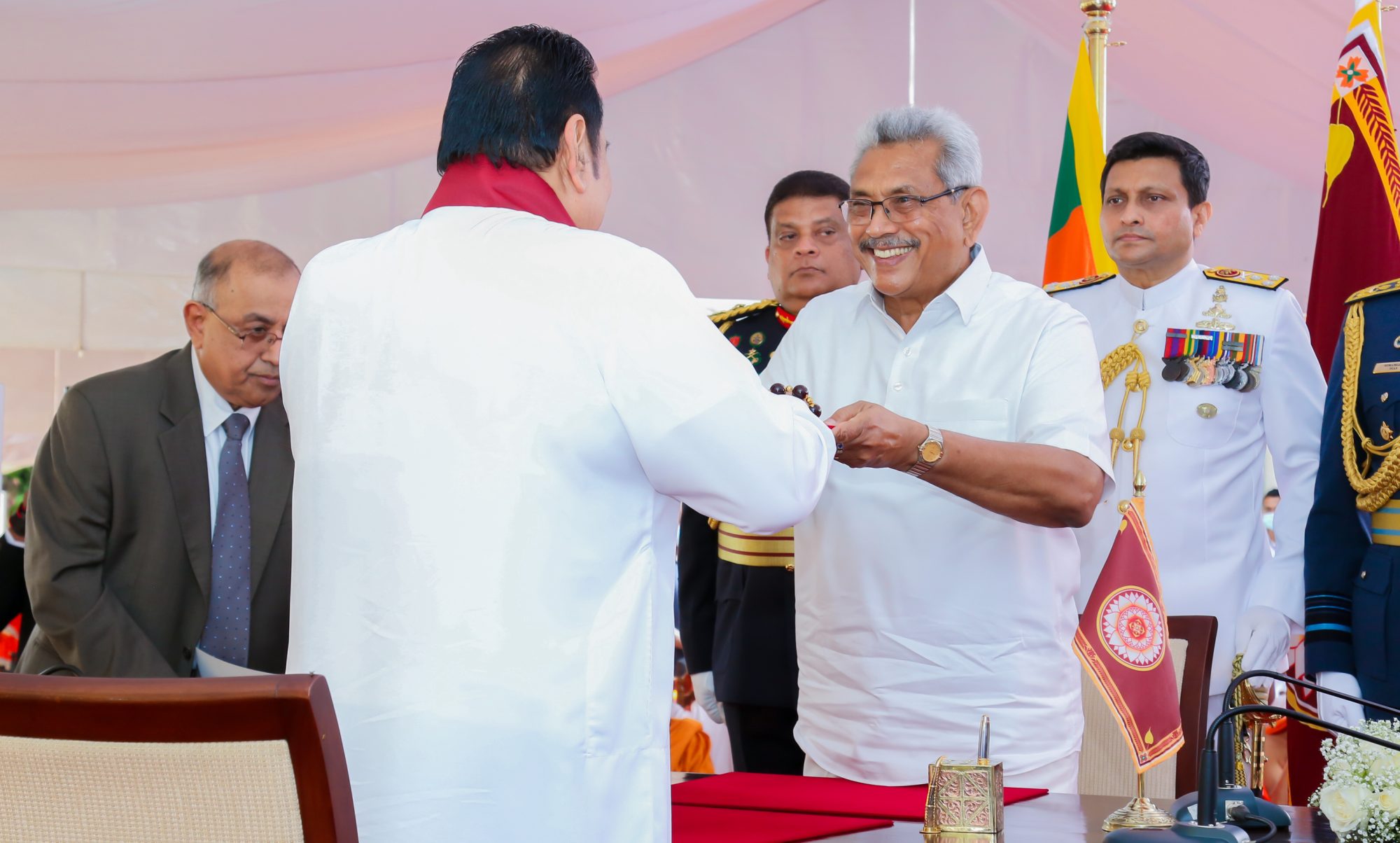 Their political controversies are many, but one notable case was the 2015 presidential election defeat, where the Rajapaksa family were accused of misusing public resources during the campaign, including use of the Sri Lankan Air Force in the campaign that cost $17,273.28 (Rs. 2,278,000.00) of public funds.
Human Rights Watch has additionally stated that Gotabaya has been implicated in war crimes, where he oversaw a sharp deterioration in human rights while being president.
Corruption and deceit lead to protests and economic fallout
The COVID-19 pandemic also drastically affected the economy, but the tourist trade was already wounded by 2019's Easter bombings – which killed 269 people following disastrous police and intelligence failures. Since then, Sri Lanka has failed to feed local populations and sustain efficient human rights nationwide.
This economic crisis has been worsened by Russia's invasion of Ukraine, because as well as rising fuel costs, the two countries were major sources of tourists.
However, most of these issues come down to Rajapaksas' disastrous mismanagement over the years. From white-elephant infrastructure projects to last year's hasty decision to ban fertilisers, causing harvests to slump, the family has left Sri Lanka in ruins, with no trustworthy government to rely on to get back on its feet.
"We will keep coming, we will keep fighting until we have some assurance that we and our children have some future in this country."
A 31-year-old protester Viraga Perera in Galle Face Green – where protests have also erupted – told the BBC: "Our country is facing an extreme economic crisis."
"The people here are here so they can have a vote for the future. This kind of behaviour, of sending helicopters that are armed around the people who are gathered here peacefully, sends a clear signal to deter peaceful protests against the current regime," he said, referring to the military helicopters that have been flying low over the heads of protesters gathered there.
"We will not stand by this. We will keep coming, we will keep fighting until we have some assurance that we and our children have some future in this country." He finalised.
Editor's Recommended Articles