Swansea University Medical School is now ranked as the UK's 3rd best Medical School and Wales's number one Medical School (The Guardian University Rankings 2019).
Established in 2004, Swansea University Medical School is based in Wales's leading health and life sciences research facilities the multi-million pound Institute of Life Sciences (ILS) 1 and 2, the Centre for NanoHealth and Data Science Building on Swansea University's Singleton Campus.
Swansea is leading the way in developing a health workforce fit for the 21st Century. The School's flagship Graduate Entry Medicine programme has recently expanded its numbers and this year the School will see it's very first cohort of Physician Associates graduate. As well as training tomorrow's doctors, the Medical School also offers undergraduate and postgraduate education in the following areas:
Applied Medical Sciences
Biochemistry
Genetics
Medical Pharmacology
Population Health and Medical Sciences
Autism and Related Conditions
Clinical Medicine
Diabetes Practice
Genomic Medicine
Health Informatics
Health Data Science
Leadership for the Health Professions
Medical Radiation Physics
Nanomedicine
As a leading UK centre for medical research, Swansea is committed to innovative health and life sciences research which delivers strong performances in terms of attracting prestigious research funding, recruiting PhD students and in those research  areas that provided a very strong  performance in the most recent  Research Excellence Framework  (REF 2014)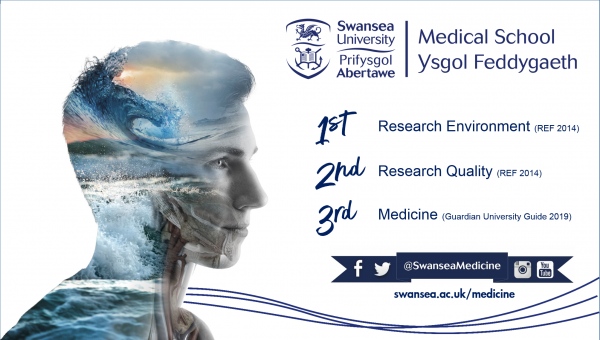 Swansea University Medical School four research themes are:
►Biomarkers and Genes
►Medical Devices
►Patient and Population Health Informatics
►Microbes and Immunity.
Swansea University Medical School collaborates widely with NHS Wales, the UK Research Council, Welsh and UK Government, as well as many national and international firms and was recently awarded to host the UK's first Sanofi Diabetes Centre of Excellence. The Medical School is also working with Pfizer to establish a Clinical Digital Centre of Excellence aligned to the ambitions of the £1.3billion Swansea Bay City Region City Deal and is proud to be part of the ground-breaking multi-million pound Llanelli Wellness and Life Science Village. The Medical School is also a partner in the recently-launched Accelerate programme. Accelerate, funded by Welsh Government and European Funds, will allow us to take our ideas and research out of the lab and into the marketplace – helping create new products, services, companies and high value jobs in Wales.