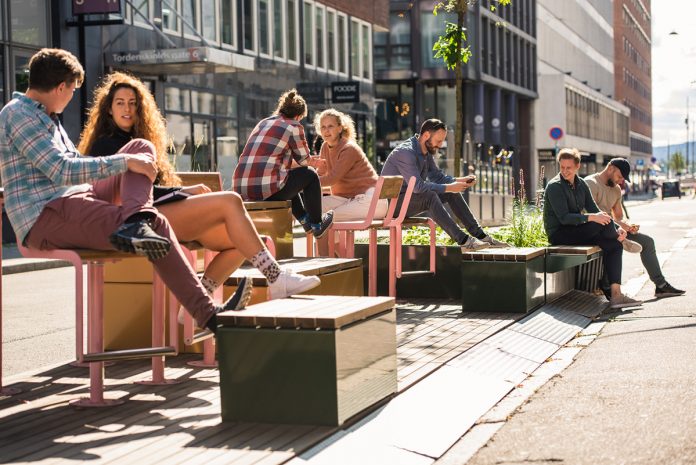 Romy Rawlings, Commercial Director at Vestre Ltd, discusses how COVID-19 has acted as a catalyst for transforming urban spaces, and why introducing parklets could be the way forward
Vestre is a Norwegian manufacturer of outdoor furniture. You might think that our sole focus is, therefore, to sell as many benches or planters as possible to those of you reading this article, but you'd be wrong. We take a different, and perhaps surprising, approach to business.
Today, many people talk about a triple bottom line – people, planet and profit – and we must keep this at the front of our mind while taking when considering our business impact. We're proud to have operated carbon neutral production for 10 years. We offer extremely lengthy warranties on our products (lifetime on all steel elements against corrosion) to minimise our use of resources. Furthermore, we take a holistic, cradle to cradle approach, manufacturing products that have an infinite life through refurbishment and availability of spares, etc. But we need an awareness of social, as well as environmental or economic aspects of sustainability.
Without doubt, the COVID-19 pandemic has completely transformed the way we live, over many months and for some time to come. Every aspect of our lives has been impacted, including how we approach the design of our towns and cities and as we move on from the initial emergency measures, there's a real will to bring about positive and meaningful change through a green recovery.
This pandemic has highlighted serious issues around public health, transport choices, pollution levels, and social justice, and a proactive focus on tactical urbanism is much needed if we're to bring about a healthier and more equitable society through a green recovery. Surely, we can't allow a further increase in societal inequalities or acceleration of the climate crisis and now is the time to adopt a proactive and long-term approach.
Fortunately, there are some great examples of cities using the current crisis to accelerate their existing plans, and we have been involved in several where positive actions have already been adopted.
Oslo's Car Free City Centre
Most of our European cities have been planned around cars, with vehicles dominating public space and huge swathes given over to parking them. In recent times, and particularly now post-COVID, many cities are keen to design the car out of the urban landscape.
Oslo is somewhat ahead of the curve: Some five years ago, Oslo developed a plan to transform to a greener and more welcoming city, by giving streets back to the people. Streets would become places where people meet and eat outdoors, children play, tourists wander freely while sightseeing, and to include public art.
In 2017, the first changes took place in the city centre to create more room for pedestrians and cyclists and also meet environmental and carbon reduction targets. Throughout the project, temporary measures were carefully evaluated before permanent measures were implemented. By 2018, around 700 parking bays had been eliminated and replaced with cycle lanes and parking, seating, playgrounds and cultural activities – essentially what we now know as parklets. So, this year, and way ahead of most cities, Oslo was already well prepared for the measures that were needed to address the COVID-19 pandemic.
Right now we're understandably experiencing immense interest in our parklets and associated products, with numerous projects calling for temporary measures, along the lines of what I've described above. We've seen many brilliantly conceived proposals and, if just a fraction of these come to fruition, our towns and cities will be much better places. We hope to see more of the following:
The creation of sufficient high-quality public space for exercise of all kinds to reduce pressure on green spaces – prioritising areas of high deprivation, density and footfall.
Increased trialling of low traffic neighbourhoods and widened footpaths for a better pedestrian experience everywhere.
Higher levels of cycling through improved infrastructure: segregation, improved links, and increased cycle parking.
These measures are entirely achievable, and could move us, through the unfortunate catalyst of COVID-19, to a better place for people, place and nature. But they need considerable investment of expertise, time, and finances, and not a panicked response that will need to be remodelled or replaced in just a few months. The best possible outcome will surely come about where long term proposals have already been drawn up and delivery will simply be expedited by this unexpected crisis.
We must act responsibly and sustainably right now and tackle the complex societal issues that need to be addressed – whether climate change, inequality, or social disquiet… If we all maintain a focus on the future, our urban areas can no doubt emerge safer, healthier and more resilient than before.
Please note: This is a commercial profile
Editor's Recommended Articles