TED Gen partner with you for on-site energy generation to achieve day one savings, no capital investment required
TED Gen are at the forefront of the drive for Combined heat and power (CHP), which is recognised by many businesses as the single best opportunity to reduce energy costs and improve environmental performance.
TED Gen funds, installs and operates Combined Heat & Power systems that deliver heat and power where it is generated, providing immediate and sustainable savings for clients. Be it a retro fit, new build  or introducing CHP to an established and operating business, we can help.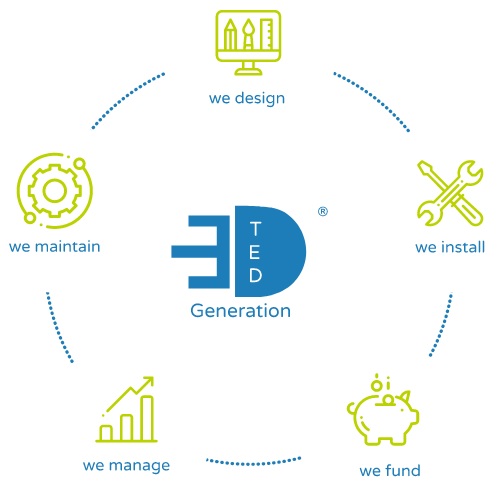 Our Optimised Performance Promise
The TED Gen team have many years' experience in all aspects of energy services and have delivered, for various clients, over 10gW's of electricity and 172gW's of heat over the past 12 months alone.
We can prove the on-going savings – of up to 40% – we make you at any time. You can therefore rest assured in the knowledge that we are committed to optimising the performance of the equipment over the whole term of the agreement, to give maximum benefit
Whether you are looking for the most efficient energy solution for new premises or want to streamline your existing heat and power plan, TED Gen can help.
Is CHP right for my organisation?
Here at TED Gen, we have helped countless businesses in installing a CHP system that has helped them save thousands of pounds, but how exactly do CHP work and will it be a good fit for your organisation?
As well as acting as an engine that supplies power to your premises, a CHP system will collect and re-integrate any wasted heat. Its and efficient and carbon friendly way to help heat and power a premise. However, CHP and onsite generation does need the right environment, demand and correct sizing to be efficient and effective.
Feasibility study with no catch
With no obligation TED Gen will help you understand if CHP is suitable for your organisation by analysing thermal load and electrical demand. We then provide a free desk top feasibility report which outlines savings achievable, the size of CHP required and the funding mechanisms available.