The University of Rome Tor Vergata was established in 1982: it is therefore a relatively young University. It was designed on the model of Anglo-Saxon campuses: it stretches on 600 hectares and hosts important research institutions, such as CNR and the Italian Space Agency – ASI.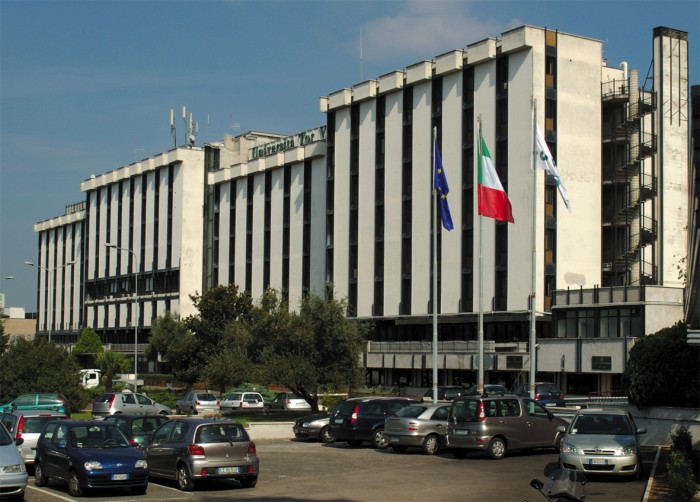 Many other centres are located close to this University, e.g. ENEA, ESA-ESRIN, the National Institute of Astrophysics, Monte Porzio Catone Observatory and the National Institute of Nuclear Physics. Right from the start their presence has contributed to turning "Tor Vergata" into a dynamic research pole.
Furthermore, the Campus hosts one of the most modern hospitals in Italy, i.e. University Hospital Tor Vergata, a care and research centre which is a reference point for the whole Lazio region and where our Medical School is active as well.
The University is situated close to Exit 19-20 of Rome's Grande Raccordo Anulare, it is well connected and easily reachable. In addition to public transport connections (underground, buses), a free shuttle bus to Tor Vergata railway station was set up too (see section 'Where we are').
A University that is open to the world
The University of Rome Tor Vergata is fully engaged in promoting an international dimension of studies and hence participates more and more actively in international research. Its key objectives include promoting joint degrees, developing international mobility for students and the faculty, as well as enrolling and training foreign students. In keeping with this vision 16 degree courses are "international"and most of PhD programmes are taught in English. In particular:
Tor Vergata is the first Italian University organising an English-only degree in Pharmacy (5-year course) in cooperation with the prestigious School of Pharmacy of the University of Nottingham and Alliance Boots;
12 PhDprogrammes see a cooperation with foreign Universities (joint degrees)
As far as international relations are concerned, the University of Rome Tor Vergata counts more than 500 bilateral and cultural/scientific cooperation agreements with partner Universities worldwide to promote joint research programmes and academic exchanges. Among thosethe most prestigious Universities of Brazil, but also the George Washington University (for bilateral student mobility with traineeships from 4 to 8 weeks – for the first time in Italy); Harvard University (to support innovative teaching and research programmes, clinical practice, fight against cancer and exchanges for the best students and researchers); the University of Oxford; the University of California, Irvine (to promote cooperation in science and didactics through joint programmes and research projects, academic activities and training in fields of shared interest).
As far as the Erasmus+ call for study 2014-2015 is concerned, 900 mobility grants for 673 signed and funded agreements were set up.
The most recent Erasmus+ agreements feature the world-class University College London.
Among the most important international networks developed by the University of Rome Tor Vergata the following stand out:
EUA Network (European University Association): the University of Rome Tor Vergata is part of EUA Network, i.e. a network representing higher education institutions and the Rectors' Conferences of 46 European Countries. It is a reference point for and supports the development of cooperation and constant update for its members regarding political views about higher education and research.
YERUN (Young European Research Universities Network): the University of Rome Tor Vergata is the only Italian university in YERUN, which includes 18 young European universities (less than 50 years of activity) standing out for their results in some of the most important international university rankings (QS World University, Times Higher Education and Shanghai Ranking). It aims at promoting joint research projects in fields with high social impact.
VIU (Venice International University): the University of Rome Tor Vergata is part of VIU Venice International University, a group of Universities from all over the world sharing a common campus on the  Island of San Servolo, in the Venice lagoon. These Universities devise study programs collegially to prepare their students to face the global challenges of today: sustainable development;climate change; ageing; urban growth; global ethics; cultural heritage