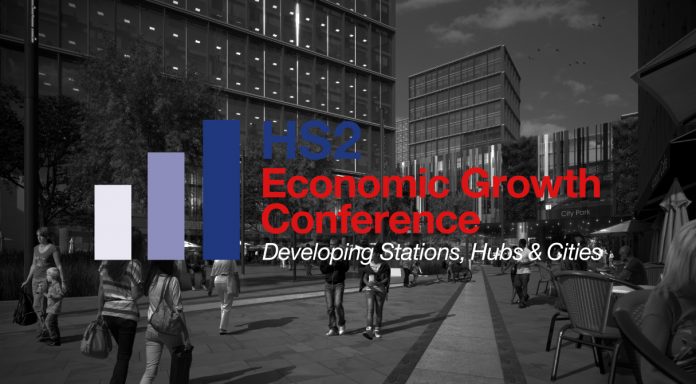 On the 7th November, prominent business and public-sector leaders will come together in Birmingham for the HS2 Economic Growth Conference supported by HS2 Ltd – the largest business conference of the year focused on driving and unlocking the huge economic growth opportunities which HS2 will bring to the UK
The conference, hosted by Built Environment Networking, will see some of the biggest names in business, politics and local government lead regional hub discussions on the challenges which need tackling and the phenomenal opportunities to create homes, jobs and economic growth through each HS2 hub. The conference, which will also include presentations on the future vision and development opportunities in each region, represents an incredible opportunity for all sectors of the built environment and construction industry to collaborate and communicate to align on the key issues and opportunities for economic development and growth in each region.
During the one-day conference, 1,000 delegates will hear from more than 70 speakers and have access to 40 exhibitors, including representation from every station, hub and regional authority.
Mark Thurston, Chief Executive Officer of HS2 Ltd, said: "HS2 is much more than just a railway – it has the power to rebalance our economy and drive social mobility – bringing opportunities closer to people, and leaving a lasting legacy of jobs and skills here in the UK. As an integral part of the Midlands Engine and Northern Powerhouse agendas, HS2 will help bridge geographic divides and deliver a more balanced economy with benefits felt around the UK."
Jamie Kerr, Managing Director of Business Development at LCR, said: "I'm delighted to be speaking at this year's HS2 Economic Growth Conference, which will bring together many of the key players from the public and private sectors to discuss the essential role our cities and regions have in delivering homes, jobs and economic growth across the country. With a national remit to deliver rail-led regeneration, LCR is very much part of this drive, working in true collaborative spirit with local authorities, LEPs and transport agencies to maximise the development opportunities presented by major infrastructure projects such as HS2. We're excited to be developing strategic relationships and supporting regeneration in and around station sites to deliver on the Government's growth agenda."
Old Oak and Park Royal in zones 2-3 of west London are set to be transformed through the arrival of HS2 and the Elizabeth Line, creating 25,000 new homes, 65,000 new jobs and contributing £7bn a year to the UK economy. Liz Peace CBE, Chairman of the Old Oak and Park Royal Development Corporation (OPDC) – set up by the Mayor of London in 2015 to maximise development opportunities – said: "This conference shines an important light on the route-wide impact of the HS2 development, which is going to connect the UK and bring economic benefits to the whole country. Old Oak and Park Royal is an area that is just crying out for regeneration but without HS2 it would have taken an awfully long time. Royal Assent for the HS2 Hybrid Bill has shown everybody that this project is really going to happen and that Old Oak/Park Royal – and all the other areas touched by this project – now have the certainty and momentum they need to get on with the vital task of creating new jobs, commercial space, homes and vibrant, exciting communities."
Philip Farrell, acting Managing Director at the Urban Growth Company – set up by Solihull Council to make the most of HS2's arrival – said: "This conference will be just a stone's throw from the HS2 Interchange Station site where we're laying the foundations to create a whole new urban quarter.  We think there's no better example of HS2 being a catalyst for the creation of new jobs, homes, commercial space and unrivalled international, national and regional transport connectivity, than here at the UK Central Hub in Solihull."
Keith Griffiths, Managing Director of Built Environment Networking, said: "HS2 is much more about the development of tracks, stations and connectivity. It brings a once in a lifetime opportunity to drive development and regeneration within our cities and wider regions to support the creation of homes and jobs, whilst allowing our cities to compete globally. To deliver the best possible impact on the UK we must tackle key challenges early as an industry, whilst ensuring a culture of collaborative working is embedded into our working to ensure we maximise growth potential, support innovation and deliver a legacy for future generations to enjoy in every region."
For more information or to book tickets to the event on the 7th November 2018 please visit: www.built-environment-networking.com/HS2EGC18 and for media enquiries please contact Nathan Spencer on nathan.spencer@built-environment-networking.com.
Editor's Recommended Articles