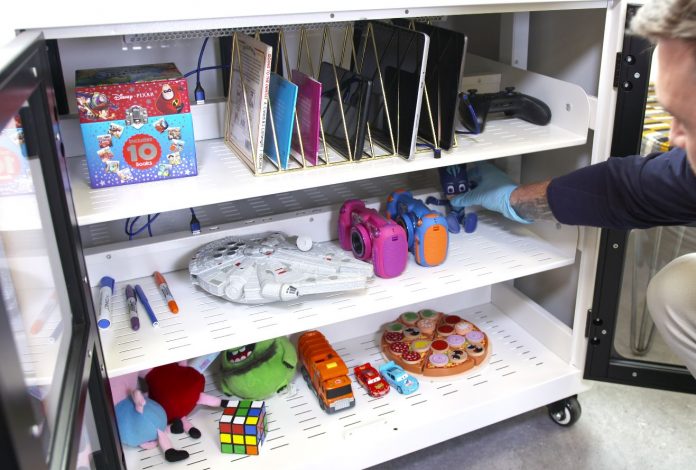 Jarek Salek, Head of Engineering and Technical Operations at Uvisan, explains how UV-C cleaning in educational facilities can make shared equipment safe from COVID and help resume teaching that involves computers and other shared hardware
In the coming weeks and months, as students are phased back into schools and other educational institutions, minimising viral transmission is going to be a top priority. When schools reopen to all, decision-makers must be doing everything they can to give students a learning experience that is as close to normal as possible.
Over the past year, education has faced unprecedented levels of disruption. Teaching has been virtual and remote for great lengths of time and in the short windows that schools have been open, facilities have been limited due to concerns surrounding hygiene and disinfection.
As restrictions ease, schools, colleges and universities must find efficient, reliable and cost-effecting disinfection solutions which will keep students protected throughout the remainder of the pandemic and beyond as society adopts a more hygiene-conscious outlook.
For many institutions, leaving rooms empty for hours after fumigating them or letting equipment quarantine for 72 hours between uses is incredibly impractical and unrealistic. For those using delicate technology, such as headsets and iPads, using moisture or chemicals to disinfect equipment could cause expensive damage.
While many teachers have been using wasteful disinfectant wipes, some institutions are leading the way in implementing a much more efficient and reliable defence against outbreaks of Covid and other illnesses. Turning to UV-C light as a disinfection solution is saving staff time, effort and resources, all while guaranteeing more effective decontamination than wipes and chemicals can achieve.
What is UV-C disinfection?
When shone onto a surface, short-wavelength UV light (UV-C) will disable any pathogens present. An energy transfer renders microbes unable to replicate or express the necessary proteins to survive, resulting in their death or inactivation.
The technology was reportedly first used in the 1800s but became widely used in 1955 to disinfect water supplies. UV-C light is now used in the food and beverage production industry to eliminate harmful pathogens such as E. Coli and Salmonella in just a few minutes. It is also used to treat wastewater, clean science laboratory equipment and it has been identified as a water cleaning solution for developing countries.
Given the efficacy and longevity of using UV-C to kill pathogens in our food and drink, why are we not using it more often in day-to-day life to keep public spaces and shared equipment sterile? Medical-grade UV-C lamps will kill 99.9% of microbes on a five-minute cleaning cycle without the need to quarantine hardware or space once it has been disinfected.
How effective is UV-C cleaning?
Research has found that UV-C kills over 55% more bacteria than using wipes alone. As well as being more successful in killing bacteria, UV-C light in zero waste, unlike wipes, and is more cost-effective in the long run. UV-C light will also not damage electronics as wet wipes may.
Uses of UV-C in education
UV-C light can be used to disinfect portable devices and equipment, such as iPads and keyboards, using disinfecting cabinets, or to disinfect entire rooms and fixed equipment using ambient lamps.
Towards the beginning of the pandemic, Hazelwood School stopped using its shared iPads in lessons as teachers could not be reasonably expected to disinfect a class-worth of iPads thoroughly in between each use.
At the beginning of the academic year, the school bought a UV-C cabinet so the iPads and headsets could be cleaned on a cycle lasting five minutes. The equipment can now be placed inside a lockable cabinet, charged and cleaned from harmful germs ready for the next class to use. Hazelwood has been able to reintroduce shared iPads to lessons without the fear of spreading Covid and without having to make the expensive decision to buy more iPads.
Chichester University was facing a similar struggle as its recording and production studios and the equipment within could not be properly disinfected without using heat or moisture, which would cause damage. To overcome this barrier, the university has installed several carefully positioned lamps into its production studio. The ambient lights disinfect the entire room and the equipment within it so that it can be used safely.
In addition to the ambient solution, Chichester has installed cabinets to disinfect keyboards and mice from the library. There is no quarantine period on items disinfected with UV-C, so the equipment can be in constant circulation facilitating the proper use of these vital resources.
The pandemic has obliged teachers and other education staff to dedicate more time to disinfecting rooms and equipment. UV-C solutions will decrease time spent cleaning so that staff can use it more constructively without compromising their own safety and that of their students.
Current students at schools, colleges and universities have already had their education seriously impacted by the pandemic. It is now vital that they have access to the equipment and facilities that they need going forward, and UV-C light disinfection is ideally placed to support this.
Editor's Recommended Articles