VolkerSmart Technologies is a market-leading electric vehicle charge point (EVCP) installer and maintainer, having delivered over 7% of all commercial EVCP across the country
We offer integrated project management and seamless, end-to-end solutions for designing, sourcing, installing, and maintaining the infrastructure needed for the deployment of EVCP in public and commercial environments.
We work with premium manufacturers to provide the latest technology, best value for money and optimal, high-quality installations. We work closely with our clients to optimise EVCP layouts and meet the individual requirements of each location.
As a member of the National Electrical Registration Scheme (NERS), VolkerSmart Technologies can deliver independent connections to metered and unmetered local DNOs. This in-house capability has the benefit of reducing the time required for electrical installations, while mitigating programme risk and reducing costs.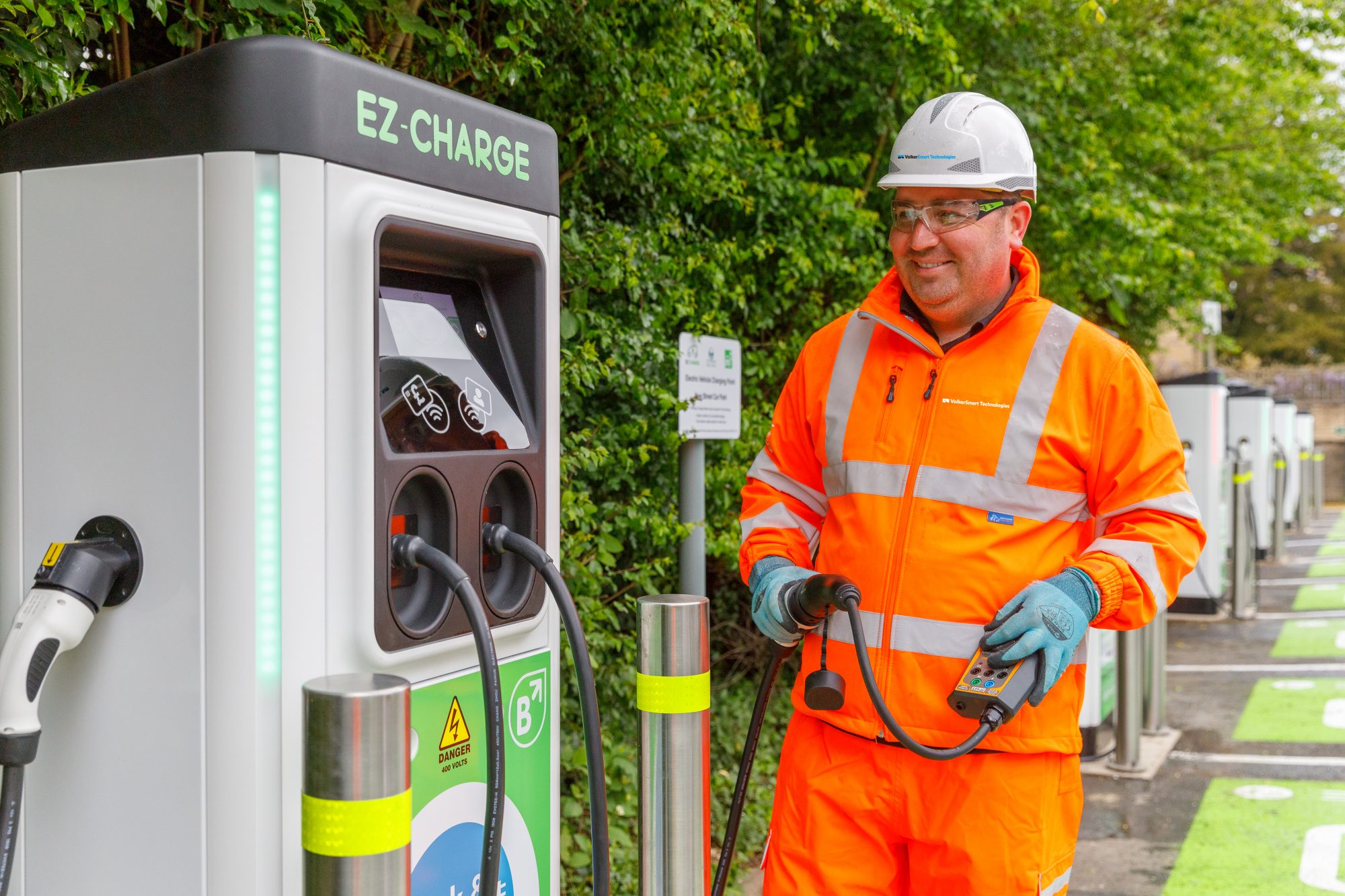 We are an approved supplier on six frameworks, including:
Crown Commercial Services (CCS) Transport Technology and Associate Services (Agreement RM6099)
Crown Commercial Services (CCS) Vehicle Charging Infrastructure Solutions (Agreement RM6213)
Eastern Shires Purchasing Organisation (ESPO) – Vehicle Charging Infrastructure 2
Efficiency East Midlands (EEM) – EVC Infrastructure (reference EEM0064)
Crescent Purchasing Consortium (CPC) – EVCP installation, supply and consultation maintenance
Pagabo – Civils and Infrastructure Framework
These frameworks enable public sector organisations fast access to high performing delivery teams that specialise in designing and constructing EVCP. They eliminate the need for costly and time-consuming tender processes and provide an OJEU and FAT compliant procurement route.

Our projects include:
Park and Charge Oxfordshire – VolkerSmart Technologies delivered 125 dual 22Kw EVCP across 20 public car parks in Oxfordshire. The business provided a full turnkey solution through its in-house independent connection division.
MoJ prison estates – VolkerSmart Technologies installed 24 22Kw EVCP at seven prison estates in England and Wales for the Ministry of Justice (MoJ). The business worked closely with the MoJ to meet their bespoke delivery requirements in a high security environment.
VolkerSmart Technologies is the Smart Cities initiative from highways service provider, VolkerHighways.

VolkerHighways
VolkerHighways' work comprises highways and street lighting term maintenance for local authorities, surfacing and traffic management.
Our highways term contracts service important inter-connecting roads, major urban traffic routes, residential and rural roads infrastructure. We maintain footpaths, street lights, drainage, road markings and highway related structures, other street furniture, and provide full cleansing services. Our highways network management service supplies emergency response, winter gritting and infrastructure improvements.
We have a dedicated service to help local authorities improve the management of their highway assets. We provide expert advice and technical support for the effective management of highway assets, including street lighting and traffic management systems.
We roll out mass LED upgrades for local authorities, improving reliability and reducing ongoing maintenance. In the last six years, VolkerHighways has converted in excess of 120,000 streetlights to LEDs, providing energy cost savings of up to 70 percent for our clients.
The in-house capability of our traffic management and surfacing divisions provides our clients with a full turnkey solution, minimising disruption, while improving project management and securing on-time deliveries.
Some of our clients include: