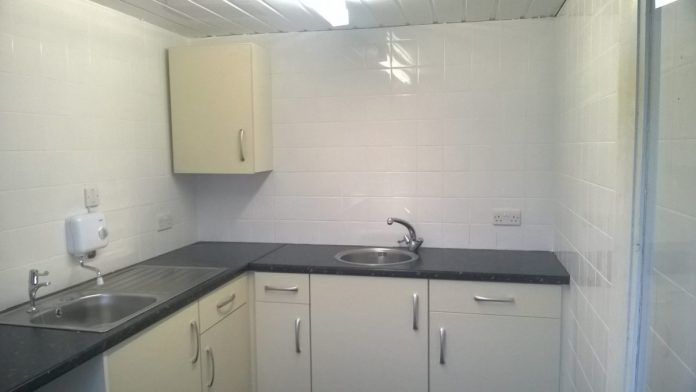 Affordable housing provider, Wates Living Space, is celebrating the completion of its 1,000th kitchen refurbishment for Wrexham County Borough Council's Housing Service, marking a key milestone in a programme of property improvements across the district…
Wates commenced delivery of the £9.8m project in January this year, which is seeing residents in Wrexham receive brand new kitchens and bathrooms over the course of 12 months.
The kitchens are part of Wrexham Council Housing Service's comprehensive improvements work programme to ensure all its social housing properties achieve the Welsh Housing Quality Standard by 2020.
A Multi-Use Games Area (MUGA) in Cefn Mawr was the 1,000th property to receive a kitchen replacement by Wates. The work on the kitchen was donated by the construction company as part of a commitment to leaving a legacy of community benefits through delivery of the project.
Managed by a local community trust, the newly repurposed building has also seen the renovation of its bathrooms and associated tiling, cabinets and flooring. This space will now be hired out for use during sporting events.
Community Councillor and Chair of the facility's trust, Ken Bathers, said 'On behalf of the trust, I would like to thank Wates for the new kitchen in our catering cabin. The facility will be well used by the local football clubs and the Welsh and English primary schools. We previously only had a rating of one star for the unit, meaning only hot drinks could be served. I am now confident we will have the highest rating where hot food can be prepared. The new cabin is much appreciated.' 
Local Councillor for Cefn, Derek Wright, commented, 'It's good to see Wates helping the Trust, this will now give users of the Sports Field the chance to earn money from the new refurbished kitchen. The old kitchen hasn't been used for 2 years because it was unfit for purpose. There will need to be investment in equipment but I'm sure the Trust will make that investment.'
Steve Jackson, Regional Managing Director, Wates Living Space's Maintenance North division, commented: "It is with great pride that we announce completion of our 1,000th kitchen refurbishment for Wrexham County Borough Council. This project pays testament to our close-working partnership with the council and follows the successful creation of employment and training opportunities for local residents.
"Our team of maintenance experts are well-versed in delivering refurbishment projects to an exceptional standard and we hope the new community building will provide a fully-functional space for sporting groups for years to come."  
Wrexham Council's Housing Service is investing a total of £38m for social housing improvement work in 2015/16. This includes a £7.5m 'major repairs allowance' grant from the Welsh Government. Clauses are now included in all the Housing Service's contracts, requiring firms to contribute to the local economy through Community Benefit schemes. 
As well as refurbishing community facilities, Community Benefits can also include taking on local labour and trainees, and purchasing supplies from local businesses.
Lead Member for Housing, Cllr Ian Roberts, commented, "We are committed to ensuring that our local communities see the benefits from the investment we are making in bringing our housing stock up to standard. All our contractors are now required to commit to Community Benefit schemes when working with the Housing Service and many of our community facilities have now received upgrades and improvement work thanks to the schemes."
Wrexham County Borough Council