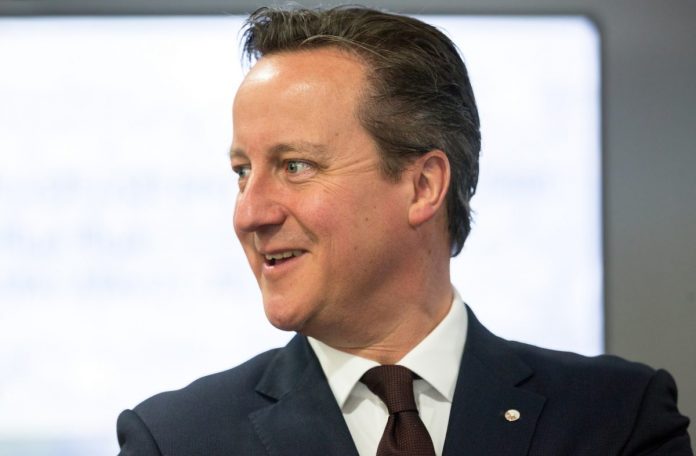 Prime Minister David Cameron has warned his ministers to back any deal he makes in regards to the UK's relationship with the EU or to leave the government…
David Cameron's approach to democracy this week has been an unusual one. He has reportedly warned his ministers to back any deals he makes with the European Union or leave the government. It all sounds a little dictatorial.
Cameron is currently locked in a battle with the EU in a bid to redefine the UK's relationship. The topic had formed a major part of his election manifesto, and it is expect the UK will have a referendum on whether to stay in or get out by 2017.
Speaking at the G7 summit in Germany, Cameron said everyone in government had signed up to his plans, which were set out in his election manifesto.
The Prime Minister said: "If you want to be part of the government you have to take the view that we are engaged in an exercise of renegotiation to have a referendum and that will lead to a successful outcome.
"Everyone in government has signed up to the programme set out in the Conservative manifesto."
He added: "I am carrying out a renegotiation in the national interest to get a result that I believe will be in the national interest. I'm confident I can get that."
He said this was not an"on the one hand, on the other hand approach", adding: "The government isn't neutral in this. We have a clear view: renegotiate, get a deal that's in Britain's interest and then recommend Britain stays in it."
While Cameron probably does want his ministers to back what is proving to be a highly contentious topic, it seems bizarre that he is leaving no room for his colleagues to offer opinion or to side against him.
Former Conservative minister David Davis , who is also locked in a battle with the government over surveillance laws, said the prime minister's attitude was "rather unwise".
He told the BBC that Cameron's stance made it "pretty plain" that anyone who voted to leave the EU would have to quit the government. He said this was "something of a change from what was presumed right up to the election and, in my view, a rather unwise change".
He added: "I thought the party had come to a conclusion among itself that we were going to have a decent debate but it wasn't going to be acrimonious.
"We may end up turning a decent debate into a bitter argument.
"A referendum would act as a lightning rod to take some of the heat and the anger out of the parliamentary debate.
"Up until a month ago we all felt well we are going to go through the negotiation, the prime minister is absolutely convinced he can deliver on this negotiation sufficient to persuade people that we should stay in.
"I was willing to give him the benefit of the doubt for that. Most, if not all, of my party were, as well as much of the country.
"This doesn't show a great deal of confidence in the outcome of those negotiations that he has to say: my way or the highway, stay and obey the line or leave."
Davis also said the topic was a "once-in-a-lifetime, history-changing event".
"For many people it is the reason why they came into politics. Not mine. For some it is. And yet the only people who will not have the freedom to vote and speak on it are ministers in the government which, of itself, is extraordinary.
"That will likely lead, I'm sorry to say, to some people resigning from the government or being fired. Some people will feel it is a change in policy.
"You are going to have decent people who care deeply about the country's future and this is, for some of them, the biggest issue."
James Wharton, the communities minister who introduced a private member's bill on an EU referendum in the last parliament, said: "It is for everyone to choose how they vote in that referendum. Of course that includes ministers. It is just that the government will take a position too.
"The prime minister's hope is that negotiation will be successful and he will be able to lead the government in campaigning for an in vote if he has been successful but ruling nothing out if he has not been successful in the renegotiations."
However, it does seem as if the Prime Minister's stance is somewhat heavy handed. While he would undoubtedly like to have outright support from his ministers demanding it in such a manner is not the best way to gain it.