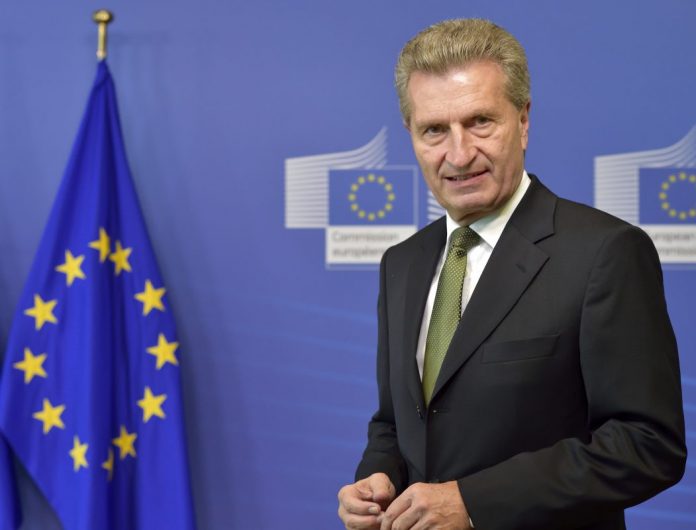 Günther H. Oettinger, European Commissioner for Digital Economy & Society details the importance of a digital economy and sustainable online services…
There are few business sectors emerging as fast as the digital economy. Just a year ago almost no one has ever heard of the taxi company Uber or the hotel substitute service Air B'n'B but now almost everyone knows about these 2 online services. Greater efficiency, the ability to adapt more quickly to the needs and wishes of consumers, and the absence of almost any additional costs when connecting to new customers are the decisive market advantages of this new model. Digital services, once established, are unstoppable – even if you wanted to. But it is possible to influence their development to ensure their sustainability. To seize the chance to influence the digital newcomers of tomorrow, Europe and Germany will have to play a far more active role. We have to improve and develop Europe's domestic digital society. If we fail to do so, progress will happen abroad and we have to deal with inventions and developments tailored to the needs of others, without necessarily taking into account our needs, perspectives and wishes.
If Europe wishes to influence these developments and ensure online services in Europe remain sustainable, it needs an active policy – a digital agenda. The need for innovative digital services to fit into legal frameworks and to pay taxes is self-evident.
From the European point of view the 2 following aspects are of major importance.
First, we have to make sure that anyone, old or young, employed or not, has the chance to benefit from the digital evolution. This requires competitive internet connections to be available regardless of where a person might be and for digital skills to be as commonly held as the skills of reading and writing.
Without access to a fast enough internet connection, a huge number of European citizens are and will continue to be unable to access the full benefits of digitalisation and will remain unable to profit from them. As a result we are willing to spend a share of the Commission's newly introduced €315bn Investment Plan on schemes to extend broadband access. Several quality standards, such as a minimum internet speed, will be implemented as well.
The other vital requirement is to ensure Europe's citizens acquire adequate and sophisticated digital skills. This is not only important for citizens and consumers, for whom a basic digital knowledge is a must if they are to participate in today's digital world, but also from the point of view of businesses. They need workers to show a level of practical knowledge whilst also employing digital professionals with specialised knowledge if they are to succeed over the longer-term in the global market.
These points in particular need a lot of attention from the European Union. While the demand for digital professionals is rising faster and faster, the number of entrants into this profession continues to stagnate. Despite the fact that Germany has over the past few years been the positive exception with regard to this problem, its future demographic hurdles mean it must not lose its focus on digital development.
Secondly, there is an urgent need to complete the Single Market in the digital economy. It is no longer acceptable that, despite more than 20 years of the Single Market, European citizens must still navigate a multitude of websites with a view to order goods, simply because many websites refuse to deliver to customers living in another EU Member State.
The creation of a real and efficient Single Market in the digital economy is of major importance for both businesses as well as our own competitiveness in the global market as well.
Without a completed Single Market in the digital economy, the success of many newly invented technologies will be greatly muted. The remote supervision by medical staff of a patient with heart disease who is on holiday in a foreign country remains a luxury because of exorbitant roaming fees; a remote monitoring system for fixed industrial machines and facilities can only broadcast with unacceptably long delays over foreign networks; and cloud computing providers are forced to open data centres in each and every one of the European Union's 28 Member States so to ensure they abide by each country's privacy laws – these are just 3 examples of how innovations are slowed down and will continue to be slowed down without a competitive Single Market in the digital economy.
The long established manufacturing sector, which even today is still the main pillar of the European as well as German economy, has a central interest in upcoming digital technologies too. The European Union has recognised the importance of the industrial sector and seeks to increase this sector's share of the gross value added to the economy up to 20%. This can only work by using and implementing new technologies, not by returning to old fashioned ones. 3D printers are one impressive example of how digital technologies may help manufacturing businesses enter their own renaissance. Implementing new technologies has even a higher importance for middle class people: only 14% members of the middle class sell goods on the internet and even a lower percentage sell to an international market. Middle class people have a high potential to profit from the internet by reaching new markets and make savings in production and other processes. Because of this, under the name "ICT Innovation for Manufacturing SMEs" we encourage projects teaching digital skills to participating enterprises.
If we can achieve a real, working Single Market in the digital economy by extending broadband coverage and ensuring people possess the digital skills needed to navigate the modern world, all of us in Europe will profit from the "industrial internet", the next step in the digital revolution, perhaps even to a greater extent than we have already profited from the development of the digital internet before. The "Digital Economy" and "Industry" are no longer opposing terms. Today they are compatible. Tomorrow they will be inseparable.
Günther H. Oettinger
European Commissioner for
Digital Economy & Society
The European Commission
www.ec.europa.eu/commission/2014-2019/oettinger_en