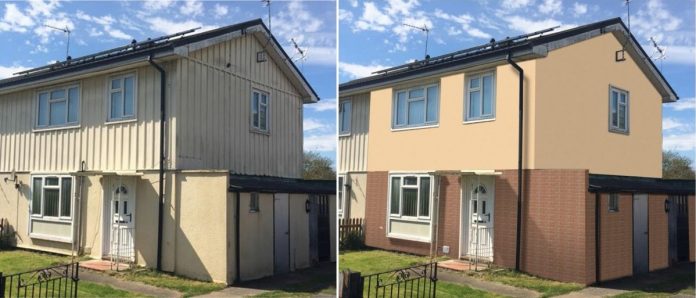 Private properties in Wrexham County Borough, North Wales are to receive support to help tackle fuel poverty in low income households…
Wrexham County Borough Council's Housing Service have secured funding from the Welsh Government's Warm Homes Arbed energy performance investment programme.
The programme was set up in 2009 to help eradicate fuel poverty and boost economic development and regeneration in Wales. Overall a total of £20m has been allocated to 13 local authorities across Wales.
The funding secured by the Housing Service will pay for external wall insulation to be installed on around 73 private, non-traditional steel houses and bungalows in the villages of Cefn and Johnstown, both just south of Wrexham. Local employment is also expected to receive a boost thanks to the jobs and training opportunities which will be created as a result of the work.
Lead Member for Housing, Councillor Ian Roberts commented, 'The Housing Energy Efficiency Team at Wrexham Council have worked hard to secure external funding to improve the energy efficiency of some of the coldest homes in the County Borough. This will form part of a package of initiatives, which also includes loans, advice and guidance.' 
The steel houses in Cefn and Johnstown were built in 1940's to tackle the huge post war demand for housing.
Steel frame properties are far less efficient at holding in heat than traditional brick properties. According to the Energy Saving Trust, around 45% of the heat lost in houses such as these is through the walls.
The improvement work set to be carried out on the properties will involve applying a 100mm layer of insulation to the outer walls of the properties. The layer of insulation will then be covered in a render and brick slips. The result of this will be that properties, which are nearly 60 years old in some cases, will have the external appearance of brand new houses.
As well as helping the houses to hold in heat, installing External Wall Insulation will also help fill in cracks to reduce drafts and improve sound resistance, reduce co2 emissions, and increase the overall lifespan of the property by protecting the structure.
Similar improvement work is already being carried out by the Housing Service on around 97 Council owned steel properties in Cefn and Johnstown. This is part of the comprehensive improvement work programme to ensure all the County Borough's social housing properties achieve the Welsh Housing Quality Standard by 2020.
The funding will mean that both private and council owned properties on whole streets will be able to benefit from the same improvement work. The appearance of entire streets in the villages will be transformed and modernized as a result.
Local Councillor for Johnstown, David Bithell, commented, 'I'm delighted that this grant had been secured which supports the current capital improvement works will help and assist our tenants and residents to reduce energy costs by better insulation and also improving the external appearance of the properties.'
Cefn Councillor, David Taylor, said, 'I hope that the access to the grant is taken up by all those who qualify in order to improve their heating and insulation before the hard winter begins. In this time of austerity and higher fuel costs, this announcement for grants for local residents who suffer from fuel poverty and who are private residents and own one of the many inefficient insulated steel type houses in the Cefn/Johnstown area is, I am sure, a Christmas present that will be readily accepted and appreciated.'
Work on the private homes is expected to be completed by March 2016.
Wrexham County Borough Council