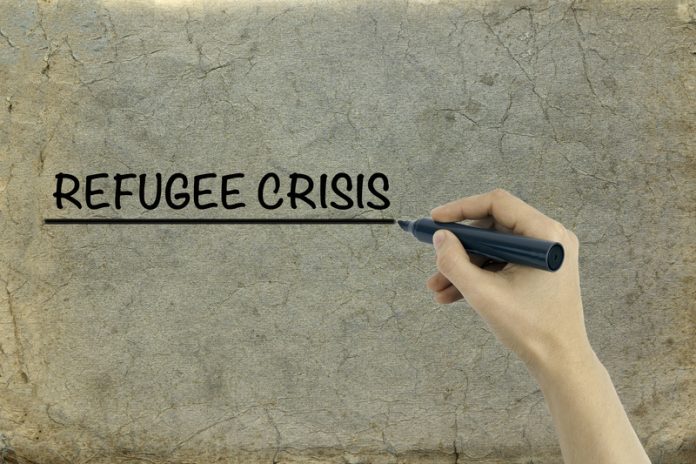 Two friends tell Editor Amy Caddick about their journey to a migrant camp near Dunkirk, France, and explain the terrible conditions facing refugees bedding down there for the winter…
It is easy to think of the migrant crisis as a political situation, with political agendas and political outcomes, but at the heart of it we must remember it is in fact a humanitarian disaster. It is this side that seems to get forgotten when heads of states talk about how many numbers they can take or closing their borders to stop more desperate people from crossing over.
2015 was coined the year of the migrant by the media. While a number were migrants, seeking better economic outcomes, the vast majority were refugees, displaced from their home due to conflict in areas such as Syria, Iraq, and, Afghanistan. The UN's refugee agency, UNHCR, said 1,014,836 people arrived in Europe via the sea during 2015. A total of 85 per cent of these arrivals came from the world's top 10 refugee-producing nations. [1]
There are camps set up to take these refugees all across Europe. Near Dunkirk in France there is a refugee camp called Grande-Synthe. It is home to men, women and children. In the space of three months the camp has swelled from a population of just under a thousand to nearly 3,000. The conditions are squalid, the mud is endemic, and the struggle for survival is real.
This week, some parts of the UK have experienced the first snow of the year. While it has not yet snowed in Dunkirk, it is still cold. Imagine sleeping outside in a tent, with temperatures reaching minus three overnight. This is the reality for these refugees.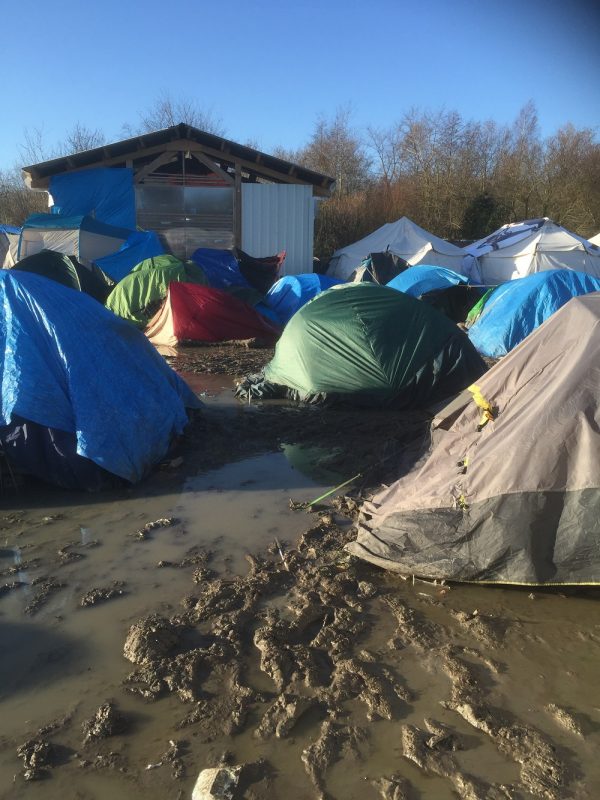 It is easy to detach yourself from the situation if you're not witnessing it every day. I, too, am guilty of pushing the situation to the back of my mind. However, two friends found they were unable to do that.
A member of the AG team, Pete Bettaney, and Pete Kent, East Africa Regional Director, Railway Children decided to offer their assistance after seeing the images of the little boy who died on the beach.
Together, they travelled from Cheshire to Dunkirk to deliver aid to one of the main refugee camps in France, Grande-Synthe.
In an exclusive interview with AG's Amy Caddick, they describe how they travelled to northern France to help at one of the camps and describe the terrible conditions they found when they got there.
"It all started with the pictures of the boy on the beach," said Bettaney. "The two of us saw those images and felt the need to do something."
Bettaney and Kent utilised the expertise of Aid Box Convoy (ABC) Bristol—a group of volunteers who have been working to supply assistance and deliver aid to refugee camps in northern France—to undertake their own aid mission.
"ABC helped us to find our feet. They showed us the ropes," continued Bettaney. "We're still under their umbrella, but we're trying to make a difference and organise aid from Crewe, Nantwich and the surrounding areas."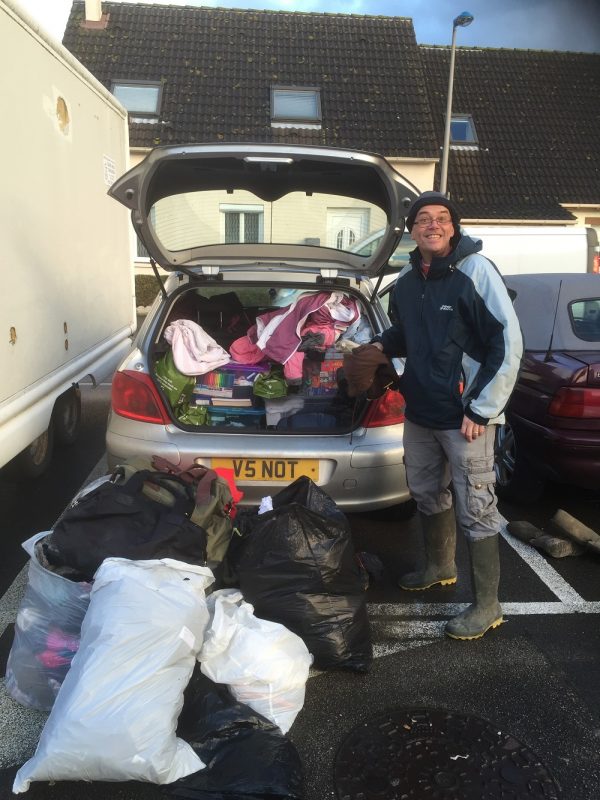 Unsurprisingly, one of the main horrors witnessed in these camps was the conditions. Some 3,000 people crammed into a tent-filled city, sleeping in the cold and the mud seems mindboggling in this day and age, but this is exactly what these people are doing.
"It is utterly grim, totally chaotic and overwhelming," explained Kent. "It is 2016: Europe is the richest continent on this planet and no people in human history have lived so long or had as much to eat as we do today in Western Europe.
"Yet just over the channel there is a camp with 3,000 men, women and children literally living in shabby tents in six inches of mud; human faeces and rats for company."
Kent said he feared for the people he had met at the camp, facing such tough weather conditions.
"The first winter snow on the hills normally fills me with excitement at the thought of snowballs and sledging with my own young kids. Today it fills me with dread for the countless souls I met earlier this month for whom it means a genuine fight for life.
"Men, women and children will die this winter in that camp and that breaks my heart."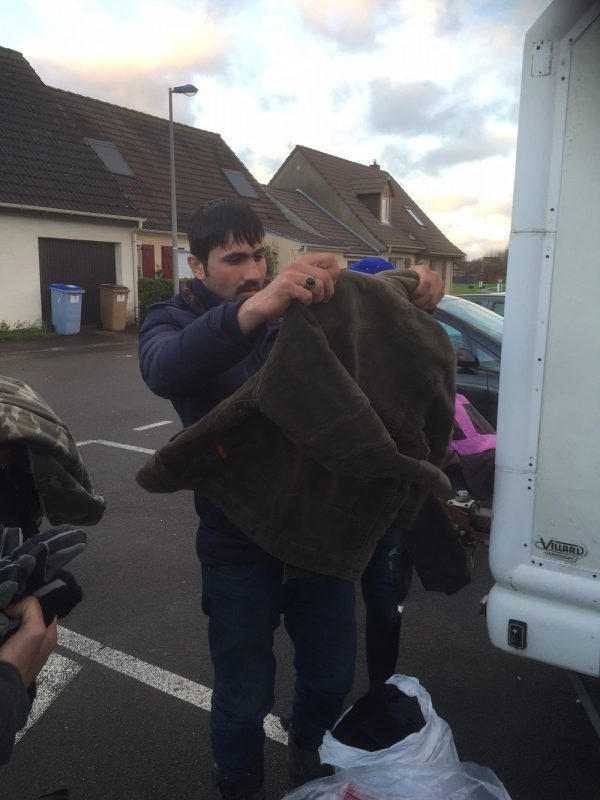 The cold is certainly the biggest issue facing those who have fled from persecution. Kent said one of the women he met explained she would lie on her back with her two-year-old child lying on her chest to shield him from the cold ground.
"I have nightmares about that little baby waking up with his mother cold beneath him," he admitted. "How will he cope with that? What will happen to him? If he survives how will he ever process the massive traumas he's already seen?"
Bettaney and Kent said they found it hard to realise many of the people they met had escaped from the horrors of their homelands only to be stuck in a tent in sub-zero temperatures, surrounded by mud and human excrement.
"How will people believe that his mother died of the cold, keeping him alive, in a tent, surrounded by mud and human filth?" Kent said. "She managed to escape ISIS, she clutched on to him in a dingy across the Mediterranean, she walked across Europe, and she died from the cold in a field of mud next to a housing estate in France in 2016."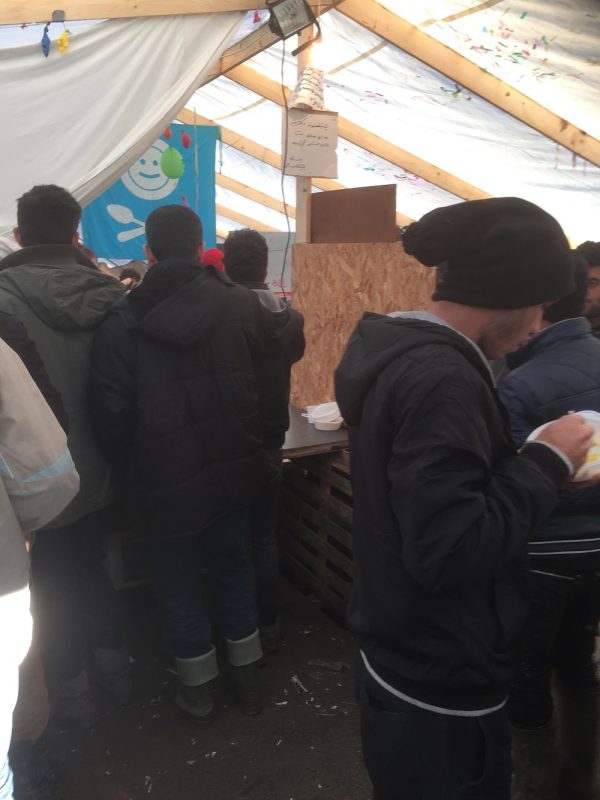 The picture is certainly bleak and in the modern day there is no reason for anyone to live in those conditions. The influx of people was so significant most nations struggled to meet the demands of a swelling population. However, long term strategies need to be found to protect these people. In the short term, all Kent and Bettaney can do is offer aid and support.
Bettaney and Kent—along with a few others—will visit Dunkirk again on the 4 February to deliver more aid to the people in these camps. The group will work alongside a team of volunteers from Bristol to deliver the aid.
They are looking for donations to help buy supplies such as thermals, blankets, wellies, waterproof clothing, hats, scarves, and gloves.
Kent added: "We are working closely with and under assistance from a Bristol based group, ABC, they have a team on the ground permanently and help us ensure we collect the things that are needed right now, and that they get to the people to who need it most.
"We self-fund our fuel and accommodation so every penny you give will be spent on things needed directly and desperately by refugees."
The group is looking for donations of the following items:
Waterproof coats
Waterproof trousers
Ski coats
Ski suits
Cellopets
Warm blankets
Thermals
Candles
Please email peterbettaney@aol.com if you would like to donate to arrange delivery or collection.
If you want to donate directly in Crewe and Nantwich you can do so here: Coats for Calais.
[1] http://data.unhcr.org/mediterranean/regional.php
Pete Bettaney
Dissemination coordinator
peterbettaney@aol.com
Pete Kent
East Africa Regional Director
Railway Children