Learn how science has shown that APF is far more relevant in protecting against cancer-causing sun damage than SPF, with Moondust Cosmetics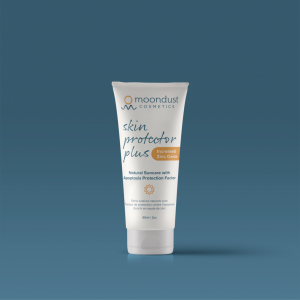 Scientifically formulated by Dr. Moondust® and her team, Moondust Cosmetics® is committed to developing natural suncare products to provide full UV protection against every stage of sunburn to minimise the risk of skin cancer by preventing scientific sunburn or apoptosis.
Moondust Cosmetics uses APF (Apoptosis Protection Factor) in every suncare product to achieve this and in the newest product, Skin Protector Plus. A physical block (13.5 % zinc oxide) is included to give a high APF value that safeguards the skin from UVA/B radiation and apoptosis.
Who is Dr Moondust?
After using many different sunscreens I found that none of them were working and I kept peeling even while wearing them.
This was rather surprising to me as a cancer biologist so I started to investigate the scientific basis of sunscreens. I determined that most suncare products were mainly formulated to prevent the skin from tanning – NOT from burning!
This was shocking but it made sense since nothing was working to stop my skin from peeling every time I was exposed to the sun, no matter which brand or how high an SPF value I used.
When I realised that a suntan and sunburn were two very different physiological processes, firstly, I elucidated The Human Sunburn Cycle. Next, Moondust Cosmetics® needed to distinguish between both of them – not only to prevent scientific sunburn (apoptosis), but also to decrease the risk of getting skin cancer which has been linked to sunburns of this type.
So, I collaborated with a biochemist, a medicinal chemist, and an entomologist and we came up with our own formula specifically targeted to protect against all three stages of sunburn, especially "apoptosis" represented by the peeling I was experiencing. In fact, we came up with our own laboratory test for measuring the effectiveness of sunscreens.
Since my name means "moon" I decided to call my company Moondust Cosmetics® and soon after, everyone just started calling me Dr. Moondust®.