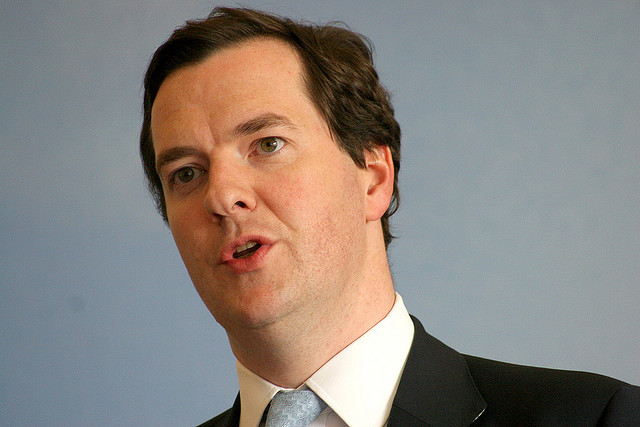 The Chancellor of the Exchequer is expected to try to prevent future governments from overspending by maintaining a surplus when the economy is growing…
During his annual Mansion House speech today, Chancellor George Osborne will outline his plans to prevent future governments from overspending. The proposed changes were first brought to light in January.
According to the figures, the national debt has doubled since the financial crisis. Osborne's proposal would make it illegal for any future government to spend more than they receive in tax revenue when the economy is growing.
During his speech, he is expected to say: "With our national debt unsustainably high, and with the uncertainty about what the world economy will throw at us in the coming years, we must now fix the roof while the sun is shining."
Policing the rules will be the Office for Budget Responsibility (OBR), an independent watchdog. The organisation will be given the power to decide when the government can spend more than it is collecting in revenue.
The chancellor would have the ability to override the budget surplus in the event the economy runs into severe problems. However, what constitutes a severe problem has not yet been clarified, but is expected to be outlined in the July budget.
The economy was a major issue during the General Election. Labour's inability to tackle the topic, in particular to address the overspending of the previous Labour government, was said to be one of the major reasons behind the party's downfall in May.
Since 2010, the Conservatives have worked tirelessly to balance the budget, with the aim of getting rid of the deficit by 2017-18. In a bid to meet this target, the government has cut back on what it deems as waste by reducing public sector budgets and cutting unnecessary staff. Their first month in power as a majority government saw Osborne call for Whitehall departments to find additional savings before his emergency budget in July.
Osborne is expected to argue that governments should not spend more than they bring in if the country is doing well. He will say: "In normal times, governments of the left as well as the right should run a budget surplus to bear down on debt and prepare for an uncertain future."
Osborne will also announce the reinstatement of a committee set up in the aftermath of the Napoleonic wars to repair the economy. The Committee of the Commissioners for the Reduction of the National Debt last met 150 years. It will include the chancellor, as well as the governor and deputy governors of the Bank of England.
The group, sources at the Treasury said, will have a ceremonial function, but it is supposed to show the determination of the chancellor to bring down national debt. This has more than doubled to 80 per cent of GDP since the economy fell into recession seven years ago.