Dr. Benjamin Van Voorhees discusses strategies for redefining child health for the 21st century in clinical practice, education, research and beyond.
Since its inception more than 100 years ago, the Pediatric Program at the University of Illinois at Chicago (UIC) has worked to stay at the forefront of the ever-changing practice and study of child health. Today it is home to an academic medical faculty of more than 70 (specialising in 16 subspecialties), a newly designated 98-bed Children's Hospital, and a growing, nationally-ranked paediatric research program. It is housed within the largest medical school in the United States – the University of Illinois College of Medicine. UIC Pediatrics is also in a unique position in the ever-growing, ever-competitive metropolitan child health landscape.
Chicago and Cook County, US, are home to eight designated children's hospitals and nine accredited Pediatric Residency Programs. At the heart of all of this, positioned in the centre of Chicago's north, south, and west sides, lies the Illinois Medical District (IMD). The IMD is home to 1,900 hospital beds, 9,000 health sciences students, and four hospitals, one of which is UIC. The Program exists within a saturated healthcare market; however, the demand and need continue to far outweigh the supply.
Greater Chicago is home to more than 1.1 million children and adolescents under the age of 18 (US Census Bureau), all of whom are deserving of high-quality, holistic care. The primarily African-American and Latino communities that surround the IMD are some of the most economically disadvantaged and most vulnerable to health inequities. And yet, despite the number of institutions in proximity, they do not have access to a central child health community that is specifically designed to address all of their needs. The quality of care for the children of these neighbourhoods suffers as a result of this fragmentation. As such, UIC Pediatrics has spearheaded an initiative to address these issues.
UIC Pediatrics is dedicated to creating an integrated, multi-hospital system that builds upon the current assets offered by the Program and the Children's Hospital, and implementing a new model of care delivery. To accomplish this, UIC's Pediatrics Program has completed a strategic review that included comprehensive analysis, consensus building with IMD partners, multiple rounds of assessment and engagement with more than 100 key stakeholders. The result is a five-year strategic plan designed to create strategic partnerships and guide the Program into the next decade. The development of this plan was inspired by five core values relevant to the needs of the community: authenticity, collaboration, diversity, innovation, and quality. It is designed to improve and refine internal clinical operations, business practices, educational opportunities and research portfolio, while also challenging the global common practice in paediatric medicine.
Seven strategic design teams analysed the current state of child health at UIC, while also keeping in mind the rapid evolution of healthcare, in order to develop strategic priorities. A major component of the analysis was guided by an ecological model that considered micro, macro, and mezzo trends in child healthcare delivery. Our priorities are to:
1) Optimise clinical growth and increase subspecialty development;
2) Leverage & grow research portfolio and programmes;
3) Promote educational excellence;
4) Foster external strategic partnerships;
5) Impact population health programs through CHECK; and
6) Build new centres in global health and technology innovation.
Key faculty and staff have been assigned to each priority to lead teams in carrying out pre-established goals, objectives, and action items, as demonstrated in the figure.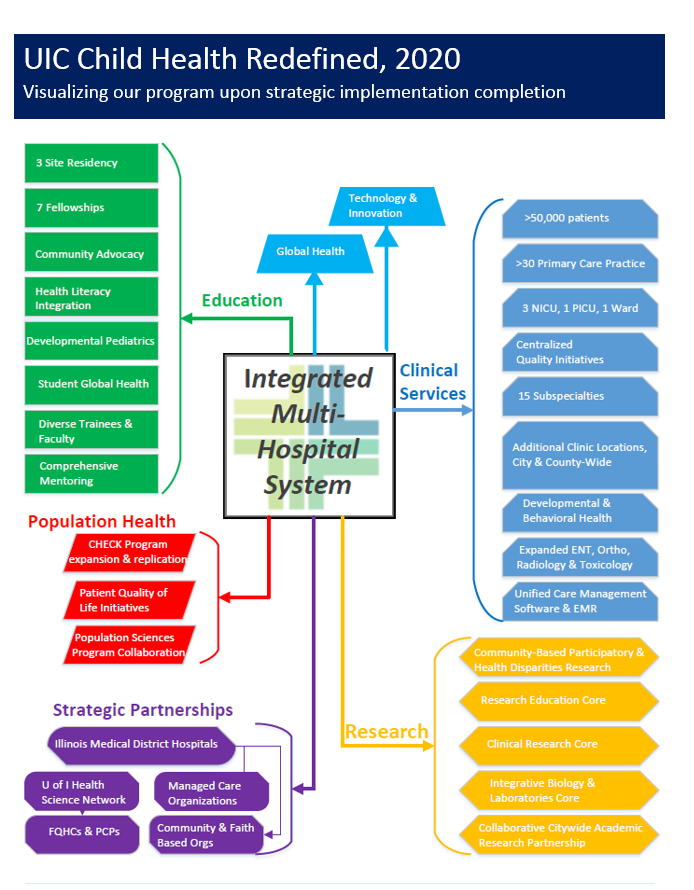 Some of the major anticipated outcomes of strict implementation of the plan, among many others, include: 1) more than 50,000 patients under care; 2) integrated, 2-4 hospital system; 3) 3-site paediatric residency; 4) new centres in global health and technology innovation; 5) a leading education model for advocacy; and 6) a model population health programme being replicated in other institutions. The programme's leadership will continue to take its unique position within the greater Chicago market and IMD into consideration at every stage of the process. The complexity and enormity of this landscape is a strength in strategy. Neighbouring institutions serve as motivators, models, and current and future partners and collaborators. It is the vision for truly integrative partnerships which serves as the lynchpin for the UIC Pediatrics plan for 2020.
In summary, in order to address the physical, social and environmental issues that most profoundly affect children living in adversity, UIC Pediatrics has developed strategies to provide comprehensive, customised care to their communities. This plan unites stakeholders in creating a medical community that is reflective of the needs of the 21st century. UIC Pediatrics is at the forefront of the dramatic changes taking place in the provision of healthcare, as is reflected in its adoption of strategies that will redefine child health for the 21st century, in Chicagoland and beyond.
Dr. Benjamin Van Voorhees
Department of Pediatrics, University of Illinois at Chicago College of Medicine
Please note: this is a commercial profile