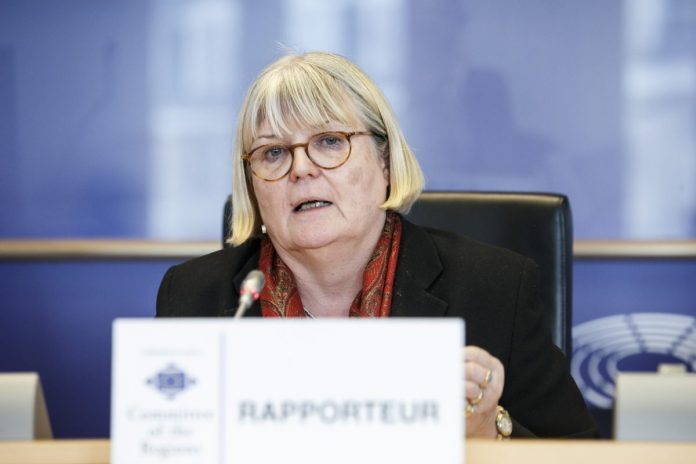 Hella Dunger-Löper Member of the European Committee of the Regions (COR) outlines the core principles that should shape the EU's new Urban Agenda…
A wall once ran through my city. When it came down, two halves had to be connected, neglected areas restored, new communities created, a shared direction agreed. Berlin is not, of course, alone in needing re-integration. Belfast has achieved that. In Cyprus, efforts to foster contacts between the ethnic Greek and ethnic Turk parts of Nicosia encourage the hope that, sometime soon, the island's divisions will end.
Berlin took away from that extraordinary post-1989 period 2 core principles. Firstly, participation is crucial: residents need to be engaged in shaping the city, just as local and regional government and national policymakers must be. Secondly, participation is only possible if cities' administrations are open and transparent. If they are to develop the city, all those involved need to be able to see what is going on at any point.
These principles are backed by my peers across Europe: on 8 April, the European Committee of the Regions, the EU's assembly of local and regional politicians, adopted an opinion drafted by me that said that these are 2 of the 3 principles that should underpin the EU's new Urban Agenda.
They backed it because they recognise that the relationship (and understanding) of state and society, of citizens and community is shifting significantly. Sometimes in the past – and still in some places – cities were viewed almost as passive objects, to be worked upon by urban planners and engineers. Now, cities are promoting more participation by residents; they realise that they need to coordinate more with the local, regional, national, and European levels; and they are collaborating more with other cities. With the internet, participation is easier. Coordination is more important, because complex global challenges such as climate change need agreements between member states and action by local government. Networks of cities and regions have developed, making collaboration easier. Increasingly, there is also a realisation – as the Committee of the Regions argues – that social cohesion needs to be reinforced in the face of growing inequality and other pressures.
For example, the arrival of a large number of refugees in Europe makes inclusive policies and an integrated approach even more important. In Berlin, one well-known project is the 'neighbourhood mothers' programme, through which women with a migrant background support other migrants in everyday life in areas where, for instance, the role of social workers is limited because of language barriers and trust issues. Integration requires this type of imagination and hard work at the local level. It also requires support from the regional, national and European level.
The EU's new Urban Agenda, which ministers will endorse in Amsterdam, is a recognition of this shift by local governments towards a more inclusive approach. It is also a response to criticism that the EU needs to take a more integrated approach to issues affecting cities. The EU has no urban policy – urban policy is determined by national governments. Yet around 70% of legislation agreed by EU member states – on, for example, transport – require some implementation at the regional or municipal level. In the absence of an EU urban policy, urban issues have been addressed in a fragmented, sometimes incoherent way. The Pact of Amsterdam will set specific priorities and some working methods, including a strengthening of partnerships between cities.
This is good. There is no attempt to suggest a one-size fits- all solution. The Pact promotes a bottom-up approach. There is no threat to Member States' power to determine urban policy. It will enable a state and a city to discover what other states and cities are planning, and they should be able to work together more easily. Crucially, the aim is to 'urban-proof' EU policies, so that European institutions take urban issues into account as a matter of course from the beginning of the legislative process.
But 'urban-proofing' and implementation require more political commitment. The EU's member states agreed to an urban action plan in 2000 (in Lille), identified documents that could act as common ground for urban development policies in 2004 (the Rotterdam Urban Acquis), and in 2009 agreed to start integrating sustainability strategies into national, regional, and local development policies (the Leipzig Charter). We now need to work more on implementation, which is what the Pact of Amsterdam encourages. But the pact should be binding – that is the third principle that the CoR is calling for.
The EU's Urban Agenda is, in effect, an attempt to improve the quality of life in Europe's cities. But it is also crucial to the health of our societies. The EU's approach could also help cities across the globe that face bigger challenges with fewer resources. This year, the UN will hold its biggest gathering in 20 years, Habitat III, on sustainable urban policies. The Pact of Amsterdam is, therefore, the right message at a big moment for the world's cities.
Hella Dunger-Löper is the state secretary of the Land of Berlin, with responsibility for European affairs. She is a member of the European Committee of the Regions (CoR), representing the Party of European Socialists, and is the author of the CoR's "Concrete steps for implementing the EU Urban Agenda".
Hella Dunger-Löper
Member representing the Party of European Socialists
European Committee of the Regions (CoR)