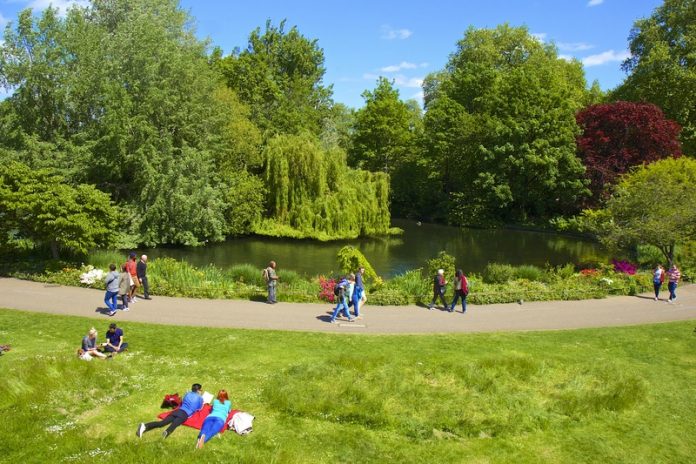 Council budget cuts are behind the continuing decline in the condition of UK parks…
The Heritage Lottery Fund (HLF) has warned budget cuts are leading to the decline of parks across the country.
In a new report, the HLF said public parks face falling into decline and neglect, despite a rise in the number of people using them.
According to the State of the UK Public Parks 2016 study, some 57 per cent of adults visit local parks once a month or more, while 90 per cent of families with children under five visit their local park at least monthly.
But budget cuts are having a detrimental impact on the overall condition of local parks, with the HLF warning they will continue to decline in the future.
The survey of 193 councils found a total of 92 per cent of park managers have seen budget cuts and 95 per cent are facing more reductions. A total of 18 per cent of those surveyed said the condition of their public parks had declined in the past three years, with 39 per cent expecting to see declines in the next three years.
Dave Morris, chair of National Federation of Parks and Green Spaces, said: "The only way to halt the ever deepening funding crisis affecting all parks across the UK is to make it a statutory service."
He added: "Parks take a long time to fall apart. It's not immediately noticeable, like a library closing, but all the pillars of effective park management and maintenance are crumbling.
"If not reversed, parks will be plunged into the disaster crisis of the 1980s and 1990s when they became no go areas full of syringes and no park rangers."
Merrick Denton-Thompson, president of the Landscape Institute, said: "To secure their future we need to decide whether a new statutory obligation is placed on local government to create or manage urban parks.
"An authority could then have the choice either to provide it themselves or use their regulatory powers to deliver and manage green infrastructure through the private sector."
Local authorities have also seen a significant loss of staff, with three-quarters reporting this. Furthermore there has been a rising inequality in park services, with urban areas and those in the East Midlands and North of England seeing higher than average reductions in budgets in the next three years.
Communities and Local Government Committee Chair Clive Betts MP said: "Whether it is kicking the ball about with friends, joining a parkrun, walking the dog or just relaxing with a paperback, people value their local parks.
"But with councils under enormous financial pressures and with no legal obligation to fund and maintain public parks, these precious community resources may be at risk."