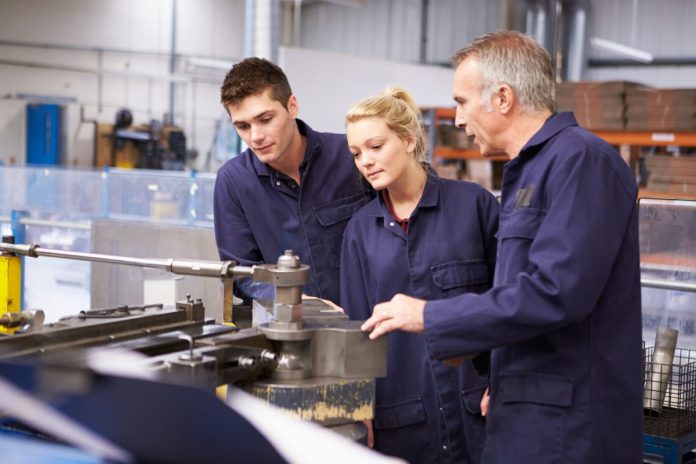 As National Apprenticeship Week draws to a close, Adjacent Digital Politics examines the value of these training schemes and how they can help young people…
Since taking power, the coalition government has been keen to push apprenticeships as an alternative method of training for the workplace. Many of the largest companies across the UK, such as British Gas, Rolls-Royce, and IBM, now provide apprenticeship programmes.
For the majority of young people it can be an attractive proposition. University debts can be monumental and can take decades to pay off. The ability to earn while training certainly seems to be a desirable route, and judging from the data it is one that is being embraced by numerous school-leavers, as well as adults.
In fact, over the last few years the number of people undertaking apprenticeships has grown significantly. Figures increased from 279,000 in 2009-10 to 440,000 in 2013-14, showing just how popular the scheme continues to be.
Furthermore, once qualified former apprentices are able to seek highly paid roles. The Telegraph reported earlier this week that many young people who take apprenticeships straight out of school are starting jobs with salaries over £30k a year.
Apprenticeship are undoubtedly becoming an excellent way for young people to get into the working world, but they are also attractive for employers. Hiring an apprentice enables businesses to train staff in the specific skills required for their workplace. Further boons such exemption from National Insurance payments are also valued by employers.
Apprenticeships are not only for school-leavers. Increasingly, apprentice schemes offer the ability for progression to a comparable level with Bachelor or Master's degrees. The number of people taking up these kinds of programmes rose by 513 per cent between 2009-10 and 2013-14.
However, apprenticeships are not without controversy. Last month, the BBC reported the scheme could be exploitative, as many youngsters are paid so little they can barely afford travel costs to work.
Official figures place pay for apprentices in England at £2.73 an hour, which amounts to around £95 for a 35-hour week. A 16-year-old might be able to live on this money as most are still at home with their parents. At 18 or 19—when people are classed as an adult—living independently would be impossible. In fact, the money would barely cover the cost of travelling and eating, let alone rent and bills. The government might be fond of doing 'more with less', but even the most frugal individual could not make that amount of wages stretch.
'Forget me not', an investigation into the financial well-being of apprentices by the National Union of Students (NUS), highlighted some of the issues with the scheme and the way in which young people are paid.
It stated: "Apprenticeships are often framed as a chance to 'earn whilst you learn'. They supposedly offer a chance to gain a skill and a qualification whilst working in a 'real 'job with a wage. Yet for many apprentices their low wages quickly disappear on travel, rent and food."
Speaking at the time, Joe Vinson, NUS Vice President (Further Education), said: "This report shows that we could have a whole generation being shut out of vocational education because of financial constraints.
"I hope that our report will trigger a serious investigation into the financial well-being of apprentices and lead all political parties to commit to making apprenticeships more accessible for all.
"Nobody is talking about the everyday reality for individual apprentices."
"Expansion of places just isn't good enough, and it's hiding the truth – we really need a new deal for apprentices," he said.
A spokesman for the Department for Business, Innovation and Skills (BIS) responded to the report, stating: "Last year we celebrated the country's two millionth apprentice since 2010, proving this support is working. Our reforms mean that companies are getting people with the skills they need.
"And those doing apprenticeships can earn while they learn with careers in TV producing, accountancy or engineering – available to a degree level.
"To support our hard-working apprentices we recently proposed that they should get an extra £1 an hour.
"We are waiting for the Low Pay Commission to get back to us on this idea. In the meantime, apprentices are earning an average of £6.79 to £11.63 an hour depending on their level of apprenticeship."
However, the Apprenticeship Pay Survey 2014 revealed that 24 per cent of 16-18 year olds were not even receiving the £2.68 an hour they were entitled to. With around 185,800 apprentices in 2013/14 this equated to around 45,000 young people who were underpaid.
Furthermore, a total of 32 per cent of 19-20 year olds in England were also failing to receive the national minimum wage of £5.03 in their second or subsequent year of an apprenticeship. The mean pay for this age group was £3.96.
Even thought it is classed as training, all apprentices should, in my opinion, receive at least the national minimum wage. Being expected to work full time hours makes them an employee, and by law in this country most workers 16 and over are entitled to earn minimum wage. Why does this not apply to on-the-job training schemes? It does feel in some respect that apprenticeship schemes allow young people to be taken advantage of.
While understanding the lower wage is a reflection of training costs, one has to wonder if it really makes sense to create a programme paving the way to work that is only affordable to those who can subsidise their wages elsewhere. Should young people be expected to work a full week and then have to work part time elsewhere in a bid to create a living wage?
The lack of money seems to have done little to deter many young people. Another scheme that is becoming increasingly popular is traineeships. These are often a stepping stone to apprenticeships. In fact, some 50 per cent of trainees move into apprenticeships or employment.
A total of 84 per cent of providers and 94 per cent of employers considered traineeships as an effective way of increasing young people's chances of finding paid employment and apprenticeships.
The data, which was published in a report released yesterday by the Department for Education, also revealed high levels of satisfaction by the majority of young people and employers over the quality of the traineeships.
Skills Minister Nick Boles said: "Our plan for education is ensuring young people have the skills and knowledge to succeed in modern Britain, and traineeships are playing a vital role in this.
"We owe it to young people to ensure these traineeships are of the highest quality, which is why I'm delighted to see so many progressing to apprenticeships, employment or further learning.
"While the signs at this early stage in the traineeship programme are very encouraging, we are determined to continue raising the quantity and quality of traineeships, ensuring more young people have the best possible start in life."
Les Ratcliffe, Head of Community Relations at Jaguar Land Rover, explained why his company utilises the scheme. He said: "It made sense for a responsible business like Jaguar Land Rover to use its success for good and we developed a programme to engage and inspire those who may feel they have no employment prospects."
Apprenticeships are undoubtedly here to stay, and they are a good way of getting to the world of work, but these schemes are not the holy grail for tackling youth employment, and they are not without problems. The difficulty for many stems from the fact apprentices work full time hours, are treated as junior employees, but receive wages much lower than the national minimum wage for people of their age group.
However, there are those who see apprentices as trainees and the cost of training them is reflected in the amount they are paid.
Apprenticeships offer people the opportunity to learn a trade or skill that could lead to highly paid jobs in the future. Furthermore they leave young people debt free by offering an alternative to higher education. There is a lot to be said for the ability to learn a job in situ, rather than from text books, and increasingly this hands on approach is becoming more and more popular.
While I do think wages for these young people need to be addressed, I do think it is an area that needs to carefully investigated. The aim should be to create a fair wage for trainees, while ensure apprenticeship programme remain a realistic option for businesses.