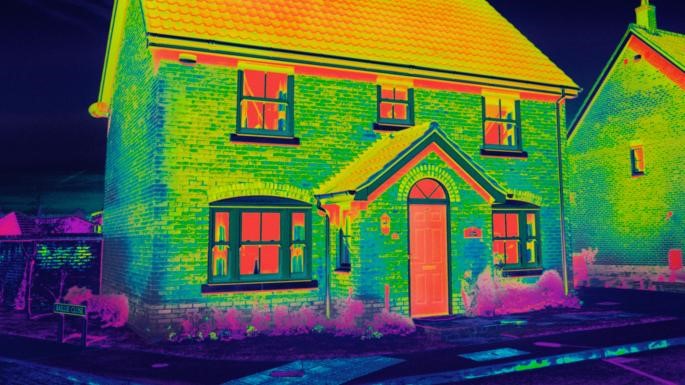 Everest study analyses 15,623,536 home Energy Performance Certificates (EPC) across the country to reveal the best and worst rated areas for energy efficiency
Britain's houses are some of the oldest and coldest in Europe and the cost of heat that leaks from properties are leading to a rise in fuel poverty.
Because of this, experts at Everest conducted an analysis of over 15 million properties across the country revealing the areas that are the most and least energy efficient based on EPC ratings.
London – the home to the most energy efficient properties with cheapest energy costs
Despite being one of the most expensive places to live – London is home to the MOST energy efficient properties in the country (most A- & B-rated EPCs).
Tower Hamlets, Greenwich and City of London top the chart as the three most energy efficient areas according to the data. 29% of Tower Hamlet properties received an A- or B-rated EPC – which is the highest across the country. Followed by Greenwich and City of London with 20% retrospectively.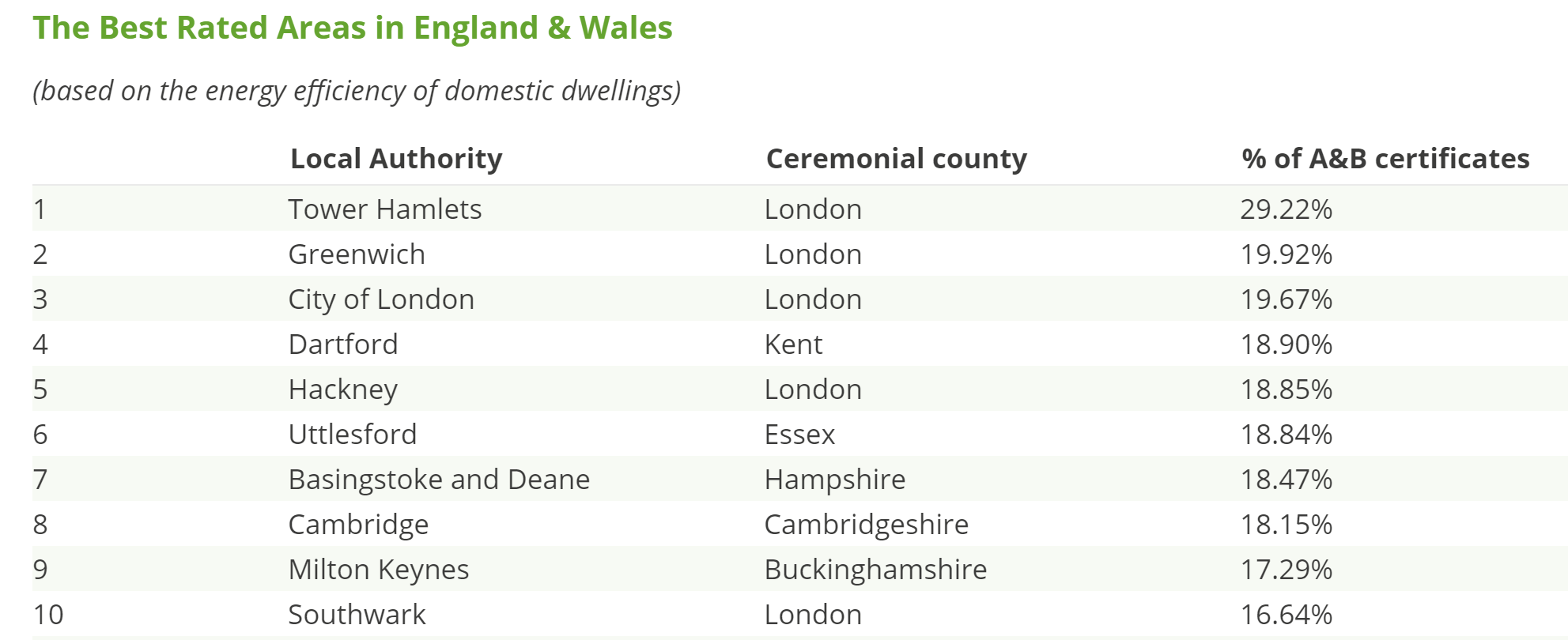 Data taken from EPC map by Everest https://www.everest.co.uk/energy-performance-certificate-in-depth-guide
There has been significant investment in London and Tower Hamlets specifically from local governments.
Despite being one of the most economically disadvantaged areas of the UK, Tower Hamlets has been part of The London Plan and London Climate Change Action Plan strives to ensure that the area has the highest standards of energy efficiency for new build development of any city in the UK. Because of this, Tower Hamlets and areas surrounding the capital have the highest EPC ratings.
When looking outside of London, Dartford (Kent), Uttlesford (Essex), and Basingstoke and Deane (Hampshire) are amongst the top 10 best areas with the most top-rated EPCs.
Homes with an A- or B-rated EPC spend on average £1,104 on their energy bills over 3 years. And those that are benefiting from cheaper bills, are situated within or near the capital. However, the data shows that just 19,832 dwellings benefit from an A- or B-rated EPC.
Most dwellings have a D rating that has energy costs, on average, of £3,228 across 3 years.
There are 6,136,001 dwellings in England Wales with an average D-rated EPC. However, the problem lies among the lowest rated homes.
The worst rated areas for energy efficient properties
1,042,075 dwellings across the country received an F- or G-rated EPC making them the LEAST energy-efficient houses in England and Wales. Those living within these homes are paying on average £5,743.50 for their energy bills across 3 years – 3.5 times more than those with an A- or B-rated EPC.
Isles of Scilly, Gwynedd, and Ceredigion are the three WORST areas. A huge 35% of properties within the Isles of Scilly received an F- or G-rated EPC – the worst grade possible.

Most properties across the west fringes of the country are not suitable for cavity wall insulation due to the fact they are highly exposed to wind and driven rain. This can cause problems with damp and mould in the walls and affecting the health of homeowners living in the dwelling.
Energy efficiency across the UK – the average cost of each EPC grade and how many houses received each grade
Everest gathered 7 example EPCs across the performance ratings to see the estimated energy costs of a dwelling for 3 years. The analysis shows there's a drastic cost difference, between those with a C- and D-rated EPC (52%), and those rated F or G (35%).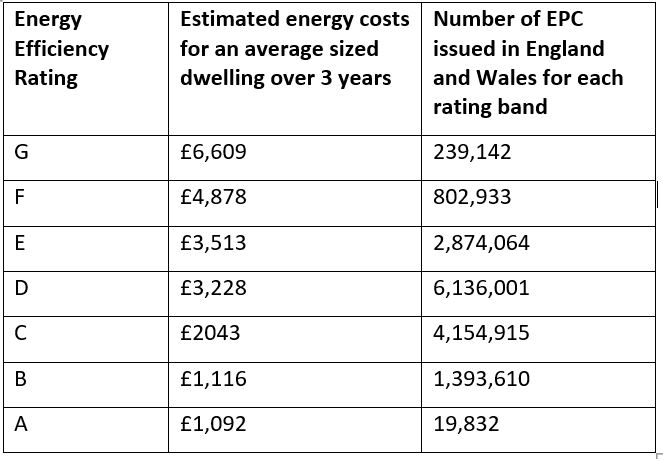 Everest tips on how to improve your EPC rating
1.      Insulate your house
A quarter of household heat is lost through the roof. Loft insulation is easy to install and a relatively inexpensive place to start when improving the energy efficiency of your home. The recommendation of rock wool is 270mm minimum depth.
If your house is suitable (seek professional advice) for cavity wall insulation you can expect considerable retention of a third of heat lost through uninsulated walls.
2.      Replace your windows for double glazing
Older windows can be responsible for 40% of the heat loss in your house. Installing high-performance glazing will make a significant difference in the energy efficiency of a home.
To understand what the independent ratings for different windows and glazing mean, this page explains what to look for in an energy-efficient window.
3.      Replace your halogen spotlights with LED bulbs
Since 2018, halogen bulbs are being phased out and removed from sale across Europe.
An LED spotlight can last for 20-30 years in comparison to a halogen bulb that has a working life of only two years. By swapping ten halogen bulbs for LED bulbs, savings of £112 a year can be made over a long-term period.
Installing LED bulbs in all lamps and lighting fixtures is a cheap and easy way to improve your EPC rating (although marginally).
4.      Replace an old boiler for an energy efficient version
An EPC rating is calculated on the cost of energy that supplies your heating system. As heating is a considerable chunk of your energy costs at 55% this is where significant saving and improvements to your bills and your EPC ratings can be made.
By replacing an old boiler that has an appliance rating of 'G' with a new A-rated boiler that includes a programmer and thermostat, an annual saving of £305 can be made (based on a detached house).
5.      Installing renewable energy sources
If your home has implemented all other energy efficiency measures then installing solar panels, biomass boilers and ground-source heat pumps will dramatically increase an EPC rating.
To achieve the highest EPC ratings a property would require some form of renewable energy.
By installing solar panels a G-rated, semi-detached house could make a saving of £311 per year.
You can explore the energy efficiency and EPC ratings in your area here https://www.everest.co.uk/energy-performance-certificate-in-depth-guide
References
1. https://www.theguardian.com/sustainable-business/2015/apr/05/spacehus-sets-a-new-standard-for-efficient-homes
2. https://epc.opendatacommunities.org/login
3. https://www.towerhamlets.gov.uk/Documents/Planning-and-building-control/Strategic-Planning/Local-Plan/Evidence-base/Sustainable-energy-and-biodiversity/Securing-Sustainable-Energy-in-Tower-Hamlets.pdf
4. Average energy costs were taken from an EPC for each grade (A-G) for a semi-detached average size house in the UK around 85 sq metres. https://www.bbc.co.uk/news/uk-14916580
Editor's Recommended Articles