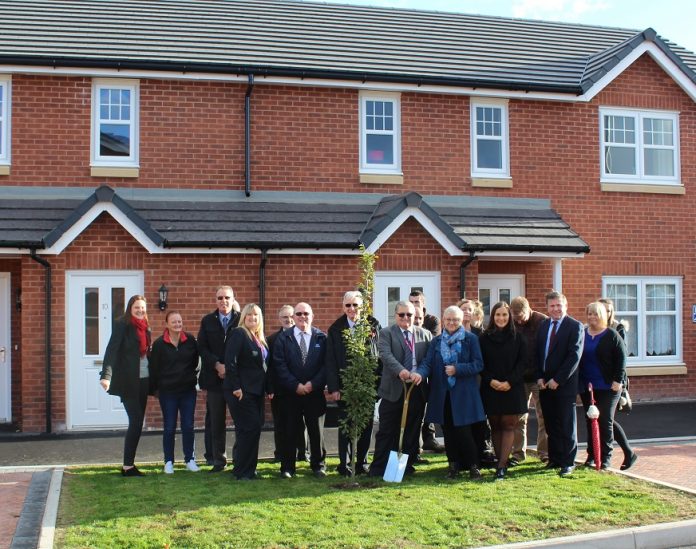 A new £1.5m housing development has been built on the site of a former carpark, providing 12 new affordable homes for Wrexham residents
New affordable housing development Clos Owen in Wrexham was officially opened at an event on Friday 4th November 2016.
The £1.5million social housing development marks the first for North Wales Housing in Wrexham, making sure the association lives up to their 'North Wales Housing' name.
Working closely with Wrexham County Council the truly North Wales based housing association created 12 new affordable rent homes in the Whitegate area of the town on the site of a former car park.
An ornamental tree was planted to mark the occasion before meeting residents over afternoon tea.
Phil Danson, Places Director at North Wales Housing said: "This is an excellent example of how North Wales Housing is working with its partners to develop new affordable housing in North Wales. By close partnership working with Wrexham Council we have improved the housing prospects of young local families and tackle the wider issue of housing shortage.
"We hope that the Tenants will enjoy living on their new estate for years to come, and that they will take every opportunity to contribute to their community."
Residents satisfied with new properties
Residents moved in their new homes in July 2016 and have settled in well: "I'm very happy with my new home. I moved here from Llay and I'm been so impressed with the quality of the new house. It's very spacious, there's solar panels which have already saved me money on heating bills, everything is clean and modern and easy to use and there's plenty of storage space. I'm only a few minutes walk from the town centre now too so it's ideal for me."
Accessible housing
Local Member for Whitegate, Councillor Brian Cameron, said, "This is a very positive development for housing in the area. I'm also very pleased that two of the one-bed ground floor flats have been built with adaptions for residents with specific needs. The council's partnership with North Wales Housing has worked very well here and, as a result, we've been able to create these very desirable properties which I'm sure the new residents will be very pleased with."
Lead Member for Housing, Councillor Ian Roberts, said, "We've made fantastic progress with the development of affordable housing in Wrexham recently, thanks to a number of schemes which are now underway across the County Borough. I'm delighted that these modern, attractive homes have now been completed in Clos Owen and it's great to see that the partnership between the Council and North Wales Housing has had such positive results here."
Wrexham County Borough Council