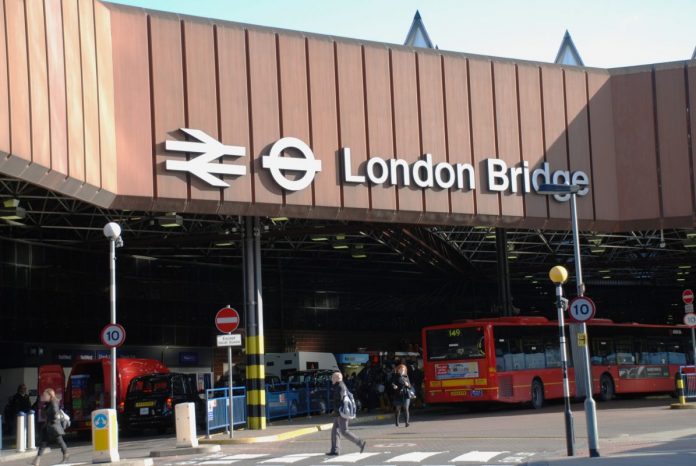 The £500m redevelopment of London Bridge railway station has been delayed by a "catalogue of faults", according to a leading transport union…
The Rail, Maritime and Transport (RMT) union has accused the contractors working on the redevelopment of London Bridge railway station of creating disruptions, which have led to overcrowding, late-running and cancelled services.
The union found poorly-installed tracks, and said corners had been cut on the quality of new points.
General secretary Mick Cash said: "RMT warned from the off that the continuing chaos at London Bridge could be tracked back to the fragmentation and privatisation of our railways with its myriad of contractors and sub-contractors, and the drive to cut corners and rush through important works in the interest of meeting financial targets and protecting profits.
"The catalogue of faults identified by our reps is breath-taking and, alongside the abject failure to listen to our members who understand how a railway works, shows that the continuing chaos and overcrowding at London Bridge was entirely predictable.
"Even though RMT blew the whistle on this right from the off at no point since the pictures of the dangerous situation emerged have our reps and our members been asked for their views by the Department for Transport and the politicians who are posing about claiming that they are tackling the crisis.
"We were ignored at the start and we are still being ignored now, and our demand for a summit on the growing safety and overcrowding scandal on our transport services has fallen on deaf ears.
"RMT will continue to expose the truth while those responsible offer nothing but PR stunts and sticking plaster solutions."
Network Rail and the train operators that service London Bridge said action was being taken to ensure a better environment for passengers.
Network Rail's Managing Director of Network Operations Phil Hufton said: "In the last few weeks passengers have experienced unacceptable levels of service and overcrowding at London Bridge station.
"Passengers have been very tolerant about the changes to their usual travel arrangements but understandably they have lost their patience with the recent poor service experienced, for which we are very sorry.
"The measures we are putting in place, in collaboration with our train operators, will improve both train service provision as well as station management in order that customers receive a better service at London Bridge and, if delays occur, they are given the help they need."
Part of the plans will include increasing the number of staff at the station, ensuring access to the latest travel information, early warnings for any potential disruptions, and a change to the timetable to ensure better flow of trains in and out of the station.
Hufton continued: "I want to assure customers that we do take this situation seriously and Network Rail is committed to improving our performance by delivering improvements to deliver a safe environment for users of London Bridge hand in hand with meeting the level of train provision and customer service they rightly expect."