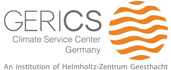 Climate Service Center Germany (GERICS) discusses the need to prepare for climate change as a business, presenting a tool to advance the understanding of opportunities and risks.
For many of us, climate change is still a distant threat looming in the future. However, heat waves in summer, a delayed start of a much too mild winter season or higher flood levels during a storm are only a few examples of what we feel already today and they speak volumes about what is still out there waiting to happen. The scientific consensus is overwhelming, yet businesses struggle with the development and implementation of climate-proof strategies. The gradual and long-term nature of climate change creates a conflict businesses are facing: corporate strategy planning rarely ever exceeds 3 to 5 years, yet the risks of climate change will only manifest over a period of several decades. Nonetheless, if we do not start acting now and do not leave the "wait-and-see" mentality behind us, it will continuously become more complex and cost-intensive to avoid major repercussions in the future.
Understanding the opportunities and risks of climate change and quantifying the impact are crucial to develop strategic measures for adaptation. One of the core topics of the Climate Service Center Germany (GERICS) is the development of methods and prototypes to support businesses with appropriate and sound scientific climate information on their way to adapting to climate change. In cooperation with partners from different industries, GERICS created a modular toolkit ("company toolkit") which includes techniques for a systematic assessment of current and future vulnerabilities due to climate change as well as concepts for distilling the relevant climate information to design tailor-made solutions answering to the requirements of individual companies (see Figure 1). Since every business is affected by climate change in a different way, the components can be developed and applied sequentially or independently. This flexibility also allows for picking and choosing only those elements from the list that an individual corporation needs.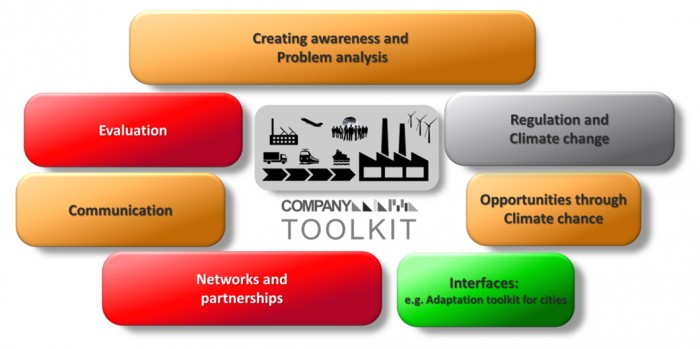 Each module stands for a cluster of methods and concepts ready to be used to shape compelling actions to counter the sensitivity to climate change impacts (see "GERICS – Company Toolkit", below, for details). GERICS acts as a catalyst introducing customized scientific knowledge to match a company's internal expertise. Interlinking the two subsequently enables a company to channel adaptation measures fit for its very own specific purposes. In this process, GERICS focuses on advancing prototypical products for all components in co-development with different companies with the aim to release them for operationalization after a successful proof-of-concept demonstration.
Once the structure proposed by this toolkit is applied by a number of different businesses and across several sectors, the results become comparable. Thus, the company toolkit provides an innovative instrument to benchmark a company's adaptation strategy to climate change against peers.
GERICS – Company Toolkit
With the company toolkit GERICS offers climate service products to enable businesses to identify, develop and implement climate change adaptation measures. The foundation of this service is a close collaboration between a company and GERICS as equal partners. The seven modules provide a structured framework to co-create specific solutions of strategic value.
Creating awareness and problem analysis
Informing about expected changes using state-of-the-art climate science, identifying areas of vulnerability within the value chain.
Regulation and climate change
Assembling and analysing the regulatory and legal scope that defines and/or limits the management of climate change implications.
Opportunities through climate change
Developing start-ups to operationalise climate service products, initiating settings to promote creative thinking to identify potential opportunities through climate change.
Interfaces (e.g. adaptation toolkit for cities)
Building capacity and transferring methods from related fields to interconnect several sectors and maximize the effect of climate service products in adaptation measures by exploiting synergies.
Networks and partnerships
Taking advantage of the wealth of diverse networks GERICS participates in and benefitting from carefully selected partners both in the industry and in research.
Communication
Putting climate change as a topic on the map. Encouraging an in-house dialogue to reach relevant divisions and to create buy-in.
Evaluation
Assessing and quantifying the effectiveness of integrating climate service products in a decision-making process before and after implementation by means of cost-benefit analyses.
Climate Service Center Germany (GERICS)
cs-sekretariat@hzg.de
+49 (0) 40 226 338 0
www.gerics.de