The CBU JU has announced its second call to further the circular bio-based economy and its respective European industries. With €215.5 million across 18 topics up for grabs, what are the real details?
According to the CBU JU, all stakeholders of the circular bio-based industries ecosystem – such as farmers, brand owners, companies, research organisations and local authorities, to name just a few – can apply by 20 September 2023.
The CBE JU's newest call budget comes from Horizon Europe, the EU's research and innovation funding programme, and is published on the EU's Funding & tender opportunities portal.
Continuing the CBE JU's Strategic Innovation and Research Agenda:
This newest call from the CBE JU is designed to support three objectives as defined in the CBE JU's research agenda:
Accelerate the innovation process and development of bio-based innovative solutions
Accelerate market deployment of existing mature and innovative bio-based solutions
Ensure a high level of the environmental performance of bio-based industrial systems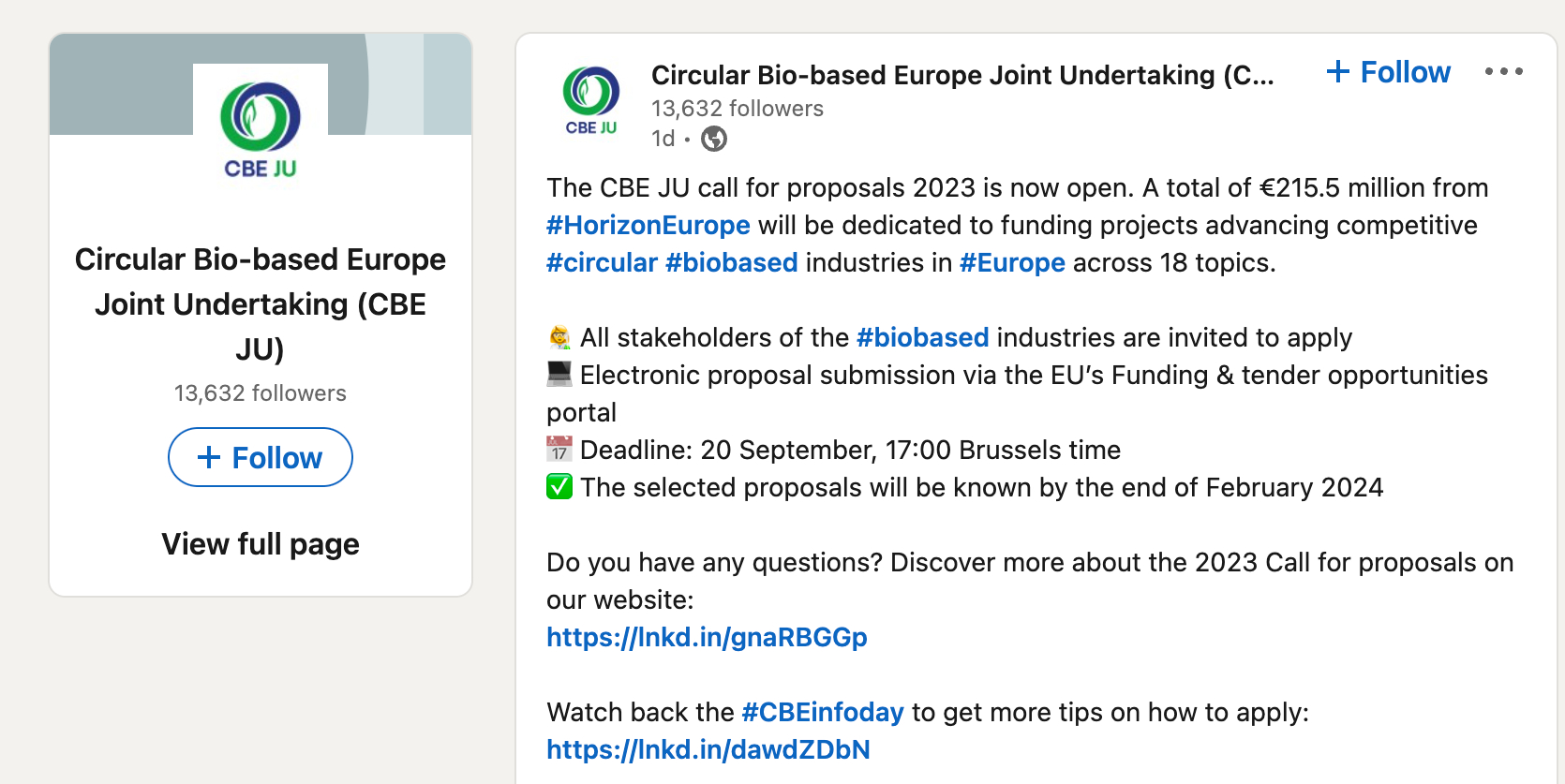 What are the types of projects invited for funding?
CBE JU has announced it will fund three types of actions:
RIAs – Research and innovation actions

RIAs that will establish new knowledge or explore the feasibility of new or improved technology, product, process, service or solution.

IAs – Innovation actions

IAs will scale up activities from prototype to product validation and market replication. Among them, Flagships will deploy the first-of-its-kind industrial and commercial scale production plant in the European market.

CSAs – Coordination and support actions

CSAs will structure stakeholder communities, support technological visions and outreach, and disseminate and exploit research results, among other objectives.
By accessing the call page, you will find more information available for each topic with details on the action requirements.
18 CBU JU topics to further the circular bio-based economy
Applicants will be expected to support and further the implementation of these three objectives via the following 18 topics, as listed by the CBU JU, with a combined total of €215.5 million:
Innovation Actions (IA)
Research and innovation actions (RIA)
Coordination and support actions (CSA)
HORIZON-JU-CBE-2023-S-01 EU-wide network of pilot plants and testing facilities, improving SMEs and start-ups' access to scale-up – €1.5 million
HORIZON-JU-CBE-2023-S-02 Supporting the capacity of regions in environmental sustainability assessment for the bio-based sectors – €3 million
When does proposal submission close, and what happens next?
The call is set to close on 20 September 2023. After this, the CBE JU will organise the evaluation of the submitted proposals with the help of external experts selected from the European Commission's expert database.
According to the CBU JU, the proposals selected for funding will be known by the end of February 2024 at the latest. "If the subsequent Grant Agreement Preparation (GAP) is successful, the grant agreements with the selected project teams will be signed by the end of May 2024 at the latest."
Editor's Recommended Articles