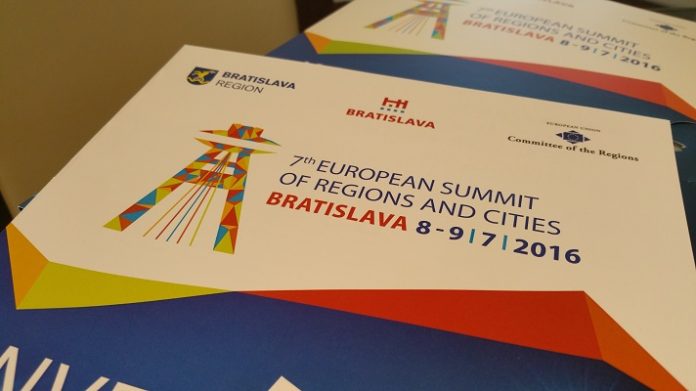 The leaders of EU cities and regions come together this weekend to discuss investment and unveil the Bratislava Declaration…
Leaders of EU cities and regions are assembling in Bratislava this weekend to adopt a declaration – the aim of which is to ensure that the voices of local cities and regional authorities within the EU are heard by policymakers. The biannual summit has been instigated by the European Committee of the Regions (CoR), and this year's theme is 'Invest and connect'.
Traditionally, the European Summit of Cities and Regions takes place in the state holding the current presidency of the Council of the European Union: a mantle Slovakia took from the Netherlands on 1 July.
"Policymakers need to redirect all their efforts to increasing public and private investment in all the European regions," said CoR President Markku Markkula. "It is no longer business as usual. We must spread a new and innovative entrepreneurial mindset across Europe."
As such, the event will see a strategic focus on the European Fund for Strategic Investments (EFSI), which was established in 2015 to help stimulate regional economies across the member states.
The keynote speech at the conference is to be delivered by Jeremy Rifkin, an adviser to the EU and to national leaders for more than 10 years. He argues that the advance of the digital economy, which is one of the priorities of the European Commission, signifies a third industrial revolution. The convergence of the familiar 'communications internet', the developing 'energy internet', and an 'automated transport internet', he says "… will allow small businesses, large companies, whole regions to use this new digital technology for communication, energy and transport to dramatically increase their aggregate efficiencies across the value chains."
700-800 politicians, many of them members of CoR, and three commissioners – Maroš Šefčovič (vice-president, Energy Union), Jyrki Katainen (vice-president, jobs, growth, investment and competitiveness), and Violeta Bulc (transport) – will attend the two-day event in the Slovak capital.
Key to moving forward with this third industrial revolution will be to address the investment gap – local and regional governments are currently responsible for around 60% of public investment. The global financial crisis of 2008 led to a decrease in public and private investment – particularly in Greece, Spain, Cyprus and Portugal – which is still having significant repercussions across the Union and contributing to social disparities and a lack of territorial cohesion.
AG