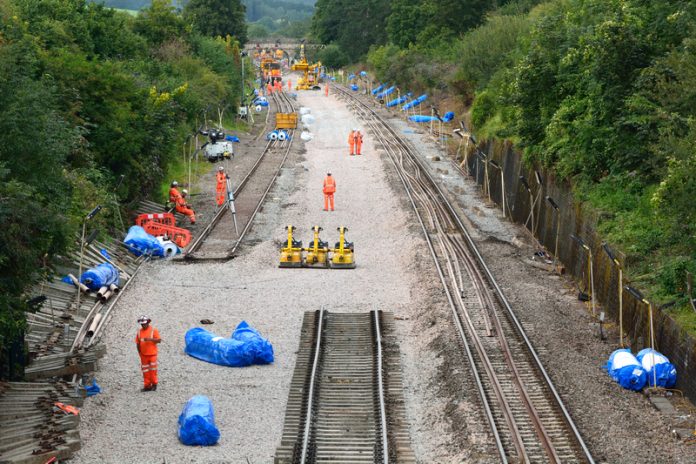 A report says the government must learn from serious failings in the design, planning and cost-estimating of the Great Western railway modernisation project
Significant failings in the management of the Great Western railway's modernisation raise concerns about the Department for Transport and Network Rail's ability to manage similar projects in future, a Commons committee is warning.
Future rail projects including the planned electrification schemes on Midland Main Line and TransPennine routes could also see taxpayer money wasted if lessons are not learned, say the Public Accounts Committee.
"Mismanagement of the Great Western programme has hit taxpayers hard and left many people angry and frustrated," said PAC chair Meg Hillier MP.
"This is a stark example of how not to run a major project, from flawed planning at the earliest stage to weak accountability and what remain serious questions about the reasons for embarking on the work in the first place."
In the space of a single year, the estimated cost of electrifying the Great Western Main Line rose by £1.2 billion – an increase MPs have described as "staggering and unacceptable".
"The sums of public money wasted are appalling—not least the £330 million additional costs the Department for Transport will have to pay to keep the trains running because of delays to electrification," Hillier pointed out.
Revised targets might not be deliverable
The PAC report issued this week makes a series of recommendations intended to prevent taxpayers' money being mismanaged, and to ensure the delivery of future rail improvement schemes is on-time and on-budget. It also builds on the findings of the Committee's examination of Network Rail's investment programme in 2015, making clearer the extent of failings on the Great Western project which have led to cost escalations and a delay of up to three years.
It is still unclear whether delivery of the Great Western electrification project to the revised target of December 2018 and budget of £2.8 billion will be possible.
Network Rail says "every single part of the programme is absolutely on the limit", prompting the Committee to warn the owner-operator that it must get better at producing realistic cost estimates and make sure that robust and detailed plans are in place before starting construction in future.
The Committee is also calling on the Department for Transport to ensure "suitable assurance" is in place before taking decisions on infrastructure investment "and other major decisions which depend on infrastructure being available".