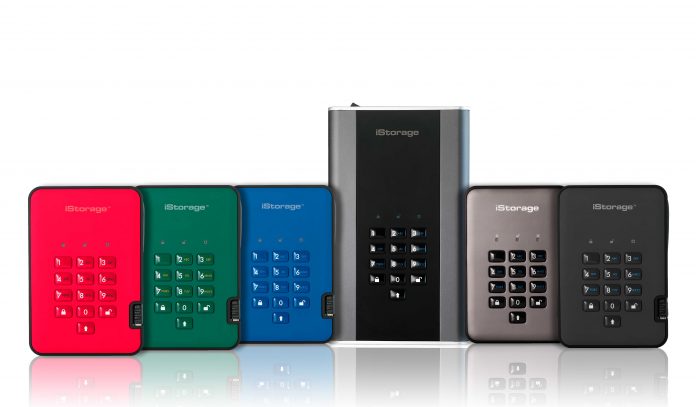 iStorage Limited reveal their new diskAshur range, which consists of the most secure hard drives and solid-state drives on the market
iStorage, the award-winning and trusted global leader of PIN authenticated, hardware encrypted portable data storage devices, has announced the launch of their new range of USB 3.1 Hard Disk Drives (HDD) and Solid State Drives (SSD). This consists of the diskAshur2, diskAshur2 SSD, diskAshur PRO2, diskAshur PRO2 SSD and the diskAshur DT2 all of which are designed, developed and assembled in the UK.
The new drives feature Enhanced Dual Generating Encryption (EDGE) technology making them the most secure HDD/SSD and desktop drives currently on the market.
EDGE™ Security Features:
One of the unique and underlying security features of the GDPR compliant diskAshur range is the dedicated hardware-based secure microprocessor (Common Criteria EAL4+ ready), which employs built-in physical protection mechanisms designed to defend against external tamper, bypass laser attacks and fault injections.
Unlike other solutions, all the drives within this range react to automated hacking attempts by entering the deadlock frozen state, which renders all such attacks as useless.
In plain and simple terms, without the PIN, there's no way in!
With software-free set up and operation, the diskAshur range is platform/device independent and works across all operating systems including all versions of MS Windows, macOS, Linux, Android, Chrome, Thin Clients, Zero Clients and embedded systems. In fact, the drives will work on any device with a USB port!
The diskAshur PRO2 USB 3.1 portable hard drive is available in a stylish graphite housing and is the ultimate secure data storage device. The diskAshur PRO2, diskAshur PRO2 SSD portable drives and diskAshur DT2 desktop hard drive are designed to be FIPS 140-2 Level 2 and 3, NCSC CPA Foundation Level, Common Criteria and NLNCSA government certified. The diskAshur range consists of the diskAshur² and diskAshur PRO² portable HDDs (both available up to 2TB), diskAshur² SSD and diskAshur PRO² SSD (both available up to 1TB) and diskAshur DT² desktop hard drive (available up to 8TB).
About iStorage Limited
iStorage is the trusted global leader of award-winning PIN authenticated, hardware encrypted data storage devices. Delivering the most innovative products to securely store and protect data to military specified encryption levels; safeguarding valuable business information whilst ensuring compliance to regulations and directives.
About the General Data Protection Regulation (GDPR)
The European Union will have the power to fine companies €20 million or 4% of their global turnover if they are found to be in breach of the new government legislation. The GDPR, which comes into force on 25th May 2018, compels organisations who process or hold personally identifiable information of EU residents, to implement adequate security measures to protect personal data loss or face tough fines.
iStorage Limited
Tel: +44 (0)020 8991 6260
info@istorage-uk.com
Please note: this is a commercial profile