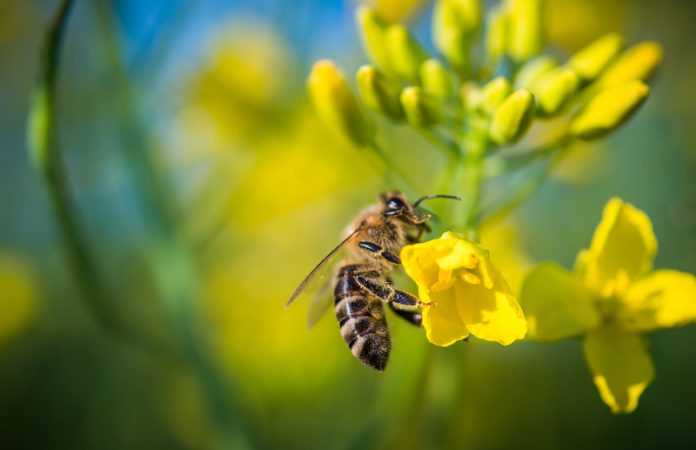 The UK's leading wildlife, conservation and environment groups are calling for the government to retain and extend a ban on neonicotinoids to protect bees
In an open letter to the UK government, 18 leading wildlife and environment organisations say there is now more than enough evidence to retain a ban on neonicotinoids and extend it to all crops. They argue the move is essential to reverse the recent decline of bees and other pollinators.
EU restrictions which ban the use of three neonicotinoids – or "neonics" – on flowering crops and have been in place for three years, are due for review in 2017. The ban was introduced after the European Food Safety Authority (EFSA) concluded that the chemicals posed a "high acute risk" to honeybees.
"Since 2013 many more independent laboratory and field studies have found neonics impairing the ability of different bee species to feed, navigate and reproduce resulting in declining populations," the letter reads.
Scientific evidence and public opinion support ban
Signatories of the letter are representatives of Friends of the Earth, Freshwater Habitats Trust, Sustain, The Tree Council, Bat Conservation Trust, RSPB, Natural Beekeeping Trust, Scottish Wildlife Trust, Freshwater Habitats Trust, Soil Association, Greenpeace UK, Buglife, Environmental Justice Foundation, The Wildlife Trusts, Angling Trust & Fish Legal, Pesticides Action Network, Butterfly Conservation and ClientEarth.
They describe the review as Environment Secretary Andrea Leadsom's "chance to catch up with scientific evidence and public opinion by keeping and extending the ban as part of properly protecting Britain's bees and pollinating insects".
A YouGov survey carried out for Friends of the Earth in August found that 81% of respondents want to keep the EU ban on neonicotinoid pesticides, and only 5% of people think it should end.
Neonics are pervasive and persistent in environment
"Since [EFSA's analysis three years ago] dozens of new studies from around the world have been published, including a major Swedish field trial in which neonicotinoids were shown to impact profoundly on bumblebee colonies and solitary bees," commented Dave Goulson, Professor of Biology at Sussex University.
"Work from Italy has shown that even tiny doses of neonicotinoids impair the immune system of honeybees, rendering them susceptible to infections. Perhaps more concerning, it has become clear that neonicotinoids are persistent and pervasive in the environment, so that soils, wildflowers, ponds and rivers commonly contain significant levels.
"This widespread pollution of the environment with these potent neurotoxins has now been linked not just to bee declines but also to declines in butterflies, aquatic insects, and insect-eating birds. With farmland wildlife populations in free fall, it is surely time to extend the moratorium on neonicotinoids to cover other uses."
"We can't afford to take any risks with our insect pollinators so to protect them the moratorium must stay in place for the three restricted neonicotinoids," added Dr Christopher Connolly, a reader in neurobiology at the University of Dundee.
Dr Penelope Whitehorn, an applied ecologist at the University of Stirling, says it is vital that the government properly supports farmers on ways to maximise yields and minimise chemical inputs with the use of integrated pest management.